Many investors have become very wealthy investing with Warren Buffett. Many more have made substantial profits riding The Oracle's coattails. Therefore, it should come as little surprise that the stocks of US based railroad companies were thrust into the spotlight following Berkshire Hathaway's (BRK.A, BRK.B) purchase of Burlington Northern Santa Fe in late 2009. Rail stocks had garnered little attention in the prior years, and what attention they did achieve was based on the industry's relative fuel efficiency relative to overland trucking. So when the 2008-2009 financial crisis took hold, the stocks of railroad companies were punished along with the broader US stock market.
At the time Warren Buffett's choice to purchase a railroad company seemed an odd one. In hindsight it turned out that Mr. Buffett had merely connected the available data points better than the rest of us. He figured demand for shipping would improve eventually. He recognized that without existing pipelines, much of the new oil production in the western US would come to market by rail car. Additionally, when global economies exited the 2008-2009 financial crisis, electricity demand would increase dramatically. Coal mines in the western US would help supply the coal for power generation in the US, as well as export to Asia. Some say Mr. Buffett was lucky, but I am reminded of the old quote "the harder I work the luckier I get." I have seen the quote attributed to Ben Franklin, Thomas Jefferson, and many others, but no matter who said it the words ring true.
So how do the stock market valuations of US railroad companies look today? In a minute we'll get into a comparison between Union Pacific (NYSE:UNP), Norfolk Southern (NYSE:NSC), and CSX Corporation (NYSE:CSX), but first let's talk about some of the strengths and advantages US railroads enjoy. One of the major strengths is a large built out infrastructure of tracks and extremely high barriers to entry. When was the last time you saw a new "upstart" railroad go into business in the US. It's not going to happen. The costs are just too high and the track network is largely built out.
Additionally, the railroad industry enjoys a substantial fuel efficiency compared to overland (tractor trailer) trucking. Depending on which company's website you're looking at, they claim to be able to haul one ton of freight anywhere from 436 to 500 miles on a single gallon of diesel fuel. That's pretty impressive. As fuel becomes more expensive, I expect this advantage will increase.
The table below lists some of the basic valuations of the three US railroads we're comparing today. CSX and Norfolk Southern each own a network of tracks spanning about 20,000 route miles, while Union Pacific's network spans about 32,000 route miles. Together with privately held Burlington Northern Santa Fe, these railroads are the largest US railroad companies.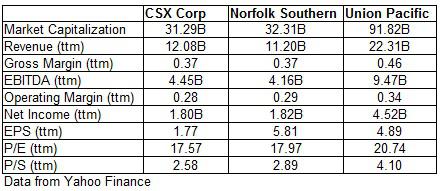 One of the first things I noticed about these three railroads, is that Union Pacific trades at a premium to the other two. Union Pacific's price to earnings (p/e) ratio and price to sales (p/s) ratio are both substantially higher than either CSX or Norfolk Southern. Additionally, Union Pacific's shares trade at 4.31 times book value, compared to 2.93 times book and 2.77 times book (Norfolk Southern). One could argue that this is for good reason however. Union Pacific's network is geographically located in the western US and the western ports have enjoyed extensive trade growth with Asia. Additionally, midwestern grain and western coal are harvested/mined along Union Pacific's route.
Among the three companies, Union Pacific appears to have the best network and the highest operating efficiency. Union Pacific's operating margin (34%) and return on equity (21.82%) are both notably higher than the other two. Plus, all three companies have dividend rates around 2% and debt loads of $9B or $10B, making these aspects fairly comparable. Personally, my chief concern with these stocks (at this time) is that all three of them trade at a higher P/E than the broader S&P 500 of 17. This premium doesn't seem reasonable to me, because the US railroad industry is a slow growth industry. It is likely to grow at a slower rate than the broader S&P 500 index. At these prices, I'm unlikely to invest in these companies; however, I'll keep an eye on them in the coming years. I prefer to invest in faster growing and less capital intensive companies.
Disclaimer: This article is for informational purposes only and should not be considered a recommendation for anyone to buy, sell, or hold any equities. I am not a financial professional. The information above is provided by Yahoo Finance and each company's corporate website.
Disclosure: The author has no positions in any stocks mentioned, and no plans to initiate any positions within the next 72 hours. The author wrote this article themselves, and it expresses their own opinions. The author is not receiving compensation for it (other than from Seeking Alpha). The author has no business relationship with any company whose stock is mentioned in this article.