As the competition in the smartphone industry heats up, service providers and phone manufacturers have received a great deal of attention from investors in recent months. Many providers are making moves into uncharted territory, such as AT&T (NYSE:T) teaming up with the BlackBerry Torch; now Verizon (NYSE:VZ) has confirmed long-standing rumors that it will roll out an iPhone in early 2011. But the announcement of the Verizon iPhone may fly under the radar among the changes that this industry has seen recently [see also Will Tax Hikes Slam Telecom ETFs?].
Among many new additions to this high-growth industry, Microsoft (NASDAQ:MSFT) recently announced a line of new phones that boast big-name manufacturers like HTC and Samsung, as the company seeks to expand past its software dominance. Also, Research In Motion (RIMM) has announced a playbook tablet that will act as a companion device to the BlackBerry and compete with the iPad (NASDAQ:AAPL). These new technologies offer strong opportunities for telecom firms to widen their reach, and expand their profits. With providers battling for the most dominant market share, their earnings will shed light on how well they have maintained their business in a fast-paced environment.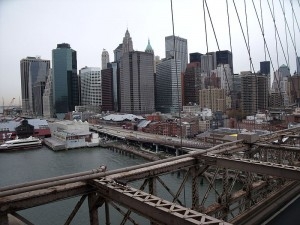 Today, before market open, Verizon Communications will release earnings from the most recent fiscal quarter. Verizon is the largest mobile telecom provider in the U.S., with a total of 92.1 million subscribers domestically, this bellwether's earnings will be high profile. Analysts have predicted the company to report EPS of $0.54 alongside revenues of $26.34 billion. Investors should note that Verizon has either met or surpassed analyst estimates for the last four quarters, creating a positive outlook for today's release. Verizon may meet their EPS expectations, but the forecasted revenue is approximately 3.5% lower than the third quarter of 2009. So a high EPS could be overshadowed by weak revenues.
As Verizon releases their earnings, the HOLDRS Merrill Lynch Telecom (NYSEARCA:TTH) will be today's ETF to watch. With just 12 total holdings, Verizon (25.9%) makes up an integral part of this ETF; other top holdings include AT&T (52.7%) and Sprint Nextel (S, 2.8%). TTH has had a solid 2010, posting gains of 4.6% while paying out a robust dividend of 5.6% [see all of TTH's fundamentals here]. If Verizon has been able to keep up with the competition, and hits their EPS marks, the fund may jump. But if the revenues come in as low as expected, it could mean a bad outlook for the firm, and send this ETF plummeting.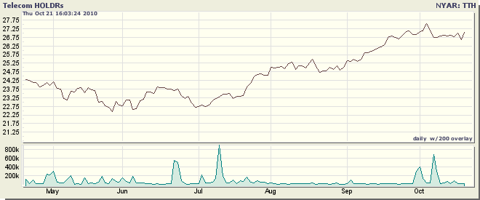 Disclosure: No positions at time of writing.