BlackBerry (NASDAQ:BBRY) shares were off last night and are off this morning in pre-market trading surrounding a deal announced last night between Apple (NASDAQ:AAPL) and IBM (NYSE:IBM):
As part of a comprehensive enterprise mobility partnership, Apple and plan to develop 100+ "industry-specific enterprise solutions," including new iPhone/iPad apps.
The apps will begin to arrive this fall, and IBM will resell iPhones/iPads containing them to clients worldwide.
The companies also plan to develop IBM cloud services optimized for iOS. Targeted markets include security, mobile device management (MDM), and big data/analytics. New enterprise-focused AppleCare services will be offered, as will "new packaged offerings from IBM for device activation, supply and management."
Apple, which maintains an outsized share of enterprise mobile hardware activations, has tried hard to grow its business footprint during the Tim Cook era. Aside from any value provided by the new apps/services, Big Blue's credibility and relationships with Global 2000 firms should provide a shot in the arm for Apple's efforts.
As for IBM, the deal adds to a mobile software/services push that has already resulted in a string of acquisitions and product launches.
+1.4% AH. +2%. BlackBerry -3.2%, as investors worry about the MDM portion of the alliance. MobileIron (NASDAQ:MOBL) could also be affected by it.
Update: Tim Cook, discussing the deal with re/code: "We're good at building a simple experience and in building devices ... The kind of deep industry expertise you would need to really transform the enterprise isn't in our DNA. But it is in IBM's."
There is a whole other article here about Tim Cook, and why this is such a great move for Apple, but I'm not going to get into that. Needless to say, as predicted, this has definitely become Tim Cook's Apple.
First things first, this partnership is not going to kill BlackBerry and the market is overreacting. Just remember, this partnership has just been announced - it's going to take at least a year of development before either of these companies likely bear fruit from it. This is a reaction to a headline that is causing people to pull the reins back on the extremely fundamentally sound BlackBerry.
The same BlackBerry that just said in their last conference call that they don't expect their cash balance to go under $2.5 billion at any point.
Needless to say, the company isn't going anywhere. Now, I'm not just saying that because I'm long BlackBerry - there's a lot of reasons behind it. Here's 5 of the main reasons that BlackBerry is going to be just fine.
1. This Actually Makes BlackBerry an Obvious Buyout Target
Can't you hear Microsoft (NASDAQ:MSFT) or Google (NASDAQ:GOOG) (NASDAQ:GOOGL) saying to themselves, "Wow - Apple is focusing on enterprise. How could we get a leg up on them in this space?" I can. And it just so happens the brand new, lean, clean, and efficient BlackBerry is still available.
If any other major company wants to get into this space and already have a leg up on Apple, all they're going to have to do is go out and acquire BlackBerry. You're a major company that buys BlackBerry? You're already light years ahead of Apple/IBM. For a company like Google, a monster premium to shareholders would be absolutely nothing for them. They could go out and offer $18/share today for BlackBerry if they decided that they really wanted it.
This reminds me of when Coca-Cola (NYSE:KO) put a 10% stake into Green Mountain (NASDAQ:GMCR). The night before, SodaStream (NASDAQ:SODA) stock crashed. Then, the next morning, people started to realize that Coke's involvement actually shines a major light of credibility onto the cold beverage dispensing industry. Then, SodaStream took off.
This deal does the exact same thing for BlackBerry. It shows the world how valuable the technology that BlackBerry has and makes them an obvious buyout target going forward.
2. BlackBerry Has the Lead & This Doesn't Change BlackBerry's Patent Portfolio
No matter what Apple and IBM decide to develop together, it's not going to change the slew of patent protection that BlackBerry has.
Aside from its patent portfolio, one of the major advantages that BlackBerry has is that they have the lead. They've been developing enterprise and security software from the get go, and already have a leg up on Apple and IBM. That's not to say that Apple and IBM aren't going to be able to develop some great stuff for iPhone and iPad - they will. But, they're going to be playing a game of catch up against a company that has been the leader in enterprise (regardless of their smartphone performance) over the last 10 years or so.
3. This Doesn't Change BlackBerry's Progress in Emerging Markets
This deal has absolutely zero effect on BlackBerry's latest endeavor to sell Foxconn (OTC:FXCOF) engineered smartphones in emerging markets. Smartphone sales are going to continue to be a portion of the company's revenue, and are in no way going to be impacted by this deal. The company's success in Jakarta - and hopefully their coming success in India and other emerging markets - will continue to take place regardless of this partnership.
4. BlackBerry Has Many Legs to Stand On
Additionally, BlackBerry is diverse.
Now that they've decided to not primary be a smartphone company, they have several legs to stand on in terms of monetizing their assets. Aside from their valuable portfolio of patents, BlackBerry has QNX, BES, BBM, and their smartphone business all to stand on. This IBM/Apple deal really could only be considered a threat to BES. BlackBerry is still going to figure out a way to monetize BBM, it's still going to have QNX dominance in vehicles, and it's still (as we speak) going to be selling millions of smartphones worldwide.
5. This Doesn't Change BlackBerry's Momentum
BlackBerry has momentum behind it. It's again a name that's going to be tossed around in the headlines because of this deal, and that's not necessarily a bad thing. There's no doubt we see a couple people defending the company's position once they look at the meat and potatoes behind this deal. it's easy to have a knee jerk, "this is bad for BlackBerry" reaction - but, like the GMCR deal mentioned above, you've got to scratch below the surface to find the truth.
Regardless, the first article that beat me to the punch analyzing this situation this morning got it right. Not to steal the thunder of Corey Sommers, but he says:
Finally! You have a stock priced near book value and now an opportunity to remind the investing public that Blackberry still has more MDM customers than all of their top competitors combined, including 10 of the 10 largest companies in the world and 16 of the G20 governments. BlackBerry's MDM business has actually been benefiting significantly from the EZ Pass program, but nobody has noticed.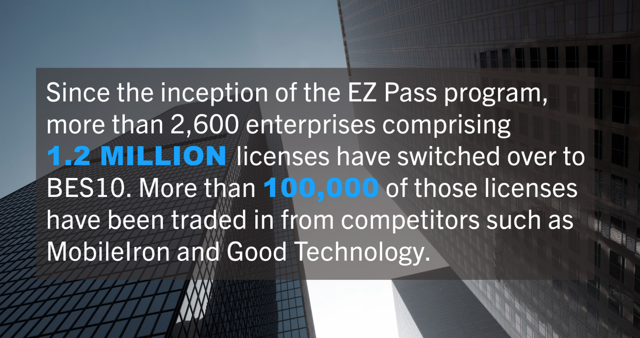 The fundamentals are still good here - Corey is right. And BlackBerry continues to have QNX momentum, in addition to smartphone and PR momentum.
Conclusion
What cruel irony. My Apple gains are being offset almost exactly by my BlackBerry losses in pre-market. If Apple inches up towards $100, I'll probably do some profit taking and start poking at BlackBerry again, should it dip much lower. My point? I'm not selling here - and I'm definitely not panicking. Aside from the fact that my BBRY shares are all well into the green, my likely strategy is going to be adding on the dips. Chen is going to deliver yet again this coming quarter, and it's going to be months, if not years, before we start to see tangible results of this partnership.
Both stocks go higher, in QTR's opinion.
Best of luck to all investors.
Disclosure: The author is long BBRY, AAPL. The author wrote this article themselves, and it expresses their own opinions. The author is not receiving compensation for it (other than from Seeking Alpha). The author has no business relationship with any company whose stock is mentioned in this article.