Chinese e-commerce is a rapidly growing industry that will garner increased attention as the IPO of Alibaba (Pending:BABA) approaches. In this article I'll take a look at four of the largest publicly traded companies in the industry, with a special focus on a relative mispricing between Dangdang (NYSE:DANG) and JD.com (NASDAQ:JD).
Below I have highlighted a few relevant financial metrics indicative of how these companies stack up in terms of profitability, sales, and growth. Note that because some of these companies have negative or very small earnings, traditional metrics like PEG and earnings growth rates were not used.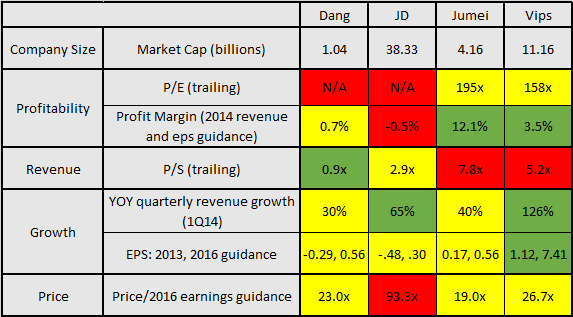 (Source: Created by author, data from Yahoo Finance and TD Ameritrade as of 7/14/14 market close)
Jumei and Vipshop
Neither of these companies looks like a particularly good deal at current valuations. They both have proven, profitable business models with price tags to match.
Jumei (NYSE:JMEI), which specializes in cosmetics sales, could struggle to maintain margins as competitors seek to enter high margin niches. Pretty much across the board, analysts are expecting Chinese e-tailers to at least maintain margins, and in some cases grow margins significantly. A look at the American e-commerce market, which is slightly more mature than the Chinese market, suggests that these expectations probably aren't realistic in the short term. Over the last four years, Amazon has more than doubled revenues and trended toward smaller earnings. eBay has grown revenues by about 70% with corresponding EPS growth of 49%.
While lackluster earnings can be explained as a short-term consequence of a long-term growth strategy, investors should not be deluded into believing that profitability will inevitably come for companies with significant market share. Although young growth companies generally become more profitable as they mature, there doesn't appear to be any fundamental economic reason why all of these companies should suddenly enjoy higher margins. The market is already fairly consolidated between Alibaba and JD, so further consolidation is not likely to have a significant effect. It seems that analysts are a little too optimistic.
Vipshop (NYSE:VIPS) has been the best performer in Chinese e-commerce, returning over 2900% since its $6.50 IPO in 2012. But with analysts already expecting 80% annual earnings growth over the next five years, it's difficult to envision Vipshop continuing to outperform expectations. In Q1, Vipshop controlled 3.0% of the B2C market by GMV. If it grew revenues 80% annually for five years, and B2C as a whole grew by 35% annually, it would be left with 12.6% market share. Achieving this growth will be exceptionally difficult when competing with giants like Alibaba and JD, and exceeding this growth seems near impossible. Paying over 100x earnings for any stock is obviously risky, and in this case can only be justified by the belief that VIPS will gain very significant market share.
Comparing JD and DANG
JD and Dangdang are similar in so far as they both rely heavily on direct sales and are struggling to translate sales into profitability.
JD is by far the largest player in Chinese online direct sales, generating 96% of its revenues through direct sales and controlling 47% of the direct sales market. This heavy dependence on first party sales is a major reason why JD isn't as profitable its competitor Alibaba, which dominates in high margin third-party sales. JD does have a small but fast growing third-party presence. As part of a recent deal that saw JD and Tencent form an alliance, JD acquired Paipai, the second largest C2C platform in Chinese e-commerce. Though this segment of JD's business is growing quickly, JD still controls only a tiny market share in C2C, with Alibaba's Taobao accounting for over 98% of GMV in 2013.
Analysts expect that JD will grow rapidly. The 2015 revenue consensus of $26.6 billion represents a 52% annual increase from 2013 sales of $11.5 billion. Given JD's recent growth rate, the roughly 25% annual growth expected from Chinese e-commerce market, and the fact that the B2C segment in which JD has a significant market share is growing faster than the market at large, the huge revenue growth expectations for JD are well justified.
Despite JD's robust growth potential, the biggest takeaway from my analysis is that it's very hard to justify an investment in JD at its current valuation. To illustrate that Dangdang is a better investment, consider the following growth scenario that is favorable to JD and unfavorable to Dangdang.


(Source: Created by author)
Even in this scenario, you pay a premium for JD's sales. Investors are clearly betting that JD is the more likely of the two companies to solve the profitability puzzle, but based on an examination of the strategies available, I am skeptical.
Amazon is another online retailer facing profitability concerns, and the way it has responded is telling. Amazon has aggressively grown third-party sales, and has further diversified revenue streams by generating revenue through Prime subscriptions. Although it dominates the first-party market, Amazon is trying to grow in other directions because first-party sales simply have not generated big profits.
Growing third-party sales would certainly benefit both JD and Dangdang, but is easier said than done. Alibaba has a major advantage as the established giant in this area. Sellers are attracted to Alibaba's vast network of buyers, and buyers are attracted to Alibaba's large selection of sellers. This network effect is a powerful deterrent to competition. While subscription services are a possible path for JD, Alibaba again has the edge here as the larger company.
Shifting towards a higher margin product mix is the real key to profitability. JD's recent hiring of Lin Chen, former CEO of luxury goods e-tailer Yintai, as the head of business development for JD's C2C venture indicates that management understands the importance of capturing the high-end market. Management at Dangdang has stated that their strategy is to "transform Dangdang from an online bookstore into an integrated online shopping mall targeting mid-to high-end consumers," and has made comments indicating that they are willing to sacrifice some top line growth for profitability.
While analysts seem to disagree, I think Dangdang is actually better positioned for a transition towards high-margin sales. JD can't afford to be selective about where its sales come from due to its huge market share and priced in growth expectations. If it is selective, it won't be able to achieve the massive expected growth, so either way investors lose. Dangdang, with its P/S of less than 1, has the ability to sacrifice sales for profitability. In addition, its small market share allows for freedom to maneuver more easily into profitable market niches. As the earnings chart below indicates, the transition to profitability is already underway for Dangdang. Recent earnings beats have been fueled by an improved product mix.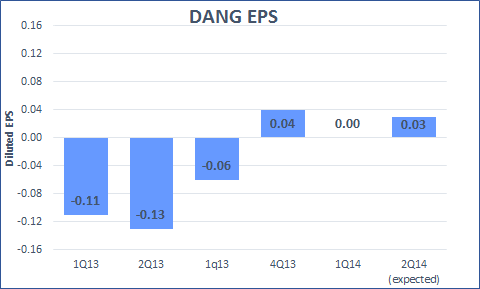 (Source: Created by author)
I believe there are three main reasons why investors favor JD. The first is that they justifiably have more faith in the management of JD. While good management is obviously key for young growth companies, I don't think it alone can justify the steep discount investors have applied to Dangdang. The second reason is that investors are underestimating how difficult it will be for JD to improve margins. Finally, this premium may exist simply because JD is glamorous. As often occurs with internet companies, investors are excited over the giant growth prospects and market share of JD.
Individual evaluations of JD and DANG
Since DCF analysis would be heavily dependent on the margins and growth rates chosen, I elected to skip it and instead created a sensitivity table using these variables. Based on five year revenue growth at the shown rates, and the given profit margins, I calculated what trailing twelve month earnings would be in five years (this number is not shown). I then applied an earnings multiple of 25x to find the resulting market cap, which is the first number shown in each cell (in billions). The second number is the implied annual return on an investment made today. I believe the 25x multiple is reasonably conservative given that Chinese e-commerce is projected to be growing at a rate of roughly 10-15% in 2018.


(Source: Created by author)
I gave JD the same treatment as Dangdang, with the only change being a substitution of higher growth rates to reflect market expectations.


(Source: Created by author)
Based on this analysis neither of these companies look particularly attractive, although Dangdang looks slightly better than JD. Dangdang also looks better from a comps perspective, and has some potential as an M&A target.
Investors are clearly excited about the huge growth potential of Chinese e-commerce, and this is reflected in valuations that look a little bit high. While none of these companies represent exceptional value, Dangdang is the clear winner of the bunch. Pigeon-holed as the boring, low-growth player in the industry, Dangdang actually has the most upside of all the players in Chinese e-commerce.
Disclosure: The author has no positions in any stocks mentioned, and no plans to initiate any positions within the next 72 hours. The author wrote this article themselves, and it expresses their own opinions. The author is not receiving compensation for it. The author has no business relationship with any company whose stock is mentioned in this article.