Shares of Facebook (NASDAQ:FB) slid 2.4% yesterday when Fed Chair Yellen pointed out high valuations in biotech and social media companies. The social media giant closed the day down 1% but remains susceptible to weakness in momentum stocks. Recent data on social media and the World Cup reaffirms the company and its leadership in the space. Investors should take advantage of any pullback to take long-term positions.
The Fed has a few words for stock pickers
In her semi-annual testimony to Congress yesterday, Chair Yellen drifted from monetary policy to give a rare call on the stock market. In the official report, the Fed chief warned that, "equity valuations of smaller firms as well as social media and biotechnology firms appear to be stretched."
That analysis by the world's most influential central banker sent shares of small-cap and momentum names tumbling with the Russell 2000 small-cap index finishing the day lower by more than one percent. The tech-heavy Nasdaq slipped 1.2% after the remark before recovering and closing the day half a percent lower.
I have been a supporter of the Fed's monetary policy over the last five years and acknowledge Chair Yellen's extremely strong economic credentials but call into question the Federal Reserve's qualification for investment advice. Investors should remember that the Fed was not prescient enough to curb excess in the housing bubble and that their ability to pick tops in market prices may not be any better.
In fact, recent news on Reuters makes me think that social media and Facebook has room to run.
World Cup and things to come
Brazil's World Cup was the largest social event in history with more than 350 million Facebook users generating three billion posts, comments and likes. The final alone saw more than 280 million interactions from 88 million users. The fact that each user generated an average 8.6 interactions, and my own anecdotal experience during the period, leads me to believe that the site is increasingly becoming a platform for real-time information sharing as well.
UBS has recently reiterated its Buy rating and $90 price target on shares of Facebook, citing revenue growth as high as 23% to 2018. The majority of the upside potential seems to be attributed to growth in WhatsApp and Instagram. While I agree on the upside potential for the shares, I am more skeptical on the outlook for platform acquisitions. These platforms both have strong user bases and good momentum in growth but the past is rife with examples of hot social platforms fading away against newer competitors.
My own positive outlook for Facebook is driven by the company's own platform and its nearly obligatory use for everyone on the internet. I was a reluctant user of the site, not creating my own profile until 2012, but now cannot imagine my social life without it.
Besides the more than 4.3 billion people that do not use the internet, there are still those that have yet to give in to the largest social media phenomenon in history. Facebook reported 1.27 billion monthly active users in the first quarter, growth of nearly 15% from the same quarter last year.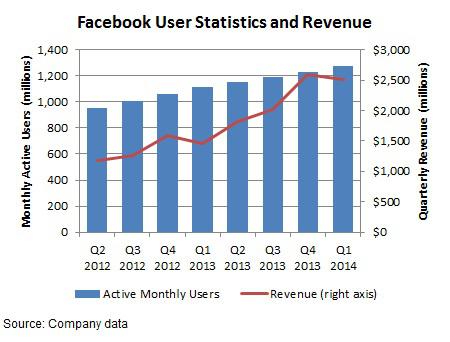 Facebook has reached that critical mass that obliges internet users to create a profile and it will continue to see strong growth in active users for well into the next decade.
Facebook's acquisition of LiveRail, the third-largest video ad seller in the United States, is a strong push into video ads and probably the best bet on future sales. According to Techcrunch, the video marketer only posted sales of $60 million in 2013 but is set to hit $200 million this year. Facebook's attempt at video ads has disappointed investors so far but the LiveRail integration promises to smooth the process.
Expectations are for sales growth of 51% this year to $11.9 billion and earnings of $1.43 per share. Sales growth is expected to slow to 32% next year and translate to earnings of $1.84 per share. That would yield a current valuation of 36.4 times 2015 expected earnings, admittedly high but the company's market is still years away from maturity. Success in video ads could reinvigorate sales growth next year and drive shares closer to the UBS target. My own target is for $84.00 a share on a five-year model to EBITDA of $37 billion by 2020 and a terminal EBITDA multiple of 8.5 times.
From a conservative economist's perspective, perhaps Chair Yellen's call for heady valuations in social media have some merit. Growth in user statistics and global internet trends do not make Facebook any ordinary social media company. While the stock is likely to be volatile around market weakness and valuation fears, the long-term potential is very high.
Disclosure: The author is long FB. The author wrote this article themselves, and it expresses their own opinions. The author is not receiving compensation for it (other than from Seeking Alpha). The author has no business relationship with any company whose stock is mentioned in this article.