The real secret behind Warren Buffett's stellar track record is not great stock selection. In fact, it's something far more simple - portfolio leverage - according to a 2012 study from AQR Capital Management (link at bottom).
Researchers Andrea Frazzini, David Kabiller, and Lasse Heje Pedersen write,
We estimate that Buffett applies a leverage of about 1.6-to-1, boosting both his risk and excess return in that proportion.
Thus, his many accomplishments include having the conviction, wherewithal, and skill to operate with leverage and significant risk over a number of decades.
Buffett's stellar stock picking, then, is less about the oft-cited growth-at-a-reasonable philosophy and more about of finding low-risk companies that he could comfortably hold with significant leverage.
Leverage for the Individual Investor
Individual investors can mimic Buffett by borrowing money and levering their portfolios using a margin account. But should they?
The dangers of using margin revolve around the infamous margin call, in which one is forced to "fire-sale" one's assets at low prices in a recession. Warren Buffett did not have to abide by Regulation T, which governs brokerage accounts, but if he had, you can see below that his margin used - $60 for every $100 - would have meant a margin call if his portfolio fell 53%.

53% just so happens to be the peak-to-trough drawdown of the S&P from October 2007 to March 2009. If an individual investor used Buffett-level leverage on an S&P 500 portfolio, they would have been forced to sell at the bottom and effectively been wiped out.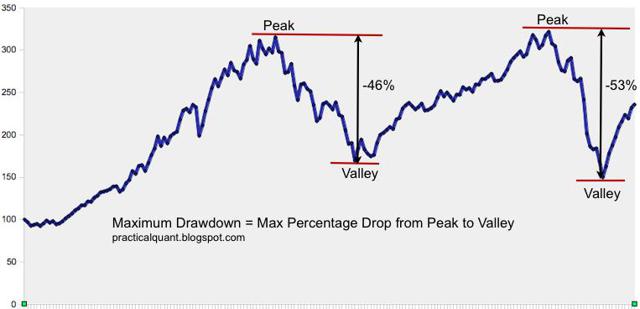 However, going back to the Regulation T Margin Call Chart, we can also see that an investor could comfortably apply half of Buffett's leverage (of 30%, or even 35%) before entering the margin call danger zone.
In the last 85 years, 53% was the maximum drawdown the stock market experienced. A full-fledged financial panic, and 53% was the absolute limit. However, in the 1929-1932 Great Depression the Dow Jones had an 89% peak to trough drawdown, which if repeatable would put a dampener on such a margin strategy.
Personally, I believe modern monetary policy and greater market efficiency makes a drawdown like the 1929-1932 crash very unlikely-- and I am willing to bet my personal fortune on that assumption, as Buffett did. But if 1929 worries you, you may want to stick with a mere 10% leverage.
Whether its a 30% or 10% leverage that you decide to take, that's an extra 10%-30% return left on the table that you currently aren't getting but could be.
Of course, there is a cost for that extra return. Margin fees vary from broker to broker, but currently they are very low to match interest rates. For example, as of July 2014, Interactive Brokers is currently charging 1.59% APY on margin loan balances. With the S&P 500 currently yielding 1.8%, you're making 0.11% just from dividends. Also, be sure to check your broker's maintenance margin requirements, which could be stricter than Regulation T requirements and cause you an unwanted early margin call.
If you prefer to use professional managers rather than managing a leveraged portfolio on your own, I will follow up with another post. But you can always access it for free from the man himself through Berkshire Hathaway, BRK.A or BRK.B.
AQR Study:
www.econ.yale.edu/~af227/pdf/Buffett's%20Alpha%20-%20Frazzini,%20Kabiller%20and%20Pedersen.pdf
Disclosure: The author has no positions in any stocks mentioned, and no plans to initiate any positions within the next 72 hours. The author wrote this article themselves, and it expresses their own opinions. The author is not receiving compensation for it (other than from Seeking Alpha). The author has no business relationship with any company whose stock is mentioned in this article.