Mobile Profitability in Focus
Since the fourth quarter of last year, I've chosen to focus on Intel's (NASDAQ:INTC) mobile processor business, with the exclusion of its PC and server businesses. This is not to take anything away from Intel. Intel has been doing a great job of proving that the PC is far from dead. The latest quarter earnings results are proof of that. Intel's revenue of $13.8 billion was up 8% y/y, and its operating income was up 41%.
I've focused on mobile because I share the widely held perception that it represents the future of personal computing and because Intel has found competing with the ARM (NASDAQ:ARMH) mobile ecosystem so difficult.
Last year saw many Intel supporters confidently predicting Intel's defeat of the ARM ecosystem on the basis of the technical superiority of Intel's processors and Intel's manufacturing processes. When that defeat failed to materialize, I proposed in "Intel's Mobile Money Losers" the theory that Intel's basic disadvantage relative to ARM was not technical but cost. At the time, in January of this year, I had relatively little to go on. Intel's organizational structure made discerning the cost of Intel's mobile activities difficult.
For calendar Q1, Intel obligingly reorganized, creating the Mobile and Communications Group (MCG), which captured the costs and revenue associated with its tablet and phone processors. For the quarter, MCG posted an operating loss of $929 million on revenue of $156 million.
As I pointed out in my Q1 Intel earnings review, the operating loss was a direct consequence of Intel's "contra-revenue" subsidies it had announced last Fall. I also offered a preliminary estimate of the true cost of the 5 million Bay Trail tablet processors that Intel shipped in the quarter. With a total cost to produce the processors of $1085 million = Revenue - Operating Income, the unit cost came to $217/processor.
This was a crude estimate that lumped in whatever up-front investment Intel had made to get Bay Trail into production. Many bloggers confidently predicted that the impact of contra-revenue would be minimal going forward.
That hasn't turned out to be the case. For the latest quarter, MCG revenue declined to a mere $51 million, even as tablet processor shipments increased to 10 million. And Intel made clear in the conference call that phone processor shipments by the group were negligible. The MCG operating loss also increased to $1,124 million. This was slightly under my Q1 estimate of $1.2 billion operating loss based on 10 million units shipped, a number that Intel met.
Last quarter, this loss estimate had to be based on a (reasonable) guess as to the cost structure of MCG. This quarter's results provide an additional data point that affords a more reasonable estimate of the operating cost for the group. In the table below, I construct a cost curve plotting total cost (manufacturing + operating) vs. number of units produced per quarter.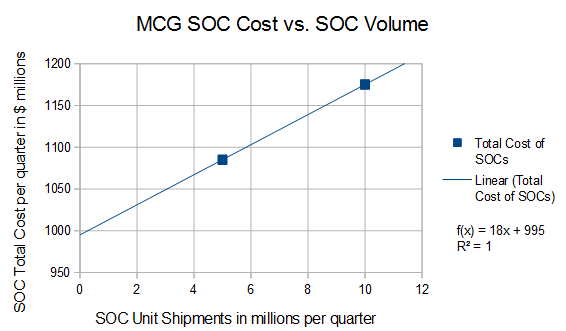 Since I only have two data points, I provide a simple linear curve fit. Higher unit shipments would probably show a roll-off of the curve due to economies of scale, but at these relatively small volumes, the approximation of the curve as linear is reasonable.
The Y-axis intercept of the curve (cost at zero units) provides an approximation of the operating cost (R&D + Marketing and G&A) of the group of $995 million per quarter. This is slightly higher than the average operating cost of $817 million for each of Intel's six groups, but this is to be expected since Intel would be spending more for mobile.
The slope of the line approximates the cost of sales for the mobile processors, about $18/processor. This doesn't sound too bad compared to ARM processors that typically have an average selling price (ASP) of about $20, but if Intel were to sell these processors for $20 it would have a gross margin of 10%, nothing close to the 64% gross margin Intel enjoyed overall in the latest quarter.
If Intel were to charge a 64% gross margin on its mobile processors, this would bring the ASP up to an even $50, hardly competitive with the ARM world. Even then, Intel would need much higher sales volume (about 30 million units per quarter) in order to cover its operating costs. Whether such volumes are achievable is doubtful in itself. Intel had to practically give Bay Trail away (for $5/unit) in order to ship 10 million units.
Is the reader sensing some breakage here? I kinda do. Sure, you can assume that future economies of scale and future process nodes might make this all work out, but it seems more and more implausible that Intel's mobile processors can ever be cost competitive with ARM.
This is the fundamental question I've been trying to answer for some time, and I admit I still don't have enough data to reach a final determination, but the weight of the evidence says that Intel never achieves cost competitiveness.
When probed by analysts at the conference call on 7/15, Intel execs were understandably vague about when the mobile business could be profitable. I doubt they even know. In the past, the answer was "when we move to 14 nm," but on the call Intel stated that they would be "locked out" of mobile if they couldn't offer integrated LTE modems, as Qualcomm (NASDAQ:QCOM) now does for its ARM systems on chip (SOCs). In the long run, this statement is probably true, but I doubt that offering an integrated LTE modem solves the profit problem.
It's War
If Intel can never be cost competitive with ARM, what's the point of dropping a billion dollars a quarter on its mobile initiative? This isn't about simply carving out a sizable niche (20-30 million units/quarter) for Intel's tablet processors, because a niche wouldn't be enough to keep the lights on.
Selling Bay Trail processors for $5 amounts to a declaration of war on the ARM ecosystem. As is so often the case, this war is motivated by a perceived threat to Intel's survival. Intel doesn't see a nice, can't we all get along, future in which they share the mobile market with ARM.
This war is also a race against time, because if the ARM ecosystem foundries achieve their own 14-16 nm FinFET process, it's over for Intel in mobile. I know many Intel supporters discount the possibility, and I can't really blame them given the lack of visible progress by the ARM foundries. But the obvious desperation of Intel's actions speaks volumes about the reality of the ARM threat. Intel knows that ARM processors based on 14-16 nm FinFET will arrive eventually, and Intel has to hope it has enough time to kill off ARM before they do.
Intel investors should ponder whether this war is really necessary and whether it's winnable. Intel's successor to Haswell, Broadwell Core M processors, based on its most advanced 14 nm process, will make their appearance in ultra-light 2-in-1 notebooks by the end of the year. While more expensive than ARM, they will be more capable and will run Windows and Mac OS X. They will be fanless, meaning they will enable thin form factors and the battery life common in ARM based tablets. Broadwell will provide an important means for the Windows ecosystem to continue its transition to mobile.
Intel's has been able to grow the PC Client Group (PCG) business by improving the mobility of X86 based systems. PCG revenue grew by 6% y/y to $8.667 billion, and operating income grew by 41%. PCG doesn't have to slug it out with ARM to get into mobile, although there is a longer term threat from ARM as more ARM chips become 64 bit capable.
More pressing is the issue of whether the war is winnable. Many Intel supporters will assume it is, but they've been over confident before. In attacking ARM on the tablet front, Intel is taking on Samsung (OTC:SSNLF) and Apple (NASDAQ:AAPL), which had about 50% of the tablet market between them in 2013. Apple and Samsung have much deeper pockets than Intel, and an obvious interest in making sure that Intel isn't successful. On the other hand, I haven't seen much reaction by either company to the Intel threat.
The lack of reaction may be more apparent than real. Buried in Samsung's latest earnings release is this note on the outlook for Samsung's semiconductor SOC business:
Expect to enhance mid-term growth momentum through a collaboration with Globalfoundries on 14nm.
Also, there is this press release from Samsung announcing that it would have a demonstration of a 14 nm FinFET SOC reference system at the 51st Annual Design Automation Conference. This suggests that Samsung has at least achieved the sampling stage for its 14 nm process, which usually paves the way for full production about 6-12 months afterward.
It's too early to declare a winner in Intel's war, but my intuition, which has been pretty accurate so far, says that Intel cannot win.
Disclosure: The author has no positions in any stocks mentioned, and no plans to initiate any positions within the next 72 hours. The author wrote this article themselves, and it expresses their own opinions. The author is not receiving compensation for it (other than from Seeking Alpha). The author has no business relationship with any company whose stock is mentioned in this article.
Editor's Note: This article discusses one or more securities that do not trade on a major U.S. exchange. Please be aware of the risks associated with these stocks.