Gold exploration companies are some of the most speculative investments you can make in the gold sector, because these are companies that have no operations and thus no cash flow. Therefore, most gold explorers must rely on equity financing to finance their business and run day-to-day operations.
Gold explorers are simply looking to find gold and if they strike it, shares can skyrocket, which can eventually lead to a buyout from a major miner. An example is a company called Red Back Mining, which was acquired by Kinross Gold (NYSE:KGC) for a whopping $7.1 billion in 2010 after a huge run-up in the share price for several years.
Gold development companies, on the other hand, have an advanced project and are either working towards getting the project to production or selling the company to a major - hopefully at a big premium to the share price. A current example is Kaminak Gold (OTCPK:KMKGF), a company I wrote about on June 30. Kaminak released a very positive preliminary economic assessment on its gold project, and a recent strategic investment by a new shareholder has sent shares much higher; in fact, shares are up more than 20% since my article was published.
Despite the various risks of this business I like gold explorers and developers because of their huge upside potential. These companies are highly leveraged to a rise in the price of gold so if gold were to rise, shares should rise even further. However, even without a rise in the price of gold, great drill results, impressive feasibility studies and resource updates could lead to gains.
Here are 3 of my current favorite gold explorers/developers that I believe will outperform the benchmark Global X Gold Explorers ETF (NYSEARCA:GLDX).
Seabridge Gold (NYSE:SA)
Share Price: $8.67
Shares Outstanding: 47 million
Market Cap: $408.19 million
Seabridge has a massive resource base of gold, copper and silver in the mining friendly country of Canada. In fact, the company's resource base contains a whopping 44.7 million ounces of gold in the proven and probable categories, plus 10 billion pounds of copper. In the company's own words, it is "designed to provide shareholders with exceptional leverage to a rising gold price."
Seabridge's main asset is the KSM project, located in British Columbia. A preliminary feasibility study projects KSM to produce 851,000 ounces of gold annually for the first 7 years of production, as well as 195 million lbs. of copper, 2.1 million ounces of silver, and 1.3 million lbs. of molybdenum, per year. The project requires $5.3 billion in initial capital; however, net cash flow is projected at $20.5 billion and the mine will have a life of at least 50 years.
This projection is based on $1,330 gold; if we used May 2012 gold prices of $1,650 an ounce, the project would produce net cash flow of $31.2 billion and carry a net present value of $7.7 billion - which is more than 15x the company's current market cap!
Here are a few more reasons I like Seabridge Gold:
- The company has a ton of gold ounces in the highest confidence categories of proven and probable. In addition, all of these reserves are located in Canada, simply one of the best mining jurisdictions in the world.
- The next reason is the success that the company has had in growing its reserve and resource base over the years. In 2005, the company had just under 20 million ounces of gold; however, in five years, that number had risen more than 300%, and it continues to grow, as you'll see in the below chart.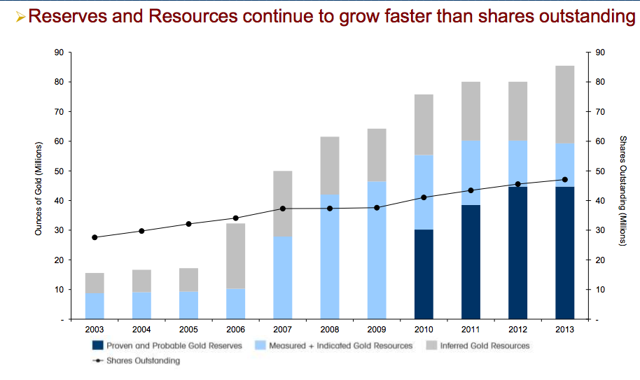 - Perhaps even more impressive is the company's tight share structure; Seabridge has been able to maintain a very low share count of 47 million shares outstanding, while other similar explorers have diluted shareholders.
- Seabridge's gold reserves are being valued at just $9 EV/ounce currently. That is exceptionally low, especially compared to some of the major mining companies, like Goldcorp (NYSE:GG) at $450 EV/ounce, Alamos Gold (NYSE:AGI) at $420 EV/ounce, and Agnico-Eagle (NYSE:AEM) at $390 EV/ounce.
- Finally, Seabridge Gold has no debt and has $20 million in working capital. In addition, insiders own more than 30% of shares, and Royal Gold (NASDAQ:RGLD) holds an option to acquire a royalty on KSM for $160 million in cash. I see this as a major third-party validation of the quality of Seabridge's project.
To put it simply, Seabridge Gold has tremendous upside potential and leverage to the gold price, so investors bullish on the yellow metal should strongly consider a position.
Rubicon Minerals (NYSEMKT:RBY)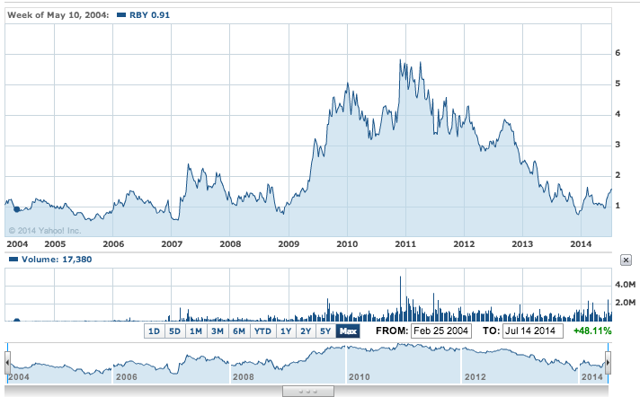 Share Price: $1.57
Shares Outstanding: 366 million
Market Cap: $571 million
Rubicon Minerals is the next gold explorer and developer I'd like to highlight. The company is focused on developing its flagship Phoenix Gold Project, located in the prolific mining region of Red Lake, Ontario.
Phoenix is a very high-grade gold project, with average grades of 8.3 g/t. The project remains on track for initial production in mid-2015. Once in production, Phoenix is expected to produce an average of 165,300 ounces of gold annually, at very impressive all-in sustaining costs of $870 an ounce.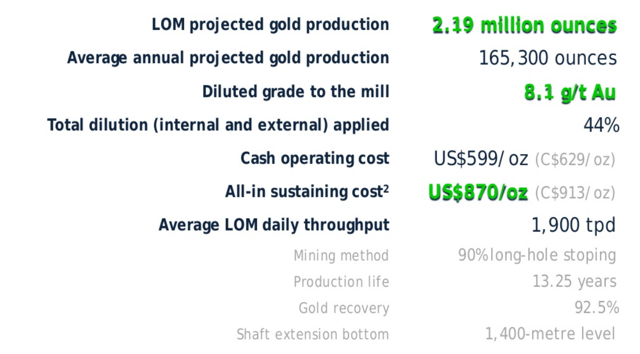 At a quick glance, the company appears fairly valued based; the project has an after-tax net present value (at a 5% discount, to be conservative) of $489 million, which is less than the company's current market cap; life of mine gold production is projected at 2.19 million ounces for 13 years.
However, investors should understand that considerable exploration potential still remains; consider the fact that the company's resource estimate contains 1.129 million ounces indicated and 2.21 million inferred, for 3.348 million. Investors also need to understand that higher-grade projects tend to come with lower all-in sustaining costs, meaning higher profitability; Rubicon projects all-in costs at just $870 an ounce, leaving big margins at $1,300 gold.
To date, Rubicon has spent $205 million on the project, with $168 million remaining capex to get to production and $198 - $208 million total required to production when you count corporate costs and working capital needed. Thankfully, the company is well-funded with $230 million cash in the bank following a streaming agreement with Royal Gold and a recent equity raise (no debt). Therefore I don't think the company will have any trouble getting Phoenix into production given its ample cash balance, support from Royal Gold, and past success in raising funds.
If Rubicon successfully gets Phoenix to production, I think shares have at least 100% upside in the coming years.
NovaGold (NYSEMKT:NG)
Share Price: $3.88
Shares Outstanding: 317.3 million
Market Cap: $1.22 billion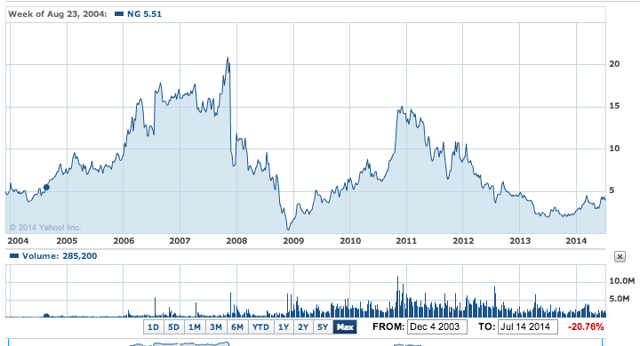 NovaGold is the last company I'd like to mention here and perhaps has the biggest potential of all three companies.
For investors bullish on gold seeking big leverage to a rising gold price, NovaGold is the answer: the company's 50% owned Donlin Gold project in Alaska is massive, with expected annual production of more than 1 million ounces of gold at average grades of 2.2 g/t gold over a 27-year mine life.
In fact, when in production Donlin will be one of the largest gold mines in the entire world. Donlin contains a whopping 34 million gold ounces proven and probable at 2.1 g/t, 39 million ounces of gold measured and indicated (inclusive of proven and probable) and 6 million ounces of gold inferred. This makes Donlin the largest development-stage gold project in the world, ahead of the Hycroft mine expansion owned by Allied Nevada Gold (NYSEMKT:ANV).
However, the company believes that there is potential to expand the current resource even further, with potential to convert measured and indicated to proven and probable, and inferred resources into higher confidence categories.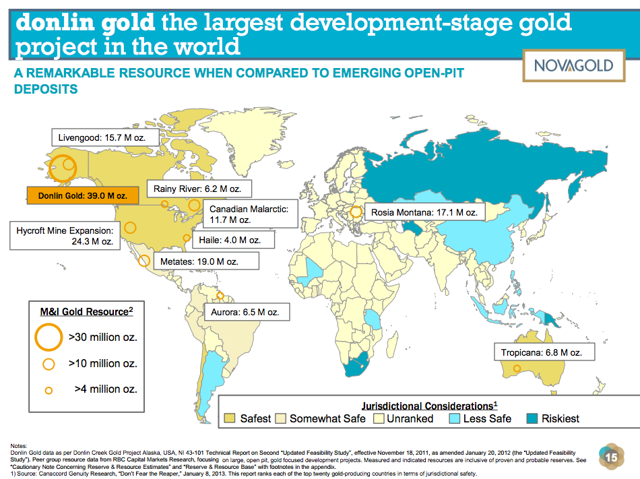 Donlin Gold stands out to me because of the leverage it has to the price of gold. Using a gold price of $1,700 an ounce and a 5% discount as a conservative estimate, Donlin carries a net present value of $4.58 billion, which is more than quadruple NovaGold's current market cap; at $2,000 gold, the net present value shoots up to $6.7 billion; in a super-bullish scenario at $2,500 gold (which I think is likely over the long-term), the project carries a value of $10.2 billion at a 5% discount, and a $27 billion value with no discount.
The company is currently in the permitting stage, with production not expected until at least 2017. NovaGold has a solid balance sheet, with cash of more than $180 million as of Feb. 28, 2014. The 2014 budget calls for $30 million, so the company should not have to raise equity for at least another year or more.
NovaGold also owns 50% of the Galore Creek copper-gold-silver project in British Columbia, which contains 9 billion lbs. of copper, 8 million ounces of gold and 136 million ounces of silver. A prefeasibility was completed and shows that the mine could become the largest and lowest cost copper-gold mine in Canada. Currently, the company says they are evaluating opportunities to sell all or a portion of its interest in Galore Creek to focus on Donlin Gold.
In conclusion, these three gold exploration/development companies have tremendous leverage to a rising gold price and I think shares of all three could double or go even higher in the coming years if gold goes higher.
Disclosure: The author has no positions in any stocks mentioned, and no plans to initiate any positions within the next 72 hours. The author wrote this article themselves, and it expresses their own opinions. The author is not receiving compensation for it (other than from Seeking Alpha). The author has no business relationship with any company whose stock is mentioned in this article.