By Craig Bowles
Overview
General Electric Company (NYSE:GE) is slated to report 2Q 2014 earnings before the bell on Friday, July 18th. Results are typically released at 6:30 a.m. EST and will be followed with a conference call webcast available through GE Investor Relations at 8:30 a.m. GE's earnings are often viewed as a barometer on the overall health of the U.S. and global economy. Therefore, GE has the potential to influence broader markets, including the index futures, currencies, and other broad market indicators, particularly if the results are far outside the band of consensus estimates.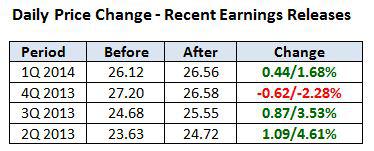 Outliers & Strategy
Key measures:
Adjusted Earnings Per Share: The current Street estimate is $0.39 (range $0.38 to $0.40) (Source: Yahoo! Finance). Estimates were reduced by 1c during the last three months. (If the company reports a value for Earnings Per Share Excluding Items, that would be the comparable value.)
Revenues: Analysts expect an increase of 3.4% y/y to $36.30 bln (range $35.99 bln to $36.72 bln).
GE has refrained from supplying explicit guidance in recent quarters. The last time GE issued earnings guidance was in 2008.
After the Alstom deal, GE will use stock buybacks only to offset employee plan dilution. (This is a big change from GE buying back at least $2 billion in shares per quarter.)
GE's large order backlog has become of interest more recently which analysts expect will support earnings expansion in 2014. Analysts also expect another big dividend increase in the last quarter of 2014.
The stock yields 3.2% in line with the 5-year average and above the 2.0% industry average. A P/E of 18.6 is above the 5-year average of 15.9 but below the industry's 21.3. Price/Book of 2.0 compares to the 5-year average of 1.7 and industry's 2.9.
GE shares have a 1-day average price change on earnings of 2.94%. Options are pricing in an implied move of 0.80% off earnings.
Recent News
07/15 GE expected to achieve its Farnborough Airshow target of $30 billion of orders and commitments on the second day of a week-long event, according to Reuters.
06/24 CEO Immelt said he is confident GE's $17 billion deal for Alstom SA (OTCPK:ALSMY)'s energy assets will win approval from European regulators, according to Bloomberg.com.
06/23 GE will grant the French government an option to buy a 20% stake in Alstom after the deal closes. The option will expire after 20 months, according to Benzinga.com.
06/16 GE recently announced some major changes in its management, including some organizational restructuring, to boost growth in their healthcare and capital segment which has had declining revenue, according to Zacks Equity Research.
06/11 General Electric has been increasing investments in natural gas and power generation in Africa, according to a post on Fool.com.
06/04 General Electric said they could unlock $50 billion in revenue from their Latin America business, according to a post by Fool.com.
Technical Review
GE shares have trended steadily higher the last two years and February's pullback and test of the 200-day moving average is about as big as the downside has gotten during this period. The stock recently pulled back to early June levels as the overall market moved higher, so this is a general market worry for those who still use GE to confirm overall market direction. (Chart courtesy of StockCharts.com)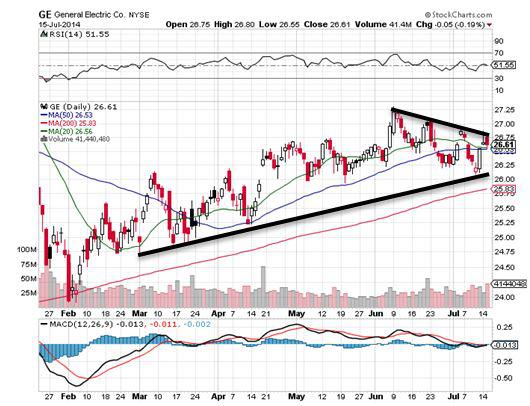 Summary
GE has somewhat of a history of beating estimates by at least 1c with the stock price responding favorably if revenues are solid. The large order backlog has become of interest more recently which analysts expect will support earnings expansion in 2014. Given the probable decline in the amount of stock buybacks after the Alstom deal and market participants expecting the company to beat consensus, earnings and revenue probably need to come in above the analysts' range to create much of a positive reaction.
DISCLAIMER: By using this report, you acknowledge that Selerity, Inc. is in no way liable for losses or gains arising out of commentary, analysis, and or data in this report. Your investment decisions and recommendations are made entirely at your discretion. Selerity does not own securities in companies that they write about, is not an investment adviser, and the content contained herein is not an endorsement to buy or sell any securities. No content published as part of this report constitutes a recommendation that any particular investment, security, portfolio of securities, transaction or investment strategy is suitable for any specific person.
Disclosure: The author has no positions in any stocks mentioned, and no plans to initiate any positions within the next 72 hours. The author wrote this article themselves, and it expresses their own opinions. The author is not receiving compensation for it (other than from Seeking Alpha). The author has no business relationship with any company whose stock is mentioned in this article.