Master Limited Partnerships (MLPs) are fast becoming a desirable investment vehicle for yield-seekers and energy bulls. The purpose of the partnership is to raise capital in a tax-advantaged way in order to fund capital-consuming projects. This makes the MLP a natural fit for natural gas and oil pipelines, where, once the pipeline is funded and built, a steady stream of income flows to the partners for their investment.
As a reward, cash flows through to the investors and is taxed as income through a K-1 form and not as dividends on a 1099. MLPs receive a federal tax exemption on the partnership entity if 90% or more of the partnership income comes from "qualifying sources" such as natural gas processing, storage and marketing.
We have identified Energy Transfer Equity (NYSE:ETE) as the best bang for your MLP buck. Energy Transfer has interests in both Regency Energy Partners G.P. (RGNC) and Energy Transfer Partners (NYSE:ETP), which operate pipelines throughout the southwest, Louisiana, Arkansas, and Missippi.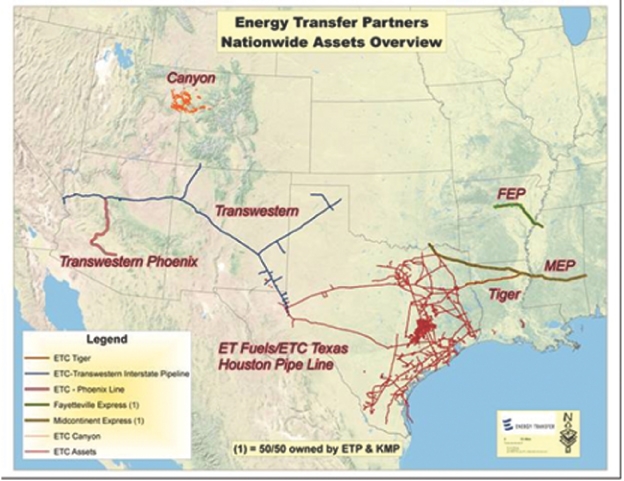 Energy Transfer Equity benefits from the increased use and production of natural gas. The revolutionary technology that has led to successful horizontal drilling resulted in a natural gas glut that is currently being worked off. Due to the location of its pipelines, Energy Transfer benefits from exploitation of new shale gas finds. Unlike natural gas exploration and production companies, Energy Transfer Equity benefits even when natural gas prices are weak due to its storage facilities. Its mainstay stream of income continues from Energy Transfer Partners pipelines, which act like tollbooth operators on natural gas transmission. The company is taking advantage of horizontal drilling in the Haynesville shale area with indirect control over the Tiger Express pipeline and Regency's border pipeline system.
Energy Transfer will get the bulk of its income from Energy Transfer Partners because Regency is still in the process of ramping up distributions due to project capital requirements. We value shares at $55 apiece on a discounted cash flow basis. Distributions should continue to grow in excess of 15% per year, and there is opportunity for an upside surprise in growth as operating leverage increases as natural gas prices firm up.
Shares trade around 38.80. We recommend purchasing shares outside of tax sheltered accounts to gain the full benefit of the tax advantages of holding master limited partnership units.
Disclosure: Author is short puts on ETE