Risk of A Second Default
As Argentina fell to Germany in the World Cup this past Sunday, the South American nation is now facing another crisis in the courts, as it risks its second sovereign bond default in less than 15 years.
President Cristina Fernandez de Kirchner's imperious economic policy, which can be compared to those of the past regimes of Marcos (Philippines) and Chavez (Venezuela), is now reaping the consequences of ignoring international rules that they refused to acknowledge.
The combination of disastrous inflation, Socialist consumer price index manipulation, corruption (Vice President Boudou was indicted on bribery charges) and export cutbacks, all have cumulatively reduced Argentina's foreign currency reserves to under $30 Billion. (For the sake of comparison, Brazil holds a 10 times greater amount.)
First Default of $93 Billion; What's Next?
Back in 2001, Argentina defaulted on $93 Billion, which required a restructuring that a majority of bondholders agreed to in a swap at a roughly 60%+ haircut in order to ensure continued interest payments.
A small group of investors refused the swap, and a suit led by NML Capital, a subsidiary of Elliott Management, (which seized an Argentine maritime vessel to enforce a payment) was brought to and prevailed in New York Supreme Court last month.
The ruling was predicated on a pari passu clause in the bond documentation that guaranteed equal treatment to all investors. The court ruled that it must pay the full coupon to the holdout investors or negotiate a settlement before paying $539 million in the trustee account at Bank of New York to the swap holders.
By refusing to negotiate with the holdouts, Argentina risks another default.
This could have a domino effect against Argentina's future international financial prospects to underwrite additional sovereign debt and open a Pandora's Box of subsequent lawsuits for additional settlements when its foreign currency reserves are at a historic low.
Argentina's Options
Argentina has (4) options:
· It can try to negotiate with NML and the other holdouts, which can open the door for further claims;
· It can pay NML the total amount on their bonds, which equates to over $1.5 Billion;
· They can attempt to shift legal jurisdiction to Argentina, away from the US and change trustee;
· It can default.
Some economists estimate that settling with all of the holdouts could total over $15 Billion. Additional claims from bondholders who had accepted the restructuring could run over $120 Billion, which would decimate Argentina. Additionally, even if restructured bondholders agreed to a new trustee, Bank of New York could be held in contempt of the current court order if it transmitted the info to the bondholders about a new intermediary trustee.
PR Campaign Won't Solve Underlying Issues
President Kirchner has undertaken a Public Relations campaign attempting to paint NML as a "vulture" fund and has played the Socialism card: that the courts are biased against Argentina in concert with evil capitalists. Meanwhile, she has only a few weeks to resolve matters with the holdouts, or risk another default.
Questionable Outlook for Argentine ETF
Unlike neighboring Uruguay, who successfully renegotiated its debts in 2003 without compelling litigation, Argentina's President Kirchner's defiant stance has led to a major national crisis.
Since the June court decision, the Argentine ETF (NYSEARCA:ARGT) has come back from a low of around 20 to the 23 range in anticipation of a settlement, however, any hint of default (or a settlement that leaves open questions of further damages) can precipitate another drop in price.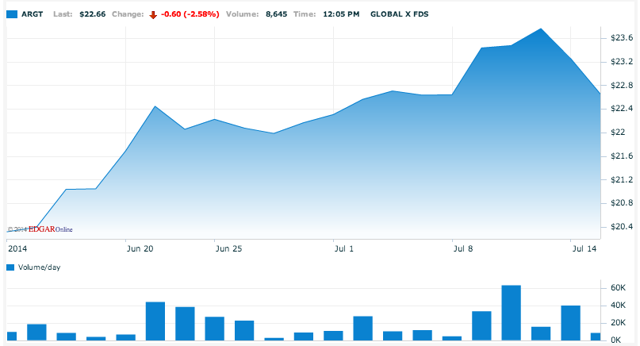 (Nasdaq.com)
For investors seeking a play on emerging markets but wishing to mitigate risks, a diversified ETF, such as the Vanguard FTSE Emerging Markets Stock Index ETF (NYSEARCA:VWO), has been averaging in a narrower range over the same time period, from roughly 43 to 44.30 and might be the more prudent and less volatile road to take.
We invite readers wishing to join the discussion on emerging market ETFs to click the +Follow button above the title of this article, and those looking for the latest updates to click +Get real-time alerts.
Disclosure: The author has no positions in any stocks mentioned, and no plans to initiate any positions within the next 72 hours. The author wrote this article themselves, and it expresses their own opinions. The author is not receiving compensation for it (other than from Seeking Alpha). The author has no business relationship with any company whose stock is mentioned in this article.