Dex Media (NASDAQ:DXM) short interest remains at record levels, over 5.2mm shares as of 6/30 (latest available data), representing about 30% of total shares outstanding. Even now, DXM is the 13th most shorted stock among 2,000-plus US-listed shares (based on latest NASDAQ data). No doubt, the high level of short interest (% of float) reflects pessimism about DXM's business prospects.
Short interest is down 200k from its peak, and even with this modest decrease, the shares are up around 10%. We believe additional short covering will soon take place (see last bullet for catalysts) as we move into early August and what is expected to be very good 2Q results.
Point #1. The high levels of short interest (and the implied pessimism) is not consistent with the rally in the bank debt which has risen to all-time highs.
DXM has 5 tranches of debt and the weighted average price now stands at 83.8 as shown on the Figure below. This is 1-point higher than July 4th (when we published our first article on DXM) and a pretty meaningful move in the past two weeks. As we noted then, we believe the bank debt will eventually move back to par; in fact, Dex Media West bank paper was quoted at a new high of 95. As we noted back then, with bank debt at all-time highs, it is a matter of time before the equity revisits its 2013 highs of $24 and eventually much higher prices.
Figure: Bank Debt at all-time highs, on its way to par…only a matter of time before stock catches up…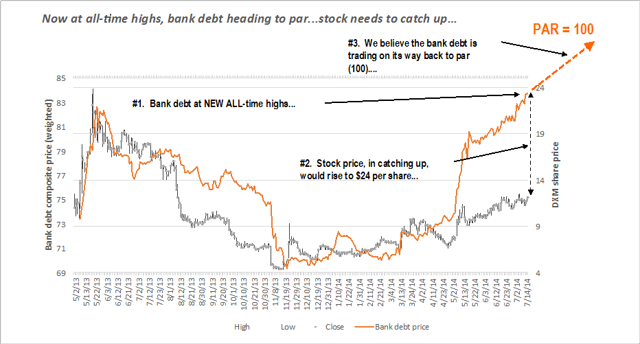 Source: investagainstcrowd and the Bloomberg
Point #2. 3.0mm shares were shorted between $6.92 and $9.56: Short sellers are losing 27% and 76% on their latest positions, meaning catastrophic losses as the stock gains from here…
As shown below on the Figure, there have been two surges in short interest in DXM. The first was 2.4mm shares from August 2013 to December 2013, at average average price of $6.92 and another 600k from April 2014 to June 2014 at a weighted average price of $9.56.
Based on the recent closing price, those 2.4mm shares are facing a loss of 75% and those 600k shares are facing a loss of 27%. In other words, if the stock continues to advance, it will generate additional losses, which we believe will trigger a short cover.
Figure: 3.0mm shares were shorted between $6.92 and $9.56… short sellers facing catastrophic losses…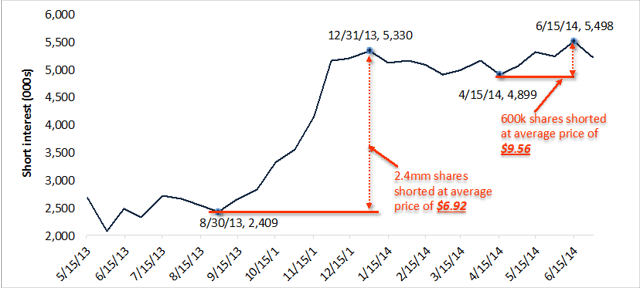 Source: investagainstcrowd and the Bloomberg
Point #3. Longer term, stock at 1X FCF is $24 and 2X goes to $47 per share. In other words, the risk/reward is assymetric to be long DXM.
Why would a short seller cover? Obviously, it is likely a combination of an inflection in fundamentals (digital growth) along with recovering price momentum in the stock (which is happening now). We believe the risk/reward is very favorable to be long the equity.
Take a look at the Figure below, which is a monthly price history for DXM since 2010 (log scale). Note the steady gains in the stock since the beginning of the year? The next key level is the 2013 high of $23-$24-which is only 1X P/FCF.
After that, the next key level is early 2011 price of $47, which is 2X P/FCF. In other words, the stock has fantastic upside if it achieves very modest P/FCF multiples.
Figure: Stock at 1X P/FCF is $24, its 2013 high…At 2X P/FCF is its $47, or 2011 prices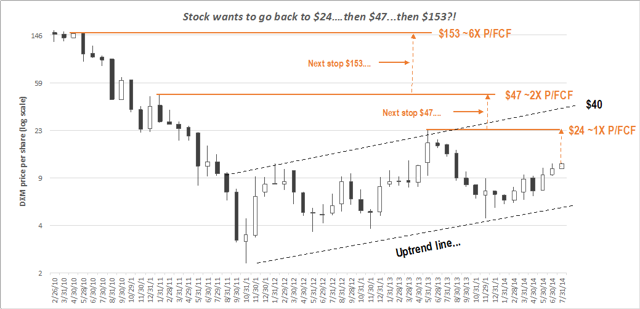 Source: investagainstcrowd and the Bloomberg
Point #4. 4 Potential Catalysts
The potential catalysts for this are: (NYSE:I) good 2Q results; (ii) potential strategic deal with YELP; (NASDAQ:III) global refinance of its term debt; and (iv) continued rise in the stock. Regarding 2Q results, the metric most pertinent to investors is digital growth. It has been running single-digits for the last two quarters and we believe it could be low double-digit in 2Q, aided by continued momentum and increased penetration (recall, each 5% increase of digital sales to its installed base is 13% unit growth) and easier comparisons as 2Q13 was a post-merger quarter and showed modest growth.
Disclosure: The author is long DXM. The author wrote this article themselves, and it expresses their own opinions. The author is not receiving compensation for it. The author has no business relationship with any company whose stock is mentioned in this article.