At the end of June, a stock pick titled Strong Catalysts and Sum of the Parts Shows 170+% Potential with BBX Capital received a lot of questions and comments on Seeking Alpha and via email.
Here are the points that quickly sum up the thesis for BBX Capital (NYSE:BBX).
Hidden Assets
Merger Arb
Unpleasant Exterior
below NAV
Catalyst Heavy
Clean Balance Sheet
Cash Flow Positive
Improving Metrics
Potential Multi-Bagger
Small Cap Stock
That's a lot of catalysts and reasons so let's get on with the second part in more detail.
BBX Capital Part Two - Overview of Legacy Assets and their Potential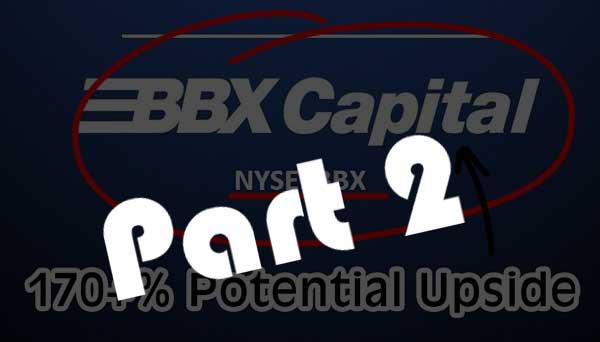 In our first article, we attempted to assign an updated value to each part of the potentially merged BBX & BFCF (BFCF) corporations.
Below, we will drill down using publicly available information on the assets BBX Capital currently owns.
This is the murky portion of the balance sheet but a huge driver of future value (whether the merger occurs or not). For simplicity, we won't touch BlueGreen Vacations or the NOL benefits or the liabilities held against any of these assets; only the legacy BankAtlantic assets.
The legacy assets within BBX Capital ($300 mkt cap) break down as follows:
Renin Corporation: +$65m revenue
Sweet Holdings: 3 confectioneries with +$10m revenue
Real Estate Projects: 11 publicly disclosed projects with the potential for shared interests in:

1,215 apartments
+617,000 sq feet of commercial space
770 single family homes & lots
140 hotel rooms
2 high-end storage facilities
Plus additional raw land near many of these projects
Assets Held for Sale: 454 legacy loans and pieces of real estate
Loans held for Investment: 124 legacy assets with potential for foreclosure and development, only adding to the project list above.
*Note: The entirety of BBX, including BlueGreen, has $111m of liabilities.
The following information is pulled from the company press release with emphasis and additional comments sprinkled throughout.
About Renin Corp
81% owned by BBX Capital and 19% by BFC Financial Corporation.
Renin is a manufacturer of interior and closet doors, wall décor, associated systems and hardware and fabricated glass products through a portfolio of brand name and private label offerings including Erias, DSH, Acme, KingStar, TRUporte, Ramtrack and JJ Home Products. Facilities in Canada, the U.S. and the U.K.
Renin's business had revenues of $65.6 million during 2013.
It's difficult to get a clear earnings picture due to one-time transaction charges from the recent acquisition.
Also, we have to assume that margins are not stellar in this semi-commodity business. There is potential that this company cleans its balance sheet, pushes to expand margins then is sold to a strategic buyer.
Management has a history of buying and reselling entire companies in a private equity model.
BBX Sweet Holdings
The margins for the confectionery business should be higher than home décor manufacturing but the picture is clouded by other questions.
Do these companies have a lot of debt to service?
Will there be synergies in buying power, advertising, distribution, manufacturing, sales and administration?
Will this platform continue to grow via acquisition?
Will BBX pay reasonable prices for acquisitions?
A. Hoffman's Chocolates
Headquartered in Lake Worth, Florida, Hoffman's Chocolates is a manufacturer of gourmet chocolates, with several retail locations throughout South Florida which are available via its retail and online distribution channels, direct shipping throughout the U.S., and at retail locations nationwide.
Established in 1975, Hoffman's had revenues of $4.3 million 2013.
B. Williams & Bennett
Headquartered in Boynton Beach, Florida, Williams & Bennett sells chocolate products and confections through distribution channels serving boutique retailers, big box chains, department stores, national resort properties, corporate customers, and private label brands.
Since 1992, Williams & Bennett had revenues of $4.8 million at the end of 2013.
C. Jer's Chocolates
Headquartered in Solana Beach, California, Jer's Chocolates, featured on the Home Shopping Network, QVC, The Food Network, and the Rachael Ray Show. Jer's Chocolates is distributed internationally, and within the US, has customer distribution in numerous sales channels.
No revenue or earnings numbers have been published yet.
BBX Capital Real Estate Activities
Below are the projects the company is publicly discussing in the real estate segment.
All are at different stages of development. With some, construction has already started, others are developing joint ventures and seeking zoning, others are newly acquired properties where plans haven't been discussed.
The mix of those variables makes each project difficult to value but remember, most projects are held at a written-down, recessionary value from the BankAtlantic sale.
A. Kendall Commons
In March 2013, the Company sold land to Altman Development, a third party real estate developer, for $8.0 million.
Altman contributed the land to a joint venture to develop as a multifamily rental development of 12 three-story apartment buildings, one mixed-use building and 1 clubhouse totaling 321 apartment units, and the Company then invested $1.3 million of cash in the joint venture project as one of a number of investors.
The development is currently under construction and scheduled to begin leasing during the Q3 of 2014.
The Company is entitled to receive 13% of distributions until a 15% IRR has been attained and then will be entitled to receive 9.75% of any distributions thereafter.
B. North Flagler
In October 2013, the Company entered into a joint venture with JRG USA which they assigned to the JV a contract to purchase for $10.8 million a 4.5 acre parcel overlooking the Intracoastal Waterway in West Palm Beach, Florida.
The Company invested $0.5 million of cash.
The Company is entitled to receive 80% of any joint venture distributions until it recovers its capital investment and then will be entitled to receive 70% of any distributions thereafter.
The entitlement process is currently estimated to be concluded in 2015.
The Company also owns a 2.7 acre parcel adjacent to the 4.5 acre parcel which is the subject of the contract held by the North Flagler joint venture. The 2.7 acre parcel was acquired by the Company through foreclosure and had a carrying value of $3.2 million as of March 31, 2014.
They believe that the value of this parcel will increase if the density is increased by the approval of zoning changes referenced above.
C. PGA Design Center Holdings, LLC
In December 2013, the Company purchased for $6.1 million a commercial property in Palm Beach Gardens, Florida, with three existing buildings consisting of 145,000 square feet of mainly furniture retail space.
The property, which is located in a larger mixed use property now known as 'PGA Place', was substantially vacant. Next, the Company entered into a joint venture with Stiles Development which acquired a 60% interest in the joint venture for $2.9 million in cash.
The Company contributed the property (excluding certain residential development entitlements having an estimated value of $1.2 million) to the joint venture in exchange for $2.9 million in cash and the remaining 40% interest in the joint venture.
The Company transferred the retained residential development entitlements to adjacent parcels owned by it in the PGA mixed use property now known as PGA Place (see below for a discussion of the other parcels). The joint venture intends to seek approvals to change the use of a portion of the property from retail to office and subsequently sell or lease the property.
D. Gardens at Millenia
37 acres of land located in a commercial center of Orlando, Florida with a carrying value of $11.2 million.
This site is currently in the planning process and the final size and density of the project is subject to governmental approvals and other conditions.
The proposed plans for 26 acres of this site include a 300,000 square foot retail shopping center with multiple big-box tenants as well as 4 outparcel retail pads.
The Company is in discussions with a potential joint venture partner to develop a portion of the parcel. Current plans for the remaining 11 acres of this site include 9 buildings of rental apartments totaling approximately 280 units, a clubhouse, lakeside pavilion, lakeside running trail, and a dog park.
The Company is in discussions with a potential joint venture partner to develop the 11 acre parcel.
Want more Stock Ideas and analysis techniques?
Get more stock ideas and analysis methods in your inbox. I'll send you 9 investing spreadsheets as a welcome bonus.
E. Hialeah Communities
Hialeah Communities consists of 114 acres of land located in Hialeah, Florida with a carrying value of $30.7 million.
This site is currently in the final stages of master planning to divide the property into three parcels and the plan remains subject to governmental approvals:
50 acre parcel is planned to include 340 single-family homes. The Company is in discussions with a potential joint venture partner.
50 acre parcel is currently planned to include 400 single-family homes. The Company currently has a contract to sell this parcel, subject to the receipt of entitlements and due diligence by the buyer.
Remaining 14 acre parcel include 14 multifamily buildings totaling 314 rental apartment units, a clubhouse, pool and park. The Company is in discussions with a potential joint venture partner.
F. PGA Place
The Company owns an office building and land with carrying values aggregating $14.5 million.
We believe this property presents a variety of development opportunities, including the opportunity being pursued by the 'PGA Design Center Holdings' joint venture discussed above.
Office - This mixed use property includes a 33,000 square foot commercial leased office building that is currently 56% occupied with an attached 428 space parking garage.
Hotel - The Company is currently seeking approvals for a 140 room limited-service suite hotel, a 5,000 square foot freestanding restaurant and a 50,000 square foot office building on vacant tracts of land adjacent to this office building.
We anticipate partnering with a third party developer to develop all or a portion of these components of the project.
Multi-family - Current plans for this 7-acre multifamily parcel include approximately 300 apartment units. The Company is in discussions with a potential joint venture partner to develop.
G. Village at Victoria Park
2 acres of vacant land near downtown Fort Lauderdale, with a carrying value of $0.9 million.
In December 2013, the Company entered into a joint venture agreement with New Urban Communities to develop the project as 30 single-family homes.
The project is a 50% joint venture, with New Urban Communities serving as the developer and manager. The joint venture purchased the vacant land from the Company for $3.6 million. The project is currently scheduled to commence construction and sales in the Q2 of 2014.
Closings are projected to begin by the Q3 of 2015.
H. Bayview Drive
BBX entered into a joint venture agreement with an affiliate of Procacci Development Corporation which acquired three acres of real estate located at Bayview Drive and Sunrise Boulevard in Fort Lauderdale, Florida.
The property is currently improved with an approximate 84,000 square foot office building along with a '7-11' retail store and gas station.
The new JV acquired the property for $8.0 million.
The property is a 50% - 50% joint venture between BBX Capital Real Estate and an affiliate of Procacci Development.
I. Robovault
A $22 million South Florida facility for safely storing expensive personal and corporate items, luxury goods, etc. Levan referred to as a "long term hold".
Held for Sale
In additional to the real estate above, BBX Capital holds 382 legacy loans for sale and 72 legacy pieces of property for sale.
These are all held at written-down, recessionary values and are patiently being shopped.
It's quite difficult to put an estimated value on these assets net of the money owed to BB&T. Some will have upside from their written down values while others may become more impaired.
Ideally, proceeds can service and extinguish the remaining debt owed to BB&T ($55m remaining) before going on to fund other projects.
Current carrying value equals $98 million.
Loans Held for Investment
BBX holds another 124 loans for investment purposes.
The idea is BBX believes they can extract greater value by pursuing the borrowers for collateral and unpaid interest & penalties.
Again, very difficult to value but similar reasoning must apply:
aggressively written down assets
management sees future development potential
additional money to be made from interest & penalties
For an extreme example, see the company's pursuit of Catalfumo assets.
Current carrying value equals $66 million; reason dictates this is a very low estimate relative to their potential.
Conclusion or Lack Thereof
Frankly, everything in this portion of the balance sheet is difficult to neatly value and there are a lot of open questions.
Does BBX succeed in growing each project?
At what cost?
When does one become ear marked for sale?
Does management continue to funnel proceeds into additional projects?
But here's what we know
The balance sheet is relatively clean and the trend has been for debt to drop each quarter.
Nearly all the real estate and loan assets are underreported on the balance sheet.
The company is spreading risk by using joint ventures.
Cashflow from BlueGreen, the operating companies/properties, plus continued sale of legacy assets should have no problem supporting these developments in the near and midterm.
Overlay the huge potential in real estate with the cash machine that is BlueGreen Vacations (46% ownership) over the fact that BBX has a market cap of $300m, $111m in debt and plenty on NOLs.
It's cheap. It's de-leveraging. It's conservative It's got tax advantages. And it's growing.
Crowdsource Scuttlebutt
I know many shareholders out there that have done more scuttlebutt on the legacy assets in South Florida. If you are one of them, please add any additional info and links to the comments section.
Ideally we can follow up with even deeper and wider detail.
Editor's Note: This article covers one or more stocks trading at less than $1 per share and/or with less than a $100 million market cap. Please be aware of the risks associated with these stocks.