On July 31, Iron Mountain (NYSE:IRM) is scheduled to report its results for the second quarter of 2014, at which point, or shortly thereafter, it should announce its new dividend policy. This coming validation of what many IRM shareholders already expect should act as a catalyst for further price appreciation, or as a buoy to sustain price against the backdrop of a potentially declining market.
The IRM chart for the last two years looks something like the big dipper, largely because it declined significantly, last June. This declined occurred after the IRS decided to give its REIT conversion plan closer scrutiny, despite then reasonably high probability it would qualify. This June, IRM appreciated in similar proportion to the prior year's decline after the IRS provided a favorable ruling letter.
More good news is coming shortly. IRM immediately acknowledged that it would increase its dividend and pay out a special dividend in 2014. The company initially indicated that it expects its full-year 2014 annual distribution as a REIT to be $400 to $420 million, or over double its current rate (though there is a difference in tax treatment, as REIT dividends are treated as income rather than at the lower qualified corporate dividend rate).
This would work out to a quarterly distribution of about $0.52 on an annualized basis, but IRM has already paid out two quarterly distributions of $0.27, which would indicate a possible increase to $0.77 per quarter to pay out the anticipated $1.54 that remains. Iron Mountain subsequently provided the below chart, which highlights the already paid lower corporate dividends for Q1 and Q2, while identifying the normalized quarterly REIT dividends for 2014.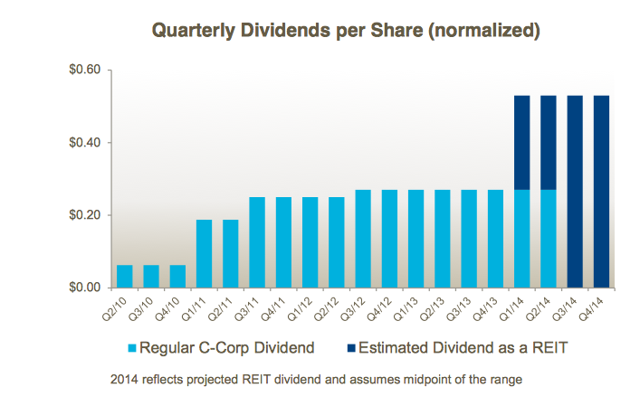 Beyond the above-mentioned forthcoming dividend increase, and the need to catch up, Iron Mountain also stated it would make a special distribution in the second half of 2014. The special distribution will be of the company's previously undistributed accumulated earnings and profits. The company estimates that the aggregate amount of the 2014 special distribution will be between $600 and $700 million, to be paid in a combination of common stock and cash, with about 80% in the form of common stock. The 20% in cash is essentially to pay any taxes on those provided shares.
This 2014 special distribution follows an initial special distribution of $700 million from November 21, 2012, and IRM's share count could increase by as much as ten percent through those new shares. It is likely that at least one of the year's two remaining quarterly dividends will be reported and paid in advance of the special dividend, if not both. In total, the special distribution should be a greater sum than the company's 2014 regular quarterly dividends, and possibly more than 50% greater. Iron Mountain provided the below breakdown of its expected total payouts, based upon the midpoints of their previously provided ranges.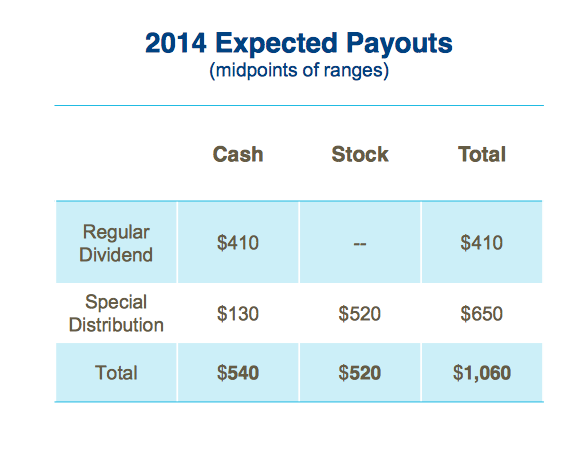 IRM's customer base is mostly composed of large corporate clients that have used the company's services for many years. These clients are unlikely to switch, as IRM already holds their old documents, and it would be inconvenient and expensive to make a change without being required to do so. On average, a box of records remains stored with IRM for around 15 years.
Moreover, IRM is not especially sensitive to any single account. No customer makes up more than two percent of IRM's total revenue, and customer turnover has also averaged below two percent per year. As a result, the revenue streams from these storage customers appear pretty perfect for capture under a REIT structure, and somewhat comparable to commercial leases, with the rent-like cash flow capable of supporting a stable and growing payout.
Beyond its long-standing physical document business, Iron Mountain also owns warehouses filled with servers that hold and manage digital data. The digital business is presently far more competitive. Entities like Digital Realty (NYSE:DLR) and Equinix (NASDAQ:EQIX) already have larger market valuations and positions in this virtual real estate business than IRM, but IRM's trustworthiness with its existing customer base could make it a formidable competitor. This may also lead to consolidation, where it is possible that these larger and more virtual competitors may take an interest in either IRM's digital data business or the entire entity.
As IRM more specifically delineates its new dividend policy and begins to pay it out, income-oriented investors are likely to strongly consider the REIT. Similarly, a multitude of REIT-based funds are likely to accumulate market-weighted positions in the recently converted REIT, and shorts are likely to get discouraged from continuing their position in advance of the forthcoming dividend increase. As a result, IRM appears likely to be a relatively stable equity in the second half of 2014 when compared to the broader market, REITs and other high yield investment options.
Disclosure: The author is long IRM. The author wrote this article themselves, and it expresses their own opinions. The author is not receiving compensation for it (other than from Seeking Alpha). The author has no business relationship with any company whose stock is mentioned in this article.