Lexmark (NYSE:LXK), a provider of printing and imaging products, software, solutions and services, has seen its stock rally 120% since the announcement that it was exiting the inkjet printer business in late 2012. Terminating the consumer business and focusing on enterprise products would allow Lexmark to restructure into higher margin products and increase potential savings by $140M by 2015. As seen in the chart below, the market was optimistic with Lexmark's developments. However, I now think there is a discrepancy between Lexmark's valuation and future outlook.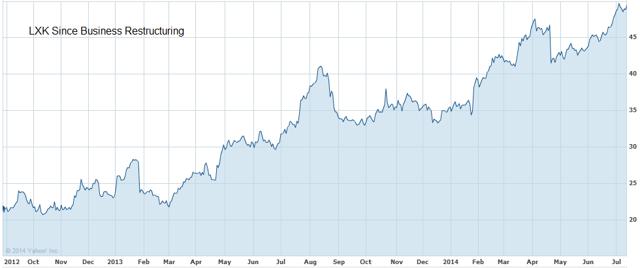 How Much Longer Will Sluggish Growth Be Tolerated?
Lexmark management has pointed toward the inkjet exit for the sluggish top line growth. When comparing figures with their prior periods, the following has occurred:
2012 revenue has fallen 9% from 2011
2013 revenue has fallen 3% from 2012
Q1 2014 revenue has fallen 3% from same period in 2013
Q2 projected revenues are expected to be down 2%-4% from same period in 2013
FY 2014 projected revenues are expected to be down 2%-4% from FY 2013
The managed print services and perceptive software business segments, which accounted for 28% of total Q1 2014 revenue, grew 18% from the prior year. However, when looking in further, the majority of this growth was fueled by acquisitions that Lexmark has made, not organic growth.
For example, the perceptive software business grew 38% in Q1 2014, yet only 12% of this was considered "organic." The organic growth excludes acquisitions completed in the past four quarters. The company has invested more than $700M in acquisitions since 2010. Fueling growth through acquisitions is a legitimate strategy. However it's not sustainable in the long term. Sooner or later, organic growth will have to be the main driver of revenue.
The majority (about two thirds) of Lexmark revenues comes from non managed print services such as hardware, supplies, software and services. This segment saw a 1% growth in Q1 2014. So overall top line revenue has declined and this trend is expected to continue for the remainder of the year. The only segment seeing substantial growth accounts for less than a third of revenue. Lexmark growth is missing. Nonetheless the stock is priced otherwise.
Being Shareholder Friendly May Be Limiting Growth
Lexmark has historically generated strong cash flows as the company has yielded 12 straight years of positive free cash flow. For 2014, the company projects FCF to be in the low range of 90%-100% of net income. Roughly 50% of the FCF is returned to shareholders through dividends (10 straight quarters of dividends) and buybacks. Since the exit of inkjet printers, Lexmark has reduced shares outstanding by roughly 3%.
The above guidance was given by management before the company announced a bid to acquire Swedish company ReadSoft (OTC:RDSFF). A bidding war between Lexmark and Hyland Software has caused Lexmark to increase its acquisition bid to $224M from the original bid of $182M (23% increase).
The street has not taken this increased bid well as Lexmark stock dropped 6% on the news. I believe ReadSoft will be a strategic acquisition for Lexmark as it will strengthen European operations and provide a source of growth in process solution business, both of which are crucial for Lexmark moving forward. The stock's reaction says otherwise though possibly because ReadSoft has had a declining EBITDA margin (below), which could be a troubling sign for the potential target.

The 6% decline in LXK stock on the increased acquisition bid of ReadSoft signifies the importance the market places on Lexmark's ability to increase shareholder value through capital allocation.

There is a chance that Lexmark has a negative FCF due to the $224M ReadSoft cash acquisition. In such a case, the company may have to use its $985M cash balance to return value to shareholders. However, 98% ($965M) of this cash is outside the US, so Lexmark may be faced with additional tax or may have to take on debt.
Conclusion
Lexmark has seen declining revenues since its exit from the inkjet business. The company is looking to expand through acquisitions. However its main business segment also is showing slow growth. Though ReadSoft will ultimately prove to be a beneficial addition to Lexmark, the target company has some troubling profitability trends that may not justify the current bidding war. Overall, Lexmark is a financially sound company that needs to see greater growth before justifying current valuation.
Disclosure: The author has no positions in any stocks mentioned, and no plans to initiate any positions within the next 72 hours. The author wrote this article themselves, and it expresses their own opinions. The author is not receiving compensation for it. The author has no business relationship with any company whose stock is mentioned in this article.