A small cap stock caught my eyes recently. The attractive valuation is a great opportunity for value investors. This company is Qiao Xing Universal Resources (Nasdaq: XING).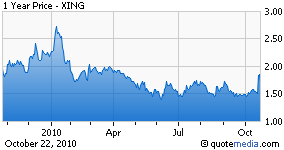 Company Background
Qiao Xing used to be a telephone company and was a pretty big one in China back in 1990's. It went public at Nasdaq in 1999, one of the first non-state owned Chinese companies listed in U.S. market. The company then spun off its mobile phone business in 2002 and listed this entity under ticker QXM at NYSE. Currently, XING holds 61.1% of QXM.
However, due to the low barrier of entry into the telephone industry, more and more small local companies or global giants, jumped into this huge market and tried to get a slice of the cake. Thus the profitability of the whole industry went down significantly. As one of the first players in the China telephone business, XING then decided to gradually exit this market and find a new playground.
With the cash on hand and correct prediction of global economy, XING's parent company acquired two gold mines before the financial crisis and listed the gold mining business on the Hong Kong exchange (Real Gold Mining 00246.HK) about 1 year ago.
Recent Development
As the profitability of phone business continues to deteriorate, XING management decides to exit the phone business completely within 1-2 years. Their strategy plan is:
Continue to acquire new mining businesses
Privatize QXM and then sell the whole phone business to other parties
After step 1 and 2, XING will be transitioning to a mining company
The logic behind these steps is simple: Although QXM is losing money, it has a huge amount of cash on its balance sheet. If XING can gain 100% control over QXM, XING can:
Have cash on QXM's balance sheet
Sell the QXM business to other parties with higher valuation in Asia than as a cheap stock listed in U.S.
So XING sent out notice to QXM shareholders last month to acquire the remaining 40% of QXM shares. The proposed deal term is: Additional issued 1.9 XING shares + $0.8 cash for one QXM share.
Let's take a closer look:
As of June 30, 2010, XING has $538.159 million cash on balance sheet (Most recent filing of XING)
As of June 30, 2010, QXM has RMB 2.959 billion, which equals $440 million.
Because XING is the majority holder, so the consolidated balance sheet of XING actually includes cash of QXM. So the cash that belongs to XING = 538.159 – 440 =$98.159 million
AS of June 30, 2010, QXM's outstanding shares = 52.685 millions
As of March 31, 2010, XING's outstanding shares = 89.897 millions
Now, let's do some math.
Shares XING needs to acquire = 52.685 x (1-61.1%) =20.49447
Cash XING needs to pay = 20.49447 x 0.8 = $16.4 million
Shares XING needs to issue = 1.9 x 20.49447 = 38.94 million
So, after the deal is done, XING has
Cash = XING's cash + QXM's cash – Cash paid to QXM shareholders = $521.76 million
Shares = 89.897 + 38.94 = 128.84 million shares
Currently, XING has total liability of $189.146 million.
So Net Cash = Cash – Total Liability = $521.76 - $189.146 = $332.61 million
Net Cash per share after deal = 332.61/128.84 = $2.5
When I am writing this article, XING is traded at $1.75/share.
Potential dilution = (1/89.897)/(1/128.84) = 43%. Even with this dilution, consider the net cash value per share after dilution, this is still a bargain at current share price.
This calculation assumes that XING's other assets are worth zero and QXM's business is worth zero. This is obviously impossible.
Future Mining Business
The company now has a molybdenum business which started operation in the second half of 2009.
The company is acquiring a molybdenum mine with a milling capacity of 15,000 tons in Inner Mongolia
The company is entering the lead-zinc business in Inner Mongolia
The most attractive part of XING's future mining business is its position in Molybdenum. The Molybdenum is a kind of rare metal which can improve steel's strength, heat resistance, and corrosion resistance. It is also widely used to lower sulphur level of fuel. So Molybdenum has demand from steel, atomic energy, oil and gas and oil refinery. Considering China's growth and the huge investment in infrastructure projects in the following years, the demand for Molybdenum is expected to be huge.

What if the Deal Fails

As the deal negotiation is still ongoing, there is possibility that the deal may fall apart. If this happens, XING still has $90 million cash on balance sheet, which translates into $1/share.

XING's Total Liability: Total Liability on XING's balance sheet – Total Liability on QXM's balance sheet = $189 - $152 = $37 million

So net cash/share = ( 90 – 37 )/89 = $0.61/share at $1.75, it is still a bargain price. Even without QXM's shares, with such a healthy balance sheet, XING has no problem in getting debt financing to finance its planned acquisitions of various mines.

Conclusion

Without considering a potential QXM acquisition and new mines, XING at its current price level is seriously undervalued. If XING can successfully get the QXM deal done and bought more mines, this stock has more upside potential.

Disclosure: Long xing