At the time of the iPhone 4 (NASDAQ:AAPL) launch I wrote an unexpectedly controversial article about my reasons for holding off on upgrading my 3GS. Well, my 3GS just went kaput (right outside the 12 month warranty, naturally) so it's time for a new phone.
In my June iPhone 4 launch writeup I only mentioned Android (NASDAQ:GOOG) as a possible alternative. However, I've also been quietly keeping an eye on the new Microsoft (NASDAQ:MSFT) mobile phone OS, blandly named Windows Phone 7.
I say 'quietly' because until recently anyone caught considering a Microsoft phone product would have received a heap of public (and deserved) ridicule. Microsoft's mobile phone effort is perhaps one of the more well publicized tech disasters. CEO Balmer's bonus was slashed by 50% due to the Kin debacle.
In my case, there were further reasons not to consider Microsoft. Chiefly, I have a Mac computer and don't plan on switching from Mac OS X anytime soon. Windows Phones at present won't sync with Macs. However, amid reports of the temperature cooling in Hell that's apparently about to change.
Still, with the iPhone generally considered the class-leading platform why would I consider switching to something else?
Apple's Innovation Slowdown
As noted in my June article, iPhone 4 failed to generate the same level of excitement as previous iPhones. I believe the main driver of this disappointment is that Apple is innovating at a slower clip than in years past. One of iPhone 4's big selling points was multitasking, which has been available on Android and Palm devices for quite awhile. And Steve Jobs' "one more thing" was video conferencing, a technology which has been around forever (by tech standards) and currently only works over WiFi.
The slowdown in innovation can be observed in other Apple products. Take the recent 13" MacBook Air refresh. Its uses the same Core2Duo chipset as the MacBook Air I purchased two years ago. The Air is billed as an "ultraportable" but there has been no material reduction in its 3 lbs. weight since it was first launched nearly three years ago. And it is still useless as a "laptop" as it continues to get too hot for comfortable use in your lap.
Overall, the pace of innovation appears to be slowing in Cupertino.
While the iPhone Has Lost its Hardware Edge...
The iPhone no longer possesses the top-of-the line hardware kit.
Don't believe me? I encourage anyone to put an iPhone 4 with its highly touted "retina display" next to one of Samsung's (OTC:SSNLF) Super AMOLED screens (e.g., Samsung Omnia 7). To use Steve Jobs' favorite term when describing displays, compared to the iPhone's the Super AMOLED screen is "gorgeous". Further, Super AMOLED crushes the iPhone's IPS tech in power consumption (30%), viewing angles and contrast.
We're also starting to see other hardware innovations leapfrog the iPhone 4's specs, such as faster processors, better WiFi, and other features which are already making the only four month old iPhone 4 look dated.
If hardware inferiority weren't a big enough challenge for Apple, the iPhone is also wrestling with poor design. The much ballyhooed death grip problem has been followed up with reports of increased glass screen damage. In all, it appears that the chorus of iPhone gripes is growing, not shrinking.
What makes these hardware and design shortcomings particularly problematic is Apple's product refresh cycle. Apple's pattern has been to release three versions under the same basic design, which means iPhone users are likely to be stuck with the same design until iPhone 7 (summer 2013).
...Apple's Software Advantage is Rapidly Eroding
Nokia mobile boss's characterization of using Android as being like "peeing in your pants for warmth in winter" is a bit much. However, the iPhone's strongest selling point over Android has been its software. Three strengths commonly highlighted are:
User Interface
Multi-touch (e.g., accuracy)
App store
While Android has made big strides in catching up to Apple's App Store, the overall user experience is still inferior to the iPhone. The opposite is the case with Windows Phone 7.
I had a chance for the first time yesterday to test drive the Windows Phone 7 (on a Samsung Omnia 7). I have to say that the Windows Phone 7 UI rocks! And don't just take my word for it: influential Apple fanatic John Gruber of Daring Fireball agrees.
While Windows Phone marketplace lacks the sheer number of iPhone apps, this statistic is misleading. Microsoft's Phone already has many of the most popular apps (i.e., Twitter, Facebook, Netflix). Given Microsoft's resources I expect that, like Android, it will quickly close the app gap.
Last, has anyone else out there grown tired of the iPhone's cutesy candy icons, which have been copied ad nauseam? If so you'll find Microsoft's Phone UI, called Metro, a breath of fresh air. I'll be the first to confess that this an altogether superficial factor, but it's a factor.
Apple's Stock Price: Where to From Here?
Apple's stock price is bubblicious. The company has been on a tear for years now and the stock price has responded accordingly.
However, as evidenced by Samsung and Motorola (MOT) on the hardware side, and now Google and Microsoft on the software side, the competition has not only caught up but is leapfrogging a slowing Apple.
Further evidence on how times have changed: recent discussion of the upcoming 2011 launch of the first CDMA iPhone centered on how Apple needs Verizon a lot more than Verizon needs Apple. Prior to the original iPhone when Apple was seeking wireless carrier partners, Apple spurned Verizon (NYSE:VZ). Apparently Verizon hesitated on Steve Jobs' request for carte blanche control over the iPhone's design and features,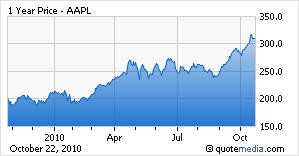 leading Apple to partner with AT&T (NYSE:T) (its second choice). With the iPhone's early blockbuster success Verizon was roundly criticized for its obstinance. But the proverbial Mountain would not to come to Mohammed, and now Steve Jobs and the iPhone need Verizon.
Apple investors may possibly see some modest stock price appreciation from here, but we're definitely in the late innings of the extraordinary run in AAPL.

Disclosure: No positions