Bank of America Corporation's Earnings Decline 43% on Legal Costs
Bank of America Corporation (NYSE:BAC) said on Wednesday that its Q2 profit plunged 43 percent, dragged down by a large legal expense that overshadowed some otherwise positive expected results.
The bank reported profit of $2.04 billion, or 19 cents per share, on revenue of $22 billion in second-quarter. Wall Street analysts had expected profit around 29 cents a share, but that analysts estimate did not take into account large litigation costs. The BAC's revenue exceeded analysts' estimates of about $21.6 billion. Bank of America Corporation's CEO, Brian Moynihan, is still optimistic about consumer spending and the bank's working ability to generate revenue from investment banking.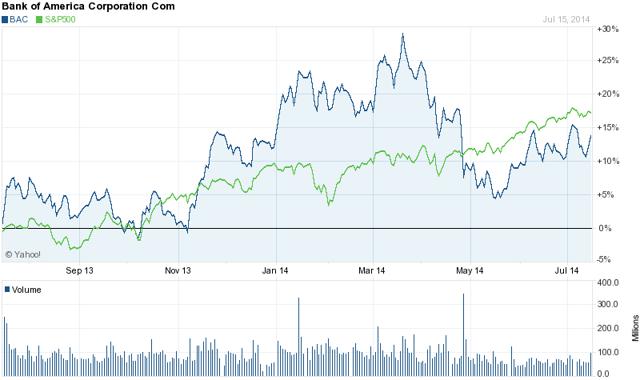 Is Bank of America the best banking pick?
If the dividends offered was the only criteria for investment, a number of good stocks would not be invested in as much as they should be. Take for example the Bank of America (NYSE:BAC) which had a rather negative image in the investors' realm, following the global financial crisis. With a dividend yield of merely 0.2%, the Bank of America is one of the weakest dividend payers amongst the Who's Who of banking. However, the bank is still a good option to be investing in. Here's why:
Bank of America Corporation's cost cutting program:
Bank of America Corporation has been pursuing an aggressive cost cutting program. In the past two years, BAC has managed to save nearly $2 billion. At the same time, the Bank has been continuously improving its credit quality. This has led to speculation that the earnings per share for the Bank of America Corporation will continue to precipitously rise over the years and will grow from 90 cents in 2013 to $1.32 this year.
External factors:
A number of external factors have been making the banking sector a particularly favorable sector to invest in this year. Interest rates are increasing, which means that the banks' net interest margins will further rise. This will obviously be a massive boost for Bank of America, which would in turn report higher revenues in the days to come, thus making it a generally profitable investment.
Excess liquidity:
The Bank of America has hundreds of billions of dollars of extra liquid assets, that it can use very effectively to increase its earnings. This can directly increase the earnings per share thus promising a favorable situation for investors in the days to come. However, the bank's policies play a very crucial role here; this success is only guaranteed provided the bank actually uses its excess liquid assets effectively.
These and a lot more factors indicate that BAC is a solid investment. However, this brings us to our next question; is it the best option? Clearly there are a number of other players in the banking sector. It is important to determine whether investing in them might be more profitable. Let's take a look at what options are available for investors as compared to BAC and which options are the most suitable.
Bank of America has reported lower earnings per share as compared to Citigroup (NYSE:C) , JPMorgan Chase & Co. (NYSE:JPM) and Wells Fargo and Company (NYSE:WFC). This shows that despite the same external conditions, other banks are performing better as far as earnings are concerned. Furthermore, the bank's main savings have not occurred as a result of improved performance but have resulted due to better cost savings. The main concern with this is the sustainability of these cost cuts; will the bank be able to continue cutting costs in the long run?
At the same time, however, the Bank of America has reported a higher P/E ratio than Citigroup, JPMorgan and Wells Fargo. This reveals that in the future, higher earnings per share are expected from this bank, thus making it a desirable investment.
Another reason that makes this bank lucrative is the fact that its Tier 1 capital ratio has been better than that of most other 'big' banks. There have been constant efforts to improve the quality of the capital owned by the bank as well.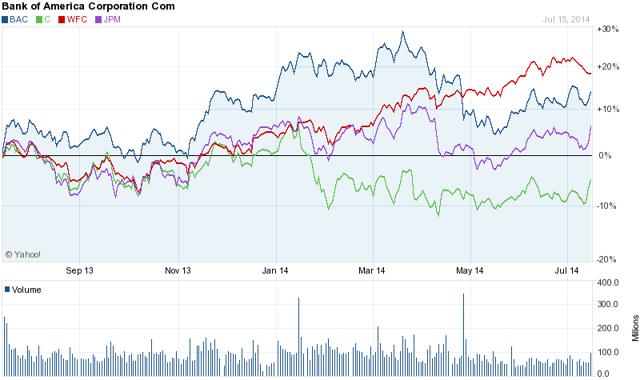 After the global financial crisis uncertainty might have shrouded Bank of America Corporation, but peddling the bank as not being worthy of investment would be harsh as well. Hence, individual preferences of the investors need to be gauged. Bank of America Corporation may not be the most profitable investment as things stand; however, it does have promise strong returns in the long run. Therefore, the question that we need to ask ourselves is whether one is going for a short term investment or willing to slug it out in the long run.
Disclosure: The author has no positions in any stocks mentioned, and no plans to initiate any positions within the next 72 hours. The author wrote this article themselves, and it expresses their own opinions. The author is not receiving compensation for it (other than from Seeking Alpha). The author has no business relationship with any company whose stock is mentioned in this article.