Intel (NASDAQ:INTC) took a space ship to the moon this year, as the stock price blew up in Wednesday's trading. Intel has been notorious for being a value trap, or a place where investors would park their money in return for dividends that could compete with 30-year treasury yields. Nowadays, it looks like Intel is a high-flying technology company, but for good reason.
I didn't think, or to say more appropriately, I was skeptical going into the year. I had no idea Intel would readjust its cost structure so effectively on the back of year-over-year revenue growth. It seems the incremental unit volume carried hardly any incremental costs, and that's where the massive boost in bottom line performance came from.
Furthermore, I knew that we were in the process of PC refresh, but I wasn't completely sold on the server side of the business. But now we know that a combination of corporate and consumer growth could drive top line and bottom line results in a very meaningful manner.
Breaking down the guidance figures
Honestly, I'm going to dabble a little into the topic of earnings, and move my overly-conservative price target up significantly. I have no choice, but to do this, as the company's performance is likely to improve significantly.

Source: Intel
The EPS grew by 41% as a result of revenue growth, which was driven by incremental cost increases that did not impact revenue as much. I think that if gross margins are sustainable in the 63% range, as indicated by guidance, the company may be able to sustain earnings growth into year-end.

Source: Intel
Using the above guidance, and after carefully reviewing the accounting notes, I was able to create a pro-forma income statement for fiscal year 2014. I believe the results will simply astound you.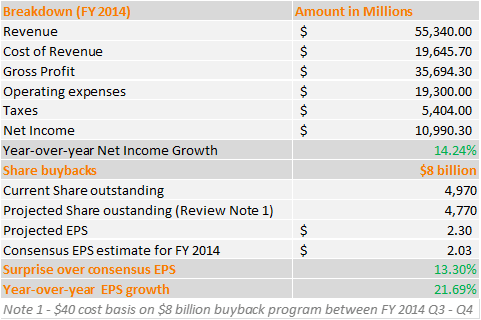 Source: AlexLeAnders
After deducting all expenses, I estimate that net income will be $10.99 billion for fiscal year 2014. Assuming that's the case, net income on a consolidated basis will grow by 14.24%. I also factor in the impact from the $20 billion share buyback program. The exact distribution of share buybacks is yet to be determined, but I'm going to assume that $4 billion in buybacks for Q3, and another $4 billion in buy backs for Q4 is an adequate amount to work with. Furthermore, I anticipate that the number of shares bought back will total to 200 million or so, assuming a $40 average cost basis. Admittedly, the share price may increase above that amount, which is why it's an estimate, and not an exact amount.
Bottom line
So what are Intel's shares worth in 2014? When applying a 17.14 multiple to $2.30 EPS, I arrive at a price target of $39.42. In the more optimistic case scenario, the stock trades at $52 assuming a 22 multiple. I believe there's further upside left in the stock, despite the impressive run that it has already exhibited.
I'm reiterating my buy rating on Intel.
Disclosure: The author has no positions in any stocks mentioned, and no plans to initiate any positions within the next 72 hours. The author wrote this article themselves, and it expresses their own opinions. The author is not receiving compensation for it (other than from Seeking Alpha). The author has no business relationship with any company whose stock is mentioned in this article.