Municipal Mortgage and Equity (OTCQB:MMAB), or MuniMae, is a real estate asset management company that owns a portfolio of municipal bonds, mortgage revenue bonds collateralized by affordable multifamily properties, and other real estate-related assets.
MMAB has more than tripled since 2013, as management has unlocked value by liquidating assets that were carried on the company's books at a significant discount to fair value. MuniMae has shed more than $1 billion of assets since 2010; the company's recent sale of its TE bond subsidiary ("TEB") drastically reduced its exposure to long-term rates and simplified the balance sheet. Though shares are up substantially over the last twelve months, MMAB continues to trade at an approximate 40% discount to NAV, resulting in 64% upside.
Prior to 2008, in addition to owning a portfolio of mortgage bonds backed by multifamily homes, MuniMae originated loans for sale to GSEs, operated a renewable energy finance and development business and provided loan servicing.
When the tax-exempt bond market froze up during the credit crisis, MuniMae was forced to both write-down a substantial portion of its assets and sell off assets at fire-sale prices to meet collateral calls and to obtain liquidity. Additionally, the company had to deal with an accounting issue and found itself teetering on the edge of bankruptcy, as the stock traded as low as $.09.
Business Overview
Today, MuniMae's business consists of a portfolio of mortgage revenue bonds and municipal bonds, a preferred stock investment, and direct investments in multifamily rental properties. Additionally, the company owns an 83% stake in a South African asset manager that it operates a subsidiary.
Bond Portfolio
MuniMae holds a bond portfolio with a carrying value of $222.6 million that is primarily comprised of mortgage revenue bonds that are collateralized by 20 real estate properties. Investors checking this figure in the most recent Q1 10-Q might be confused as the company lists the value of the bonds ("Bonds Available for Sale") at $184.89 million on the GAAP balance sheet, while the "adjusted balance sheet" pegs the value of the bonds at $226.6 million. This discrepancy results from the elimination of bonds when the company consolidates its balance sheet. The difference is the value of bonds that are collateralized by real estate owned by the company's real estate partnerships.
Mortgage revenue bonds are issued by state and local governments to finance multifamily rental housing, while the "Other" bonds held on MuniMae's balance sheet are municipal bonds. MuniMae purchases these bonds for investment and finances the purchases in part via short-term, variable interest rate payments, the majority of which consists of total return swaps. The difference between the interest received on the bonds and the interest expense comprises MuniMae's net interest income.
Since the bonds the company owns have a fixed rate of interest, an increase in rates would reduce both net interest income and the fair value of the bonds on the balance sheet. Today, MuniMae's bond portfolio is only about 58% leveraged, compared to 85% prior to the company's sale of its TE bond subsidiary. Thus, management was able to substantially reduce MuniMae's exposure to short-term rates, which are likely at a trough.
Real Estate
MuniMae carries its real estate properties at a GAAP value of $45.2 million. These assets are straightforward: a multifamily property in Louisiana, one land investment in California, Arizona, and Virginia, and an equity investment in a real estate partnership in Georgia. Additionally, the company was, as of Q1, marketing three foreclosed multifamily real estate properties that it expects to sell soon.
Preferred Stock
MuniMae carries its preferred stock investment - an investment in a private national mortgage lender in the multifamily housing space - at $31.4 million, though the company estimates fair value at $36.6 million. The company sold its interests in the preferred stock to a counterparty in Q1 2013, and then subsequently entered into a total return swap (whereby MuniMae receives the interest rate generated by the preferred while paying the counterparty a set rate based on short-term variable rates), which expires in Q1 2015. Due to the TRS, MuniMae lists $36.6 million of debt.
International Housing Solutions
MuniMae owns an 83% stake in this subsidiary, which manages one multi-investor fund in South Africa and a real estate partnership. IHS earns asset management fees and is entitled to a portion of the returns generated in sponsored funds.
LIHTC Funds
Finally, MuniMae is the General Partner and manager of 13 low-income tax credit funds. As the General Partner, MuniMae consolidates about $275 million of assets of the funds onto its GAAP balance sheet, but the company only owns 1% of the funds. MuniMae is entitled to asset management fees and GP incentive fees that are contingent on the residual value of the assets; the realization of the contingent fees is unlikely to occur for several years.
Adjustments
Management provides estimates for the non-GAAP fair value of some of its assets. Since value appreciation above cost basis for real estate-related assets cannot be recognized on the balance sheet until the assets are sold, the carrying value of some of MuniMae's assets understates their market values.
Below is a straightforward breakdown of the company's assets. Fair values were based off management's commentary on Q1 '14 call while the rest of the data was pulled from the 8-K.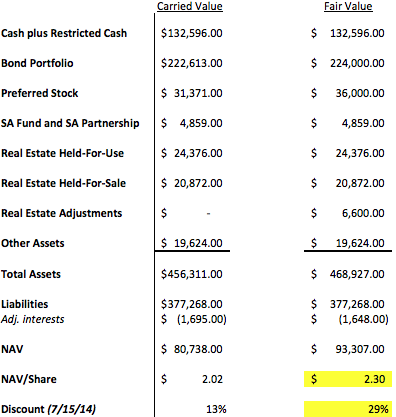 While 29% upside is promising, there are several other adjustments and considerations to account for.
Net Operating Losses and Tax Credits
MuniMae has $405.9 million of net operating losses that are not readily apparent on the balance sheet, which should ensure that the company will not be a taxpayer for the next decade or so. Additionally, the company has $6.4 million of tax credits related to low-income housing deals made several years ago. Since these tax credits allow MuniMae to reduce its tax burden on a 1:1 basis, these should also be added to the balance sheet (in other words, if MuniMae owes $6.4 million in taxes, it can simply utilize the credits to extinguish its tax obligation. NOLs only allow the company to reduce its taxable income, as opposed to the final tax obligation). Both the NOLs and tax credits do not begin to expire until 2027; this information is disclosed on page F-39 on the 2013 10-K.
Real Estate Value Write-Downs
During the credit crisis, MuniMae wrote down some of its REO (real estate owned) to market in accordance with GAAP. On a July 2013 call, CEO Michael Falcone explained that the original values of the two land investments in California and Arizona and the JV equity partnership in Georgia were a "multiple of five to ten times higher" than the company has them on their books. Though he went on to explain that they haven't come back to that level, he concluded that the company feels they have come up from their carried values.
Though we've already added $6.6 million for management's fair value commentary on its real estate held-for-sale and real estate held-for-use lines, there is likely some additional latent value in these assets. Though real estate values in Phoenix, Lancaster, CA, and Savannah, GA have yet to recover the entirety of their declines since 2008-2009 (when the assets were written down), these markets have been strong since mid-2012. While I won't add value to the adjusted balance sheet, additional REO value is worth consideration.
Deferred Revenue
MuniMae has $18.5 million of deferred revenue on its books. This is primarily related to performance guarantees on the LIHTC funds, with the balance (~$2.5 million) made up of bonds transferred in the TEB sale to Merrill Lynch that are being amortized. The LIHTC-related deferred revenue is being amortized over the life of the funds, though management doesn't expect to incur any additional costs. Since there is a high likelihood that this $18.5 million gets fully amortized without any cash charges, we can add this back to the adjusted balance sheet.
Adding back the tax credits (but not NOLs) and excluding the deferred revenue liabilities, we arrive at an NAV of $2.92: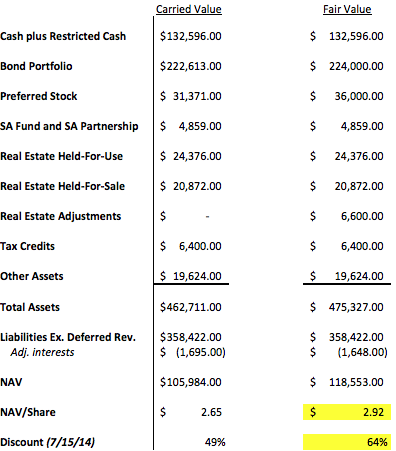 Furthermore, the company may have the opportunity to repurchase more of its subordinate debt at significant discounts. In 2013, MuniMae repurchased $45.5 million of its subordinate debentures, recording a $37.9 million gain. In its 10-Q filing, MuniMae values its outstanding debt at an ~$80 million discount to its carrying value, with about $75 million attributable to its subordinate debt. While it's not guaranteed that it'll be able to repurchase this sub debt, the potential for successful debt buybacks at substantial discounts to carrying value is again worth some consideration.
Accuracy of Fair Value Estimates
At this point, some readers might be wondering about the possibility that management's fair value estimates are too aggressive. While this is a reasonable concern, the last few transactions have given credence to management's estimates.
In Q3, the company foreclosed on a multifamily home serving as collateral to one of its bonds. MuniMae had marked the fair value of the bond at $10.4 million, and sold the property for $10.7 million. During the same quarter, the company foreclosed on another multifamily home collateralizing a bond with a fair value of $7.3 million, and subsequently sold the property for $7.3 million (info from Q3 '13 10-Q).
Additionally, the company realized a $14 million gain on sold real estate in Q1 due to an understated carrying value. While management doesn't see any current opportunities to sell real estate at "significantly" higher prices in the near-term, the sale is a good example of how latent value has been building on the company's books.
Share Buyback
In the beginning of 2013, management announced a share buyback program to purchase stock below state book value. Since January, 2013, the company has bought back $3.5 million shares at an average price of $1.36, adding considerable value.
Management recently boosted the amount of shares eligible to be repurchased from 5 to 7 million, up to 95% of the most recent stated book value (currently $1.92). With the stock having traded about 6% below that price for most of Q2, management has had the opportunity to continue with the program. With nearly $100 million in unrestricted cash at its disposal, the company has plenty of resources to repurchase stock for the foreseeable future.
Additionally, company insiders have purchased almost 900,000 shares in the last six months; management owns roughly 13% of the company.
Business Strategy
MuniMae has downsized considerably following the divestment of its TEB common shares to Merrill, in order to better align its net interest income with operating expenses.
On the Q1 call, management noted that it believes it is now operating at breakeven levels. During Q1, MuniMae entered into $75.2 million worth of total return swaps ("TRS") to finance 9 of the bonds that it owned prior to the sale of TEB. The company projects that this transaction will generate mid-teens returns.
Going forward, management will probably continue to look for additional TRS transactions dependent on short-term rates rising only modestly over the next five years. The company does have $45 million of protection in the form of an interest rate cap should the SIFMA rise to 250 bps or higher, which helps to reduce its exposure to dramatic spikes in short-term rates. Management is also looking at investing directly in additional mortgage bonds collateralized by multi-family properties.
MuniMae will also be a 2% co-investor in the second fund currently being launched by IHS; management is looking at opportunities to put more money to work in this business, where it also receives asset management fees.
Risks
The riskiness of MMAB really depends on how you're looking at the real estate market. With more than 50% of MuniMae's bonds now classified as non-performing, the underlying value of the affordable multifamily properties collateralizing the company's bonds becomes even more important. As long as MMAB can continue to foreclose on these homes and sell them at stated fair values with relative ease, the thesis will remain intact. If the market starts to head south and freeze up, you've got yourself a company that is holding more than $20 million in undeveloped property and much more than that in a lower-end of the market.
Though the sale of the TEB subsidiary did reduce the company's exposure to short-term rates, the company is still fairly dependent on a low-rate environment. Directly so because such a large portion of the company's debt is financed via SIFMA and LIBOR, and indirectly so because low-rates have been extremely beneficial in boosting real estate prices.
Longer term, additional gains (above NAV) will only be possible if management can find and execute on solid investment opportunities. I think management has proven itself to be competent and very reliable over the past twelve months, and they have put together an intelligent case for why the company is worth more as an operating entity than it would be in a liquidation. It's also reassuring that the company wants to invest its cash in assets with which it is already very familiar, such as bonds (financed via total return swaps) sold in the TEB transaction.
Final Considerations and Valuation
Though management thinks it can eventually generate market returns on equity, it is much too early to give the equity credit for that potential. Given the flurry of one-time credits and charges and a variety of moving pieces, the best way to value MMAB as of now is an NAV calculation.
Unfortunately, there are several assets for which arriving at a specific valuation is impossible given the information currently available.
Without a clear picture of the company's earnings potential, we can't assign a precise value to the NOLs. However, the NOLs do have meaningful value; if MuniMae can generate ROE of 10% going forward, the NOLs will save the company ~$5 million in tax expenses until the NOLs start expiring, assuming a 40% tax rate. The NOLs are probably worth anywhere from $.50-$1/share depending on the assumptions you wish to make.
The company also has additional potential General Partner incentive income from its LIHTC funds and IHS real estate funds. Realization of this income is both uncertain and several years out, so I won't bother to assign a value. Management has mentioned on previous conference calls that it may be able to bring the residual asset fees on to the books two years before the LIHTC funds are wound down, but that wouldn't be until 2016-2018.
Though much less certain, MuniMae may be able to repurchase some of its subordinate debt at a price significantly below par. The company has $100 million of cash on the books, so it has the cash necessary to finance the transaction, which would add significant equity.
Finally, the value of the REO may be understated. While the properties may not have recovered to the "5-10x" multiple of book value that they were purchased at, the real estate markets in which the properties are located have recovered nicely in the past 24 months. If the value of the REO does return to the initial purchase price -- which is of course by no means guaranteed -- it would add another $2-3 per share to MMAB's equity.
Overall, based on presently available information, MMAB's true NAV is closer to $2.92, or about 65% higher from current prices. With a variety of additional, off-balance sheet assets such as the NOLs, residual asset fees, and the possibility of discounted REO, the true NAV could be multiples higher.
Regardless, shares of MMAB appear to offer a significant margin of safety and limited downside given the substantial discount to book value and $100 million of unrestricted cash on the balance sheet.
Disclosure: The author is long MMAB. The author wrote this article themselves, and it expresses their own opinions. The author is not receiving compensation for it (other than from Seeking Alpha). The author has no business relationship with any company whose stock is mentioned in this article.
Additional disclosure: A client account I manage is also long MMAB.
Editor's Note: This article covers one or more stocks trading at less than $1 per share and/or with less than a $100 million market cap. Please be aware of the risks associated with these stocks.