O2 Mirco (NASDAQ:OIIM) Per share values on 10-1-2010:

Market value $6.11
Cash $ 3.02
Equity value $ 3.09
Shares 33.72 million

Our first O2Micro report was published in May 2010. The original article can be found here.
Since the initial report O2Micro provided an outstanding quarter with a weaker revenue forecast. Benchmarking it against its peers, we have raised the price to sales value of O2Micro, while lowering the profit valuation. We maintain our original belief that O2Micro is undervalued compared to its peers, because they have superior growth potential in a good sector with a solid execution albeit room for continued improvement.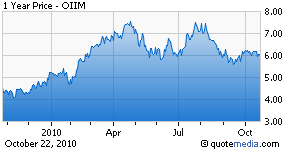 O2Micro has built a rock solid balance sheet and is well positioned in the very exciting high growth clean energy power efficient market. There products are components to numerous devices including 'green' semiconductor chips, LCDs, drivers, batteries, DC/DC chargers and security offerings. O2Micro is valued lower than many of industry peers and that helps their ability to achieve a higher reward for shareholders.

O2Micro has a pristine balance sheet

O2Micro has roughly $106.1 million in cash, or $3.02 per American Depository Recite (ADR), and no long term debt providing an outstanding balance sheet. This is an especially unique situation because they are a small fast growing young company involved in 'green services.' Although most companies we review in the green energy market have a combination of poor business models, bankruptcies/insolvency and are severely correlated with financial markets, O2Micro appears to have excelled based on the improved gross margins in this downturn.

O2 low enterprise values

Their enterprise value is $104 million for ongoing company operations. Better yet, they generated $8.5 million cash flow from the first quarter and $6.5 million in the second. They have $15 million free cash flow in the first and second quarters this year while the third quarters cash flow is expected to be down. O2Micro's enterprise value is trading at about 6.4 times the first half of 2010 free cash flow. Companies that are involved with leveraged buyouts, after removing the cash, might realize this is a very desirable internal cash generation rate.
Time frame

Quarter 1 2010

Quarter 2 2010

6 months




2010

Year 2009

Year 2008

Year 2007

Cash Flow

8.5 million

6.5 million

15 million

12.7 million

24.2 million

20.2 million


The cash growth was reduced by the stock purchase of 1.1 million shares or $ 7.8 million dollars in the second quarter of 2010. They announced an additional $20 million dollars buy back. Since second quarter 2008 or the onset of the financial crisis, they have reduced the number of shares outstanding by 7%.

Position for growth still appears vibrant

O2Micro's products have been validated by obtaining many product wins in the green industry and top brand clients. For example, being built into the new Apple (NASDAQ:AAPL) computer iPad. Apple awarded contracts to O2Micro for their next generation flagship product lines. This solidifies and helps validate O2Micro as an industry leader.

With iPad beating sales forecast, Apple has revised forecasts as:
| | | |
| --- | --- | --- |
| Apple iPad Forecast | 2010 | 2011 |
| Units | 13.4 million | 25.5 million |


It has been rumored that O2Mirco receives about $1 per iPad unit but we cannot verify these estimates.

The potential future growth in the large LCD television market represents an attractive opportunity because the larger LCD panels require more of the inverters for cold cathode fluorescent lamps (CCFLs) which is an O2Micro strength. When one factors in O2Micro's leading position and current market LCD penetration of 20%, with LCD penetration possibly achieving 30% by year end, the LCD market could drive the growth of earnings alone.

As of year end 2009, O2Micro had 206 patents issued in the United States and approximately 400 patents issued in other countries. In addition, they had approximately 225 patent applications pending in the United States Patent and Trademark Office, and over 550 patent applications pending in various countries other than the United States.

O2Micro achieved mention in Semiconductor Manufacturing patent Scorecard in 2009. The publication quoted "Its (O2Micro) patent portfolio is much smaller than those of most of the companies in this scorecard, such as Samsung, Intel (NASDAQ:INTC), and Broadcom (BRCM). Despite its smaller portfolio, the impact and general applicability of O2Micro's patents, especially those related to power supplies for LCD panels and DC/AC power converters, puts it next to the leading companies in this year's scorecard."

This high Semiconductor Manufacturing patent Scorecard rating is validated by O2Micro's recent court win over Beyond Innovation Technology.

Negatives

This current quarter's sales will be weak, although it should be noted that the margins have increased over the last three years. O2 Micro is realizing a significant improvement in their administrative cost. The gaining of higher efficiencies in gross margins combined with the sales growth over the last two quarters has greatly impacted their bottom line allowing them to significantly beat the earnings estimates. With the global trade slowdown, or inventory adjustments (reductions), they are still demonstrating that their efficiencies are not impacted or derailed.
| | | | | |
| --- | --- | --- | --- | --- |
| Time Frame | Current quarter | 2009 | 2008 | 2007 |
| Cost of Good sales | 40% Forecast | 40.8 %. | 41.9% | 42.9% |
| Gross Margin | 60% Forecast | 59.2% | 58.1% | 57.1% |


O2Micro is ADR based in the Cayman Islands with Chinese roots. Many Asian-based ADRs often have lower stock valuation benchmarks than US based companies. Most Chinese companies have the bulk of the business operations in China where production and client verification is difficult. O2Micro's top clients are companies such as Acer, Apple (AAPL), Dell (DELL), Fujitsu, Hewlett-Packard (NYSE:HPQ), Lenovo (OTCPK:LNVGY), LG Electronics (OTC:LGERF), NEC, Samsung Electronics, Sharp, Sony (NYSE:SNE), and Toshiba (OTCPK:TOSBF) to name a few. Many of companies listed above are considered the premier global clients. It is our belief that if one were to build a world class level of innovative products, sales, and support, in time one could be valued as a leading world class enterprises.

In Summary

We enjoy companies that can provide significant improvements, even while their is an industry pullback. O2Micro has reduced fixed costs, improving overall gross margins, while preserving their outstanding growth prospects.

We believe O2Micro has value, execution and a balance sheet like past technology companies that fit our model, e.g. SONS, SGI, DIVX, TSRA and TLGD. We are disappointed in the level of sales at O2Micro but believe their growth prospects, led by Apple's revised upward forecast and the LCD markets, and operating margins are even more impressive that when we first reviewed them .

With all the cash, the good business model, profitable execution and industry growth prospects, we still believe O2Micro is still valued as a model that might not achieve success. Even though we believe they are becoming established as an the leader in the industry, we feel their execution and overhead still has room for improvement.

We believe that O2Micro is undervalued based on the following very basic valuation metrics:

1. Revenue Based

If one values O2Micro at 4.59 times sales (integrated circuits average) using a Yahoo based forecast of $141.75 million, this calender year, based on the average analyst estimate ( this would give you an Enterprise value of $ 650 million dollars) that equates to $19.27 per share plus the $3.02 in cash currently on the books which adds up to a $22.29 per share market value.
| | | |
| --- | --- | --- |
| Valuation Ratios | Company | Industry |
| | | |
| --- | --- | --- |
| Price to Enterprise Sales | 1.59 | 4.59 |


2. Earnings Based

The integrated circuit industry values the PE ratio for the sector at 24.60. Using the current Zack's earning forecast $.43, market value without the cash would be $10.57. Adding the cash would give a $13.59 market value.
| | | | |
| --- | --- | --- | --- |
| Valuation Ratios | Company | Industry | S&P 500 |
| | | | |
| --- | --- | --- | --- |
| Enterprise PE ratio | 6.81 | 24.60 | 20.13 |


We believe, using the most conservative common valuation metrics, O2Micro is trading at roughly a 56% discount to its peers. Thus, with a demonstrated position for growth, market leadership, great balance sheet, improved prospects for growth, and world class client list, in time O2 Micro could attain values above its industry peers



Disclosure: Durig Capital and its clients currently do have positions in O2 Mirco (OIIM)