It is no secret that Pfizer (NYSE:PFE) has had a rocky first half this year. The difficulties around its attempt to acquire AstraZeneca (NYSE:AZN) were compounded by Q1 sales that missed market expectations by 9 percent.
As it had announced last October, its Q1 2014 results were the first to be reported using a new structure for its commercial operations. These operations have been split into three businesses: the Global Innovative Pharmaceutical (GIP) business, the Global Vaccines, Oncology and Consumer Healthcare (VOC) business, and the Global Established Pharmaceutical (GEP) business.
As the exhibit below shows, year-over-year operational revenues were down for GEP (-10%) and GIP (-4%), while VOC's numbers were much improved with an uptick of 9 percent. Within VOC, it was the Global Oncology segment that showed the greatest improvement with a 10% increase in operational revenues.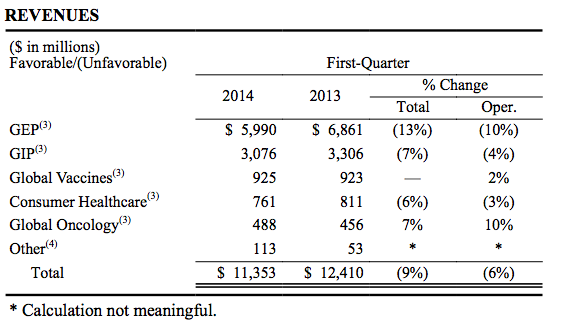 (source: Pfizer's Q1 2014 report)
There are three main contributors to Pfizer's sales in its oncology portfolio: Xalkori™ (lung cancer), Sutent™ (gastrointestinal, renal and pancreatic cancers), and Inlyta™ (renal cancer). Out of this group, the strongest performance in terms of operational revenue came from Xalkori (+69%). Inlyta's contribution to Q1 revenues was also up (+46%), but the company reported that revenues for Sutent were negatively impacted (-9%) primarily due to the timing of purchases.
Who Does Lung Cancer Affect?
It is fair to say that most of us associate lung cancer with smoking. However, lung cancer is not exclusive to smokers. There are many nonsmokers, as well as never-smokers, who each year are diagnosed with the disease. A very sobering set of facts about the number of nonsmokers that are diagnosed with the condition can be found here.
(NB. a never-smoker is defined by the U.S. Centers for Disease Control and Prevention - CDC - as someone who has smoked less than 100 cigarettes in their lifetime.)
With public attitude towards smoking becoming more critical over time, the number of smokers has been in decline. The graph below comes from the CDC and it provides evidence of the trend that has been in place since the mid-1960s.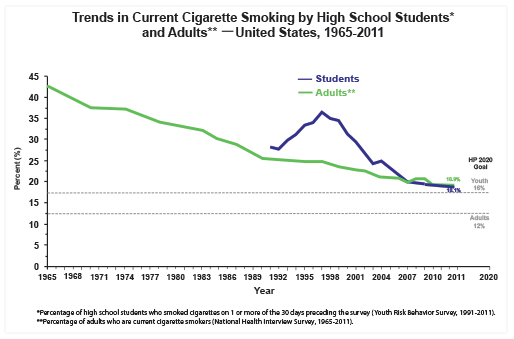 Separately, looking at lung cancer mortality rates in nonsmokers, two studies, one carried out between 1960-1972 (CPS I) and the other between 1982-1986 (CPS II), were discussed by Garfinkel and Silverberg in a paper they published in 1991. Among their findings (see table below) was that the rate of lung cancer mortality among nonsmokers did not change significantly.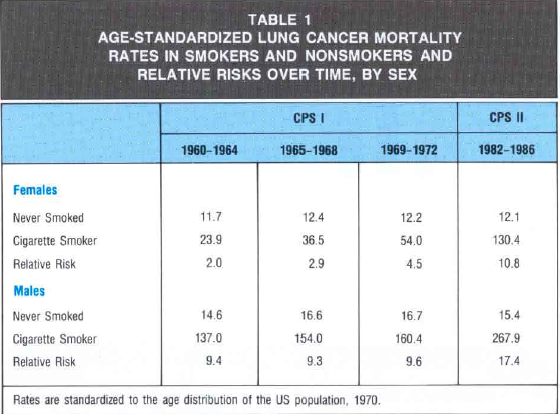 Consequently, one can infer that given the trend in the number of smokers and the unchanged rate of mortality in nonsmokers, the latter group has been growing as a percentage of the total number of diagnoses in any given year.
The thinking that lung cancer overwhelmingly affects those that decide on certain lifestyles will be - if it's not already being - turned on its head as these trends continue. The need for successful drugs to address lung cancer has always been a must. If it hasn't been a priority in the thinking of most people, it soon could be.
Pfizer's Response To Lung Cancer: Xalkori™
Arguably, the above facts represent a possible business case for Xalkori, and for Pfizer to capitalize on them.
The development of Xalkori started in 2005 when its lead compound was identified. Initially intended as a mesenchymal-epithelial transition (MET) inhibitor, its focus swiftly moved to target abnormalities in the anaplastic lymphoma kinase (ALK) gene of lung cancer patients, when Phase I results showed dramatic improvements in symptoms for this group of patients.
Six years later, in August 2011, the Food and Drug Administration (FDA) granted Xalkori accelerated approval for the treatment of patients with locally advanced or metastatic non-small cell lung carcinoma (NSCLC). In November 2013, it was granted regular approval for the treatment of patients with NSCLC whose tumors where ALK positive.
Since its first approval, the financial performance of Xalkori has been on the up. Total sales worldwide since 2012 are $493 million, with each reported quarter improving on the previous one. The only exception to this has been Q1 2014 where sales matched those seen in Q4 2013.
More recently, sales of Xalkori for Q1 2014 came in at a solid $88 million - a 66% increase over the $53 million Pfizer sold for the same period in 2013.
Xalkori is clearly one of the bright spots in Pfizer's oncology product lineup.
A Future Boost To Xalkori Sales
In an article published this month in Bloomberg, Robert Langreth discusses a recent study titled Comprehensive Molecular Profiling of Lung Adenocarcinoma published in the weekly journal Nature.
Langreth is able to briefly summarize in simple terms the key findings of this study. More importantly for Pfizer investors, he points out the potential that Xalkori (which is currently approved only for treating ALK positive NSCLC) might have in the treatment of patients with abnormalities in the MET gene. The study found that the MET gene could present abnormalities for some tumors of the lung.
Currently, there does not appear to be any targeted drugs approved for treatment of MET gene abnormalities. Furthermore, a recent study by Camidge et al., presented at the 2014 American Society of Clinical Oncology, found encouraging results of the use of Crizotinib (Xalkori's generic name) to treat patients with MET amplified NSCLC.
Conclusion
Xalkori has shown to be a successful earner for Pfizer's global oncology business. There are upside risks to its future earning power, given the recent findings around its use to target MET gene abnormalities.
Despite the difficulties that exist (as an outsider) in trying to accurately estimate potential future sales if Xalkori is approved for use in treatments targeting the MET gene, a strong case exists for revenues to significantly increase if this approval is granted.
Xalkori should continue to deliver strong revenues for Pfizer in years to come.
Additional Disclosure
The content above only expresses my views and opinions about the company(ies) and subjects discussed. It should not be taken to represent in any way individual or collective investment advice. You should perform your own analysis and due diligence before making any decisions regarding your investments.
Disclosure: The author has no positions in any stocks mentioned, but may initiate a long position in PFE over the next 72 hours. The author wrote this article themselves, and it expresses their own opinions. The author is not receiving compensation for it (other than from Seeking Alpha). The author has no business relationship with any company whose stock is mentioned in this article.