Ever since going public during the tech bubble in 1997, Amazon (NASDAQ:AMZN) has been one of the most popular stocks on Wall Street. Generally stocks like this tend to be dangerously overvalued; however, this does not seem to be the case with Amazon. Although the stock looks expensive based on trailing earnings, this is because margins are under pressure due to the huge investments the company is making to fuel future growth. However, based on normalized earnings Amazon looks substantially undervalued given its dominant position in the market, strong top-line growth, and significant margin expansion potential. In short, I believe this stock is one of the best long-term investments available right now.
Company Overview and History
Amazon's story starts in mid-1994, when Jeff Bezos (the current CEO and largest shareholder with an 18% stake) took a huge risk and left his well-paying job at a New York City hedge fund to start a company called "Cadabra." The name Cadabra was eventually changed to "Amazon" (after the world's largest river) when it was found people sometimes confused the original name with "Cadaver." The Amazon.com website was launched in July 1995.
Amazon was initially meant to be an online bookstore, and its first slogan was "Earth's Biggest Bookstore." However, by the start of the new millennium the forward-thinking Bezos had expanded Amazon's product line to include DVDs, VHSs, CDs, video games, electronics, apparel, furniture, toys, jewelry, and many other items, and its slogan changed to "Earth's Biggest Everything Store."
Around the same time, the company also began offering its popular e-commerce platform to other retailers and to individual sellers. This turned out to be a huge success, given that today more than two million third-parties sell their products through Amazon, accounting for roughly 40% of total products sold by the company.
In addition to online retail, Amazon spent the next decade and a half diversifying into other areas, including digital downloads, Prime memberships, cloud computing services, and various hardware/software products like the Kindle e-book reader, Kindle Fire tablet, Fire TV, and the recently introduced Fire smartphone. The company has also made dozens of acquisitions, the majority of which remain independent subsidiaries (like Zappos and IMDb).
Amazon has come a long way since its humble beginnings. Today the company employs approximately 120,000 people and is on track to generate over $90 billion in revenue in 2014. The company has become the dominant U.S. online retailer, controlling roughly 20% of the U.S. e-commerce market, and the second-largest online retailer in the world behind Alibaba (Pending:BABA) (as measured by gross merchandise volume). The company operates its e-commerce business in 12 countries with over 244 million customers worldwide, and international revenue represents approximately 40% of total revenue.
Unreachable Economic Moat
The emergence of e-commerce in the 1990s has mostly had a negative impact on traditional brick-and-mortar retailers. We have already seen dozens of retailers, most notably Circuit City, Linens 'N Things, and Borders, exit the marketplace over the past few years, while names like Best Buy (NYSE:BBY), Barnes & Noble (NYSE:BKS), Sears (NASDAQ:SHLD), Office Depot (NYSE:ODP), and OfficeMax struggle to reverse deteriorating fundamentals. I believe Amazon is the company most responsible for the demise of brick-and-mortar retailers. Its low-cost operations, strong network effect, and laser focus on customer service provide it with sustainable competitive advantages that traditional retailers cannot match.
One of Amazon's key advantages is its low-cost operations. The cost to maintain its fulfillment center network is significantly lower than having a large physical retail presence, allowing Amazon to price below its brick-and-mortar peers while still generating excess economic returns. Additionally, online retailers are only required to collect sales tax in states where they have a physical presence. As a result, Amazon currently collects sales tax in only 21 states where it maintains a physical presence, providing another layer of cost advantages. These competitive advantages allow Amazon to generate strong cash flow, which in turn can be reinvested to grow the business and grab additional market share.
Amazon also benefits from a strong network effect, as low prices, an expansive breadth of products, and user-friendly interface attract hundreds of millions of customers, which in return attract millions merchants of all kinds to Amazon.com, including third-party sellers on Amazon's Marketplace platform (which represent 40% of total units sold) and wholesalers/manufacturers selling directly to Amazon. This self-reinforcing network effect is very difficult for competitors to replicate, since it takes a fairly long time for other companies to achieve a user base of similar size. Additionally, customer reviews, product recommendations, and wish lists increase in relevance as more consumers and products are added to the Amazon platform, strengthening the company's network effect.
I also believe that Amazon Web Services also give the company a huge competitive advantage in the cloud computing space. Amazon's cloud offerings possess more than five times the computing capacity in use than the next 14 largest providers combined, providing the company with significant scale advantages and making it the preferred name for hundreds of thousands of businesses around the world looking to reduce information technology expenditures. I estimate that Amazon Web Services generated roughly $3 billion in revenue in 2013, and I expect annual revenue growth to exceed 30% over the next several years. With recent investments for additional capacity, I also expect Amazon Web Services to become an increasingly positive margin contributor because of its highly scalable nature.
Maximizing the Dollar Amount of Earnings
Amazon's strategy has always been the same: focus on maximizing the dollar amount of earnings for long-term shareholders. However, contrary to what most investors believe this does not necessarily mean maximizing margins. Maintaining high margins in the retail industry is almost impossible. Competition eventually drives them into the ground, and the low-cost provider always wins. Just look at the most profitable retailers in the world, they all have razor-thin margins. For example, Costco's (NASDAQ:COST) five-year average EBIT margin is under 3%, Wal-Mart's (NYSE:WMT) is about twice that at just below 6%, and Target's (NYSE:TGT) is around 7%. Compare this to the S&P 500 average of roughly 15%. Retail just is not a high-margin business.
When Jeff Bezos started Amazon, he fully understood the economics of the retail industry. This is why he always strived to lower prices (and margins) over time, believing high margins attract competitors and low margins attract customers. By always offering the lowest prices and making aggressive investments in fulfillment centers, technology, and new products, Amazon would be able to achieve spectacular growth and become the e-commerce leader. This is how you maximize the dollar amount of earnings for long-term shareholders. By investing like crazy to grow revenue and forgoing short-term profits.
In fact, Amazon's investments have become more aggressive than ever. During the last few years, CapEx as a percentage of revenue has increased roughly threefold from its historical level, causing substantial margin erosion. In fact, as we can see in the figure below, EBIT margins have been cut by more than half during the last few years (from ~5% to ~1%).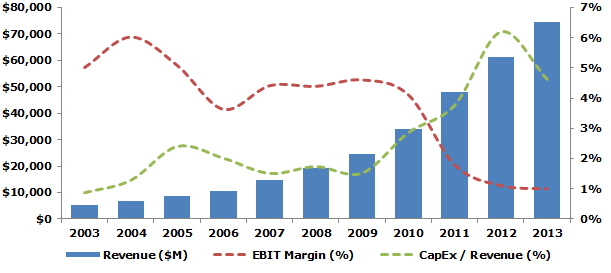 Source: A North Investments, company reports
Although Amazon's EBIT margins are currently below their historical average, it is important for investors to realize that Amazon is still in hyper-growth stage, which means margins will remain under pressure for quite some time. The company is eyeing the $15 trillion global opportunity in retail as e-commerce continues to benefit from a secular shift in consumption from offline to online. Given its brand, huge scale, and significant resources, the company is uniquely positioned to capitalize on the trend.
Taking a longer-term view, Amazon will likely always remain a low-margin business. But, given the company's various cost advantages, I believe it has the potential to still be more profitable than most traditional brick-and-mortar retailers. As the company's growth rate slows, I expect the pace of investment to decline and margins to improve. Although it is difficult to predict when growth will slow and margins will expand, I do believe that any such move will be gradual. Over the next several years, I expect EBIT margins to expand back to the 2003-2010 average 5% level and to long-term levels in the high single-digit percent range. I believe this margin expansion will be the key driver for the stock going forward.
Amazon Has Significant Upside Potential
Companies like Amazon often remind me of Buffett's famous purchase of See's Candies back in 1972. This is the first time Buffett realized that buying a wonderful company at a fair price is better than buying a fair company at a wonderful price. In other words, sometimes paying a premium for an outstanding business can be the greatest investment you will ever make. This is something the Amazon bears/skeptics seem to forget.
At the current market capitalization of $165 billion, Amazon is trading at 2x trailing revenue and over 200x trailing EBIT. Although I must admit this looks extremely expensive, this is because Amazon's EBIT figure is distorted. Remember, the company's margins suffered in recent years as a result of the huge investments it made to drive future growth. In fact, EBIT margins are down about 80% from their normal range of 4% to 6%. On a normalized basis, however, Amazon's EBIT margins are a little over 4%, which comes out to be roughly $3.3 billion in trailing EBIT. This means Amazon is actually trading at a more reasonable 50x trailing EBIT (normalized). Although this still is not cheap, I believe Amazon warrants a premium valuation based on its wide economic moat, robust revenue growth, and long-term margin expansion potential.
If Amazon is able to achieve 20% average annual revenue growth over the next five years (roughly in line with the growth of the global e-commerce industry) and expand its EBIT margin to about 5% (still below its all-time high of 6%), the company would generate roughly $9.3 billion in EBIT in 2018. If we assume the market capitalization remains the same, the stock would be trading at less than 18x EBIT. In my opinion, this is an extremely cheap price to pay for one of the fastest growing and most dominant companies on the planet.
Key Risks to Consider
Amazon's low single-digit margins leave little room for error. With the company looking to expand into additional product and service categories, the investments required for such an expansion need to carry high enough positive ROIC so that they are accretive to the company's overall margins long term.
Amazon also faces some regulatory risk, as I expect a federal standard for collecting online sales tax to be put in place within the next several years, potentially weakening one cost advantage and making traditional retailers more competitive.
Amazon's expansion into China will be a big hurdle because this is where Alibaba (the largest online retailer in the world) operates. Going against an established giant like Alibaba will likely limit any growth Amazon will hope to see in China.
Amazon also faces competition from a number of players both online and offline. In online retail, Amazon competes with eBay (NASDAQ:EBAY) and other players such as Overstock.com (NASDAQ:OSTK). Traditional retailers such as Wal-Mart and Target are also putting greater emphasis on their online sales channel and services such as pickup-in-store, posing increased competition to Amazon.
Summary and Conclusion
Amazon has all the characteristics of a great investment: the company is run by a brilliant CEO with skin in the game, has a huge economic moat, is experiencing double-digit revenue growth, and has significant margin expansion potential. In short, I believe this stock is one of the best investment opportunities available today. Investors with longer-time horizons (at least five years) are likely to realize significant gains.
Disclosure: The author has no positions in any stocks mentioned, but may initiate a long position in AMZN over the next 72 hours. The author wrote this article themselves, and it expresses their own opinions. The author is not receiving compensation for it (other than from Seeking Alpha). The author has no business relationship with any company whose stock is mentioned in this article.