Shares of Time Warner (NYSE:TWX) have moved sharply higher following news that the company rejected a takeover offer from Rupert Murdoch controlled 21st Century Fox (NASDAQ:FOX). In a previous piece, I suggested why I thought a deal for FOX to acquire TWX might be possible. While a deal might not get done right away, I believe Murdoch will eventually prevail with his effort to acquire TWX.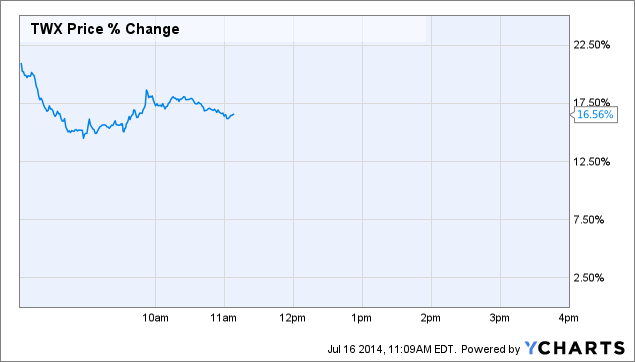 TWX Price data by YCharts
Time Warner Lacks Controlling Shareholder
Noted hedge fund manager Ken Griffin, founder & CEO of Citadel LLC, told CNBC that he was in favor of a deal between TWX and FOX. Griffin holds stakes in both FOX and TWX and said it would be "a great deal." Griffin also indicated that be believed a deal was likely to get done at some point. Griffin pointed out that since TWX does not have a controlling shareholder, a deal is likely to get done. I agree with this argument and believe Murdoch could go hostile with his bid for TWX.
FOX Likely To Increase Its Offer
Due to the fact that FOX's proposed deal is financed partly with stock issuance, it is easy for FOX to increase its bid. If the deal were solely being done in cash, then FOX would be limited by the amount that the company could borrow. However, the stock component of the deal means that FOX could easily raise its bid. FOX's current offer, comprised of $32.42 in cash and 1.531 shares of FOX, amounted to a total of about $86.30. Some pundits have said that Murdoch and FOX could be willing to go as high as $100 per share. While I would be surprised if FOX offers $100 per share for TWX, I think it is very likely that FOX increases its offer for TWX into the mid 90's.
Bullish on Both FOX and Time Warner
I continue to be positive on both TWX and FOX. As mentioned in this piece, I think a higher bid for TWX is likely. I am also positive on FOX. While a deal could be somewhat dilutive, the cost savings synergies and improvement in pricing power make a deal positive for FOX shareholders. Estimates place the cost savings from a combined company at $1 billion. While there is no estimate as to the potential gains from better pricing power, it is fair to say that there will be meaningful gains over time.
Disclosure: The author has no positions in any stocks mentioned, but may initiate a long position in TWX, FOX over the next 72 hours. The author wrote this article themselves, and it expresses their own opinions. The author is not receiving compensation for it (other than from Seeking Alpha). The author has no business relationship with any company whose stock is mentioned in this article.