In the US, cigarette consumption has been falling steadily (and in fact, the declines go back a couple of decades farther than the graph below shows):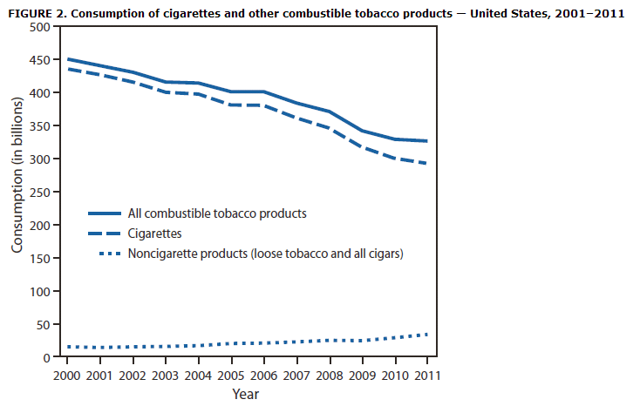 (Source: cdc.gov)
Tobacco companies have relied heavily on developing countries in recent years to make up for sales stagnation and declines in the developed world. But now we are seeing that those markets are slowing and can no longer overcome declines elsewhere.
Volume of cigarette sales declined in Q1 2014 compared to Q1 2013 for all major companies in the industry. Here are the figures for four of them:
(Sources: 10-Q filings from the above four companies)
Have we reached "peak tobacco"? I think so. A look at revenues over the past 2.5 years shows how the industry is struggling to grow. Even the company with the highest revenue growth in this period (Lorillard) only had about 3% annualized growth.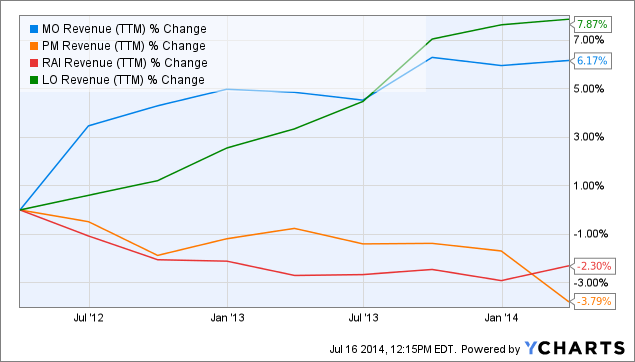 MO Revenue (NYSE:TTM) data by YCharts
For the period shown, revenues are slightly up for the industry overall due to rising prices. However, if volumes continue to decline, revenue will eventually stagnate. And that is exactly what is forecast for Altria (see below).
Evaluating Altria
If I were to invest in any tobacco company, it would be Altria, largely thanks to the hefty dividend. However, it is not cheap and falls off my radar immediately when looking at the following chart: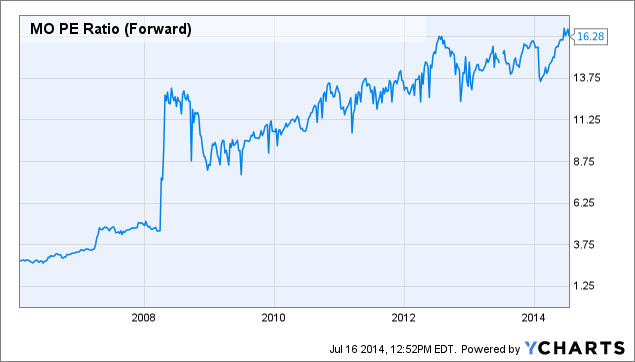 MO PE Ratio (Forward) data by YCharts
As revenue growth has declined, Altria is priced at an eight-year high (at least). That is not the kind of fundamentals I like to see in a company.
Moving forward, expected revenue growth for MO is expected to be a paltry 0.7% per year from 2013 through 2016.
I love companies with high profit margins that produce lots of cash and give shareholders great returns via dividends and buybacks. However, that only works for so long in a declining industry. Furthermore, Altria is priced at far too high a forward P/E. I can get a similar situation (no revenue growth, dividend, buybacks) in a stock like IBM for a far cheaper valuation. In fact, taking the IBM comparison one step further, I can make a reasonable argument for revenue to start growing again at IBM at some point in the future. It's difficult to see any substantial revenue growth ever coming from Altria again.
Conclusion
Regulation on cigarettes will only increase in the future. For example, plain packaging was mandated in Australia in late 2012 with Ireland proposing a similar bill about a month ago. More countries are expected to enact packaging legislation.
The lists of smoking bans in the US and worldwide gets larger every quarter. For example, starting on June 1, 2014 Russia banned smoking in restaurants and cafes. Simply searching for "2014" on either of those pages brings up a multitude of new bans. Here's another highlight: "The Chicago Clean Indoor Air Act was updated to mention e-cigarettes in 2014, making Chicago the first major U.S. city to legislate e-cigarette use."
There is no doubt in my mind that "peak tobacco" is either here or just around the corner. For those of you who are already poised over your keyboards ready to type, "I've heard that before!", it was incorrect before on a worldwide basis (correct on a US basis). Only recently are we seeing worldwide volume decreases. And that's a trend with no reversal.
Disclosure: The author has no positions in any stocks mentioned, and no plans to initiate any positions within the next 72 hours. The author wrote this article themselves, and it expresses their own opinions. The author is not receiving compensation for it (other than from Seeking Alpha). The author has no business relationship with any company whose stock is mentioned in this article.