by Mike McDermott
As we work our way through earnings season, there have been a number of surprises (both positive and negative) for traders to grapple with. Any trader who has been around the block a few times will tell you that the actual earnings announcement is not nearly as important as the market's reaction to that report.
But there are varying degrees of reactions – some which tell you more than others – and some that provide better trading catalysts…
There are a myriad of subtle nuances, but essentially four quadrants of earnings reactions:
1) Positive Report, Positive Reaction
In this case, the positive stock movement indicates that bullish traders and investors have enough control to keep the momentum moving. One would typically expect a positive report to produce positive stock movement, so less information is really gained from the event. At times, this event can exhaust a trend with the last remaining skeptics capitulating and few new buyers left.
2) Negative Report, Positive Reaction
If a stock can muster positive movement after issuing a negative report, that is a clear sign of strength. Long-term investors are willing to look past what they believe to be a temporary setback, and this is often the case when momentum is strong. Of course caution is in order if too many negative reports are ignored (bubble warning).
3) Positive Report, Negative Reaction
A negative reaction to what is considered a positive report is a very telling event. It indicates that the strong fundamental release has already been priced in, and may help to reveal subtle negative news within the report that may otherwise have gone unnoticed. The mis-matched reaction often creates a significant trading opportunity.
4) Negative Report, Negative Reaction

Similar to category one, a negative report followed by a negative stock reaction may not offer much information except to confirm the bearish overlay. At times, too much volatility including a very large stock loss can result in capitulation where the last remaining "believers" finally throw in the towel. If this occurs, there may be few holders left to sell and it can mark a significant low.
We are well into Q3 earnings season with plenty of reactions to consider. As traders, we need to put each of these reactions into context considering the broad market climate, the fundamental drivers for individual industries, and of course the metrics in place for each unique security.
Earnings reports along with a fluctuating macro environment have set up a number of actionable situations for this week, so lets dive into the opportunities:
After building a modestly profitable short position in Netflix, Inc. (NASDAQ:NFLX), Jack and I opted to close out the position before earnings as the potential return just didn't warrant the risk around the earnings catalyst. There are times when you simply don't have an edge ahead of a major report and in this case we booked minor profits and stepped aside.
The headline earnings numbers beat expectations as margins expanded and the costs to acquire new subscribers appeared to fall. Traders initially bid the stock higher, but were unable to muster enough strength to push NFLX above the high from late September.
Shortly after the report, Zerohedge called their accounting standards into question and we are now watching the name closely for weakness. If the bulls are unable to support the stock at this level, and the accounting issues really DO raise concern (the practices certainly do justify some questions) then we could quickly see the inflated stock begin to come back to earth. ()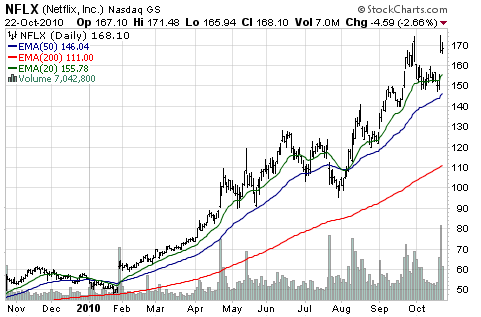 American Express (NYSE:AXP) on the other hand, saw its shares dumped after reporting earnings of 71 cents which were supposed to have beaten expectations. Loan writeoffs for September reached the lowest levels seen in more than 2 years but apparently the "whisper numbers" or unpublished expectations were higher.
The company is one of the few credit card issuers willing to fight the DOJ in a suit which would restrict the company's ability to control how merchants offer customers incentives to use cheaper forms of payment. So far, the move has not helped the stock as investors appear much more willing to commit capital to rivals Visa Inc. (NYSE:V) and MasterCard (NYSE:MA) rather than take the risk that AXP will be engaged in a lengthy and costly legal battle.
As mentioned in weeks past, Jack and I took a short position in AXP early in the month as the stock broke down on the DOJ announcement. Friday's report and subsequent selloff gives us a chance to add additional exposure while tightening our stop to reduce risk. ()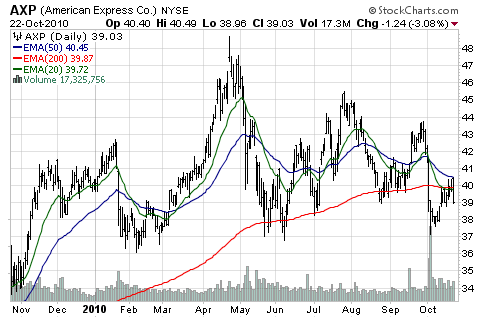 Amazon.com, Inc. (NASDAQ:AMZN) fits into the positive report, positive reaction quadrant as the stock surged to a fresh new high after reporting earnings of 51 cents per share (beating expectations of 45 cents). Investors are particularly excited about the company entering the "cloud computing" market which could eventually disrupt an already extended and unstable "virtual" industry.
The stock is currently trading at roughly 47 times next year's expectations which puts AMZN in the "potential bubble" camp. However, with the stock's current momentum, it is hard to justify a trade until we see the momentum begin to decelerate.
This week I'll be watching to see if the stock can follow through on the strong earnings reaction. If so, then I'll remain on the sidelines. If not, we could certainly justify taking some exposure…():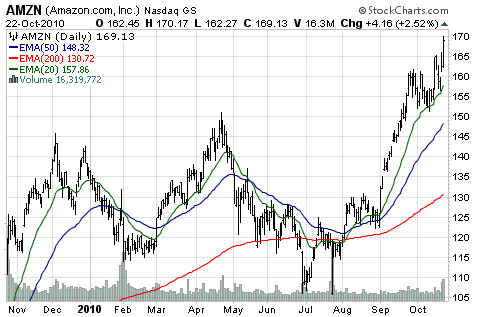 Precious Metals Back on the Blotter?
After what appears to be a healthy pullback for many precious metal positions, the price action in gold as well as silver may justify some long positions in the coming week.
Jack has been over the macro risk as the Fed continues to "add bricks to the wall" with another potential round of quantitative easing. Gold and silver-related securities are likely to continue to rally with this scenario and as Mercenary Traders, we continue to stick and move, nimbly capturing profits in this sector as the price action allows.
The Market Vectors Gold Miners (NYSEARCA:GDX) is an interesting barometer at this time as the ETF has pulled back near the $54.00 to $55.00 level that was resistance in previous months. From a technical perspective, prior resistance can often become support, and if GDX were able to mount a rally from this point it would help confirm positive opportunity in gold and silver mining companies. ()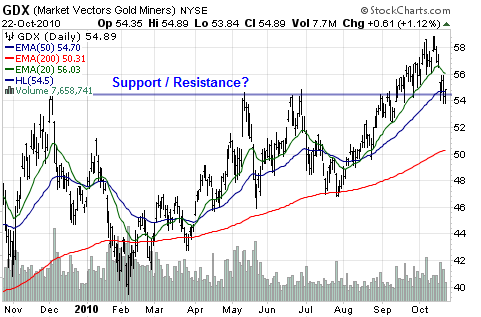 But from a trading perspective, I am much more excited about taking a position in the Market Vectors Junior Gold Miners (NYSEARCA:GDXJ). At this point, it appears investors are looking less for the stability offered by large-cap miners, and more for the speculative returns we are more likely to see from their small-cap brothers.
Fundamentally, these companies typically have more risk, but as a group, they will likely benefit more from a continued hike in the spot price for gold (and silver). If the current range above $33 holds and GDXJ is able to mount a rally, we may very well take a new position with a stop that gives us a little wiggle room until the positive trend is clearly back in place. ()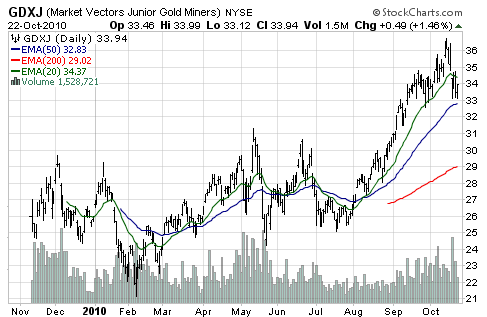 On the silver side, all three of the names in our silver miner Strategic Intelligence Report look like good potential trades. I'm particularly interested in Hecla Mining Co. (NYSE:HL) which pulled back over the past week but logged a positive day on Friday (click on chart to enlarge). Watch for these stocks to take out short-term resistance on their intra-day charts as an indication they are ready to push higher again.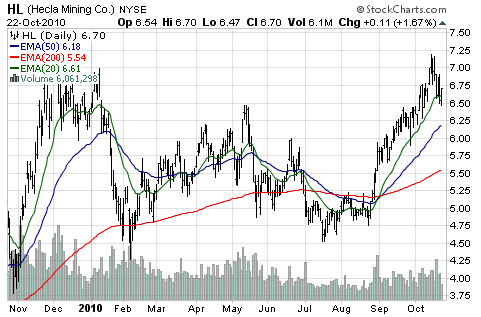 The financials continue to offer opportunity on both the long and the short side as investors sort through ForeclosureGate and determine who the winners and losers will be.
We've taken a couple of long positions in the insurance companies who previously guaranteed the Mortgage Backed Securities that were doomed to fail. Assured Guaranty (NYSE:AGO) as well as the infamous American International Group (NYSE:AIG) have been rallying as it now appears the firms may have legal standing to recoup some of their former losses.
Aggressive (and potentially fraudulent) underwriting processes at Countrywide Financial (subsequently bought by Bank of America – (BAC)) along with sloppy securitization of these mortgages could lead to significant liabilities. At this point, BAC may be a little too extended to add additional exposure, but AIG and AGO still represent interesting trade opportunities given their opportunity for windfall judgments.
This week we have more important earnings announcements to track along with information on Consumer Confidence, the initial Q3 GDP estimate, and of course the week couldn't start without a speech from Helicopter Ben on "Mortgages and the Future of Housing Finance".
Stay nimble out there and keep that risk in line with potential returns. I'll be back to you with more thoughts as the week progresses…
Disclosure: As active traders, authors may have positions long or short in any securities mentioned. Full disclaimer can be found here.