The global business community has heaped praise on Alibaba (Pending:BABA) and its upcoming IPO. Recently, however, a shadow has fallen over this Chinese eCommerce company. Alibaba founder Jack Ma is now linked to a number of corporate deals with highly irregular attributes.
Controversies Come To Light
Mr. Ma's latest controversy comes at a time when Alibaba works to secure investment in what could be one of the largest IPOs the world has yet seen. In one of the controversial deals now under scrutiny, Mr. Ma and a collection of partners invested on Alibaba's behalf through private means.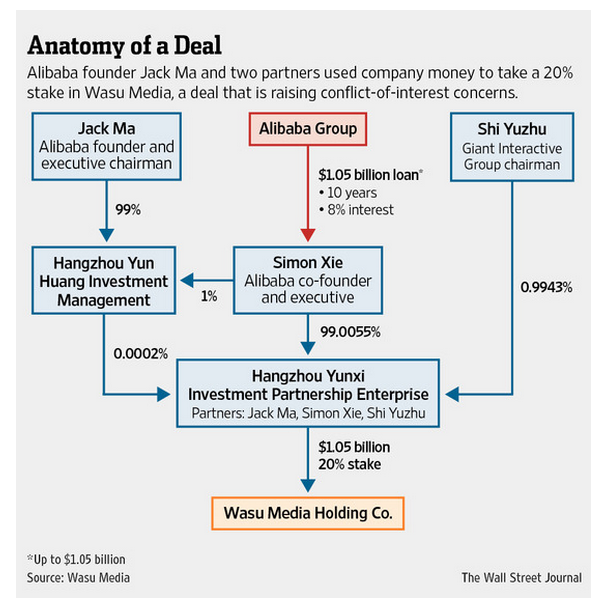 (Source)
In other questionable cases, a private-equity group connected to Mr. Ma invested in cooperation with Alibaba.
Attempts to Assuage Regulators
To assuage regulators, Alibaba has explained Ma's behavior in filings with U.S regulatory officials. Though admitting that Mr. Ma does privately invest on behalf of Alibaba, the firm says it will move to limit Ma's financial gains from these transactions.
In some cases, this is accomplished by donating money to charity. For experts in corporate governance, Alibaba's assurances are largely falling on deaf ears. Since Ma's investments blur the line between personal financial interest and business, they involve Alibaba in deals that directly benefit Ma and a select group of financial partners.
This situation is less than ideal as it partly places Alibaba's fate in the hands of individuals, who are not accountable to Alibaba shareholders.
Alibaba Mute In Run-Up To IPO
So far, Alibaba has avoided speaking publicly on this controversy, citing concern over its upcoming IPO.
A (if not the) huge player in eCommerce, Alibaba operates extremely popular Chinese eCommerce hubs like Taobao.
An overview of Alibaba's business can be found here.
IPO Highlights Corporate Differences In China v. United States
The company's pending IPO could happen as early as August, and the offering could achieve an important place in the history of Wall Street.
However, controversies like the questionable Ma deals starkly illustrate the uniqueness of corporate governance in China. Chinese companies have enough clout to attract interest from global investors. However, Chinese companies may also use accounting and governance practices that are well-removed from accepted international standards.
To Western investors, it might seem strange that Jack Ma is privately investing on Alibaba's behalf. However, it is fair to note that China's laws almost make it impossible for Alibaba to directly invest in many Chinese companies.
Chinese law severely limits non-Chinese ownership of Chinese firms in a number of sensitive categories. For this reason, companies like Alibaba often incorporate themselves offshore in places like the Cayman Islands. Technically speaking, Alibaba is a foreign company that operates its Chinese Internet businesses through contracts with domestic Chinese entities.
While this arrangement allows Alibaba to attract foreign investment, it also means that China can't directly invest in a wide variety of Chinese firms. In such a restrictive regulatory situation, Alibaba relies on Jack Ma to facilitate deals the eCommerce company can't legally make.
Jack Ma Alarming Global Investors
Whether Jack Ma's deals are practical or not, they are very alarming from the standpoint of global investors. Jack Ma and Alibaba seem unwilling or unable to recognize the dangers that arise from conflicts of interest.
In one case, Alibaba lent Ma partner Simon Xie the funds to invest in a media company, called Wasu Media Holding Co. Since he holds stakes in Wasu and Alibaba, this creates an obvious conflict of interest. If Ma decided to bolster Wasu's financial health at the expense of Alibaba's, Alibaba's shareholders could do little in the way of seeking redress.
Importance of a Growing Middle Class Throughout Asia
Urbanization rates in China are expanding the populations of Shanghai, Beijing and Shenzhen, which are three of the top tier-one cities in China. The United Nations reports that in the next 15 years, Beijing could see its population grow by 42 percent and 35 percent for Shanghai.
With a shift from rural to urban living often comes an increase in demand luxury brands and the latest technology-of which Alibaba is king.
Statistics for worldwide populations indicate that 90 percent of rural populations worldwide are located in Asia and Africa, which leaves plenty of room for more people in Asian lands to urbanize and enjoy a lifestyle that involves fashion, affluence and the luxuries of a modern society.
China will soon see its e-commerce market become the largest in the world with a forecasted spending figure estimated at $540 billion in 2015.
Outlook for Alibaba (and Its Major Shareholder, Yahoo!)
Unfolding controversies only emphasize how far Chinese companies need to evolve before they are fully in line with standard global practices.
While these concerns could grow and become more publicized in coming month, there are few signs this will obstruct the IPO.
However, investors looking at the company as a long-term growth play should still consider the macro viewpoint and the role that the middle class plays in China. A $540 billion market in 2015 should be extremely enticing.
Given a strong outlook for BABA in the coming month(s), we very positive on Yahoo! (NASDAQ:YHOO), which holds more than a 20% stake in the company (over $20 billion).
Yahoo will be selling a portion of this stake on the IPO and we believe distributing the proceeds to the Yahoo shareholders in the form of a dividend and a huge stock buyback.
Yahoo's remaining stake could also see substantial appreciation over the next several years as Alibaba expands around China and the world.
We invite readers wishing to join the discussion on Alibaba and Yahoo! to click the +Follow button above the title of this article, and those looking for the latest updates to click +Get real-time alerts.
Disclosure: The author is long YHOO. The author wrote this article themselves, and it expresses their own opinions. The author is not receiving compensation for it (other than from Seeking Alpha). The author has no business relationship with any company whose stock is mentioned in this article.