I've waited to make a prediction for gold (NYSEARCA:GLD) for quite a while, and the time has finally come. Here it is: Gold set a major multiyear low in June 2013, and the spot price of gold will proceed to move higher from here. If gold breaks above $1,400 then it will make a new high 1-3 years after that.
If gold is unable to break $1,400 then I believe it will take longer for a new bull market in gold to appear, but I definitely believe that a new bull market is coming. Furthermore, I predict that gold will break above $1,400 in the next 3-6 weeks. Gold miner stocks, such as those mentioned in Issue 14 of my Financial Newsletter, will benefit from the higher price of the commodity, and I believe that they will be among the best performers in the stock market for 2014 (and possibly 2015 as well).
I'm not crazy. I don't believe (like some do) that gold will be $5,000/oz in a few years. I have absolutely no idea how high the price of gold can go, and I have no idea how analysts can even set a long-term price estimate for gold (aside from using technical analysis of course). The spot price of gold currently sits at $1,307.80/oz (as of July 14th) and its all-time high was $1,913.50/oz, which was set on August 23, 2011. My bullish prediction for a new all-time high is only 46.31% higher than gold's current spot price - which appears moderately conservative given the fact that gold skyrocketed over 500% from 2001 to 2011. As gold bulls go, I'm realistic.
Indeed, I say this while remaining agnostic to world events: a terrorist attack (God forbid), a war over Gaza, or any of a number of other potential events could add impetus to a race for "safety" in precious metals.
So, why am I predicting that the price of gold will rise moving forward? Five reasons….
Reason #1: Severe Negative Sentiment Towards Gold In 2013
Emotion plays a huge role in investing, and it is often very detrimental to those who cannot control it. In my opinion, gold is one of the most emotion-driven securities available to an investor. When investors refer to "sentiment" they are often referring to the collective emotion of a large group of investors, and I want to focus on sentiment in this section.
Anyone holding a long-term position in gold over the last three years likely lost a lot of money. Over the last three years, there are a few three month (approximately) periods where the price of gold rallied, and short-term traders may have been able to make some money during those time periods, but generally speaking all long-term holders of gold lost money. To put it all in perspective, the price of gold declined 31.65% from its all-time high in August 2011 to its closing price on Monday, July 14, 2014. Even worse, the price of gold declined a whopping 38.6% from its peak in 2011 to its recent major low in June 2013 (at around $1,180/oz). To put it bluntly, people who invested in gold were not happy and they created the base upon which negative sentiment towards gold was built.
To make matters worse, when gold began its long descent from its all-time high in 2011, major investment banks in the U.S. began releasing statements where they cut their price estimates for gold. As you can probably guess, those price target cuts made headlines and added fuel to the emotional fire. One example of an investment bank that continually cut its price target for gold (between 2011 and 2014) is Goldman Sachs. In early 2012, Goldman Sachs released a statement saying "gold futures traded on the Comex in New York may climb to $1,940 an ounce in 12 months." That prediction from Goldman Sachs wasn't exceptional by any means, and some investment banks released reports with even higher price targets for gold. For example, Morgan Stanley released a report, at around the same time, naming "…gold among its top picks…saying bullion may average a record $2,200 an ounce."
Fast forward to the end of 2012 and Goldman Sachs had "…cut its three, six and 12-month forecasts for gold prices - [at the time] near $1,700 an ounce - to $1,825 an ounce, $1,805 an ounce and $1,800 an ounce respectively." Suffice it to say, Goldman Sachs's price targets for gold kept getting lower until finally, in September 2013, Jeffrey Currie (Goldman Sachs's global head of Commodity Research) followed up the investment bank's earlier price target for gold ($1,050/oz) by saying that "...there's a danger that gold could drop to under $1,000 in the near term..." As recently as July 14, 2014, Jeffrey Currie reiterated his bearish call on gold , after stating his year-end price target for gold was $1,050/oz in January 2014 .
If investors hear the same thing repeated often enough for a long time, then they will probably start to think that it's true. That is exactly what has happened over the last 2-3 years as "talking heads" on major financial news stations condemned gold and people reacted by selling their gold holdings.
All of this took place while the stock market was breaking into new record territory. I have determined that since gold reached its all-time high on August 23, 2011, the S&P 500 has gone up an astounding 70.10% (as of Monday, July 14, 2014). Over that same period, as previously mentioned, the spot price of gold declined 31.65%. Furthermore, the S&P 500 first broke to a new all-time high on March 28, 2013 and since then it has gone up 25.99% (through Monday, July 14, 2014) and SPY has recorded a total of 77 new all-time highs over that period. Conversely, since March 28, 2013, the spot price of gold dropped 18.11% and made new multiyear lows. When taking that information at face value it is easy to see why people became very bearish on gold.
How did that translate into sentiment readings? Well, look at the chart below and you will see…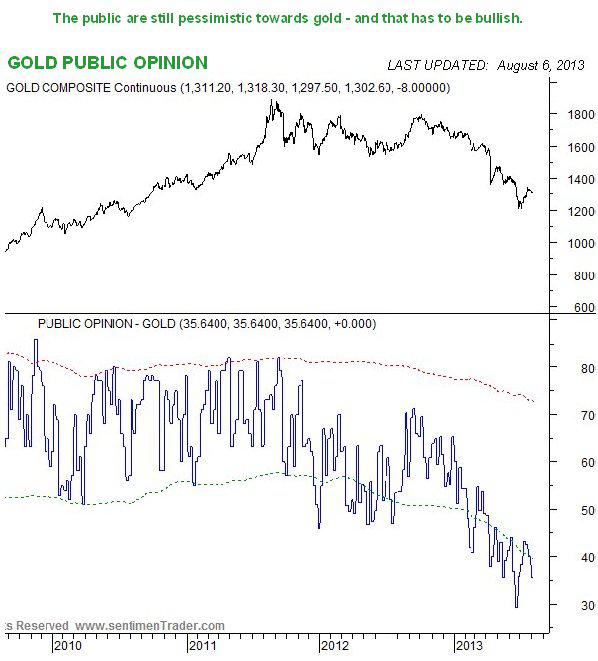 Chart From Clive Maund.
The chart above shows the public opinion of gold just shortly after gold made its multiyear low at $1,179.40/oz on June 28, 2013. Public opinion of gold was extremely negative, and it had been deteriorating very quickly since gold topped in August 2011. All of that led to very few traders willing to hang on to their gold, which can be seen in the chart below: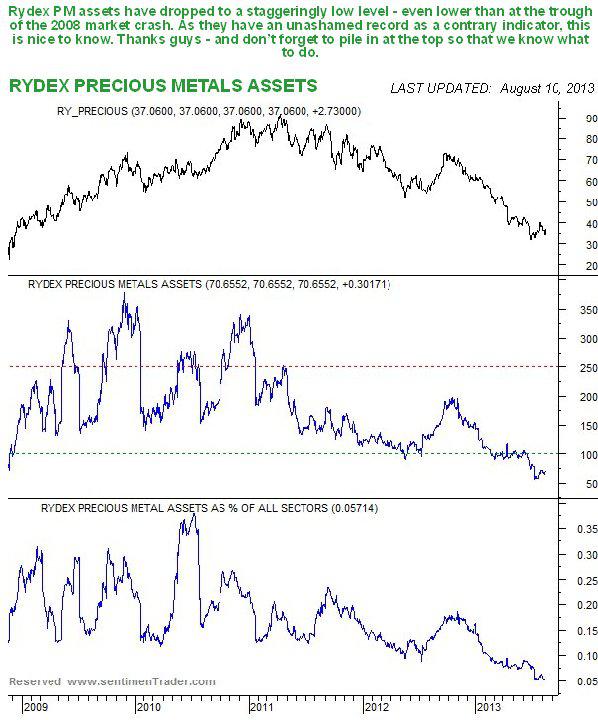 Chart From Clive Maund.
Rydex Funds, a group of mutual funds offered by Guggenheim Investments, had an extremely low allocation to gold while the precious metal was bottoming out in June 2013. Sentimentrader, the best creator of "sentiment indicators" there is (in my opinion), uses this as a contrarian indicator. As you can see above, when "Rydex Precious Metals Assets" gets below the dashed green line it is a good time to buy.
Note: Sentimentrader.com only provides the indicators, and the investors who subscribe to the website will then manipulate the variables of the indicator to their own preferences. My source for this the chart adjusted the settings of the indicator to control where the green dashed-line was placed. However, the blue or black lines for the Rydex figures were compiled by sentimentrader.com.
My source for these charts (links provided beneath each chart) released them on August 13, 2013, so let's fast forward to a more recent version of the above charts: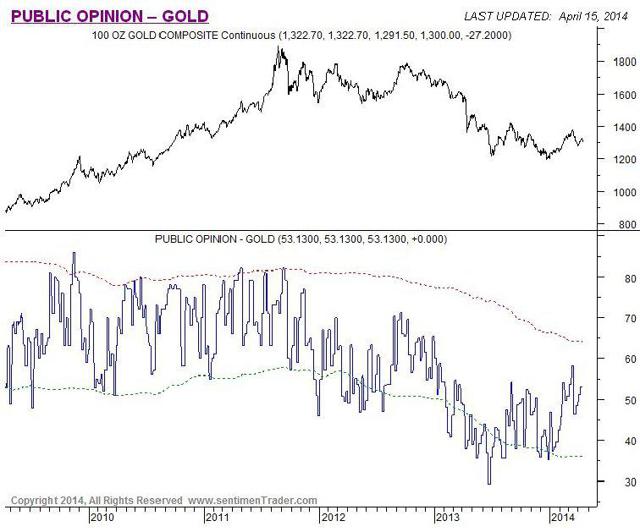 Chart From Kitco.com.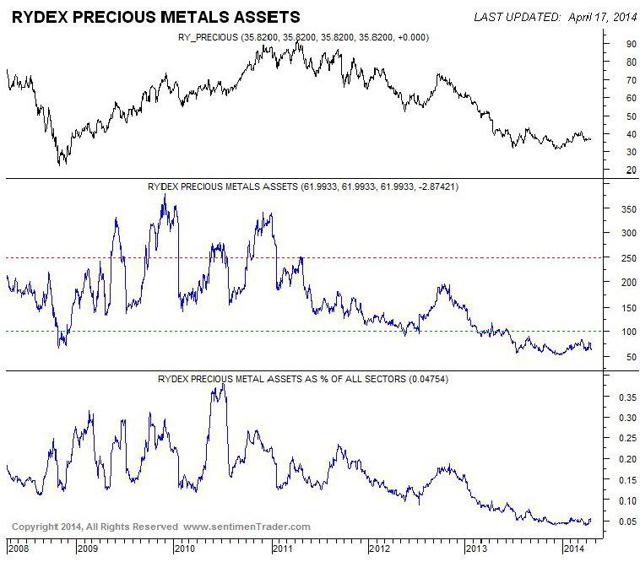 Chart From Kitco.com.
Sentiment for gold was extremely negative when gold was bottoming in June 2013 and now it has improved. That extremely negative sentiment translated into a large number of investors shorting gold, and this lead to a short squeeze that caused the price of gold to jump significantly higher recently. Currently, we want to see public opinion indicator continuing to improve, which would translate into more long positions being initiated, because improving sentiment will sustain a long-term bull market. As you can see from the "Rydex Precious Metal Assets" data above, there is still a ton of room for improvement and a lot of new long positions that can be initiated. In short, gold has a lot of upward potential!
Let's remember the words of Sir John Templeton: "Bull-markets are born on pessimism, grow on skepticism, mature on optimism and die on euphoria." We have seen a bull market being born on pessimism, and now there is a lot of skepticism (from Commercial Investors) for gold that I believe will eventually lead to us seeing the bull market mature!
Reason #2: Gold's Seasonality
Now is the time to buy gold based on its "seasonality." Gold's seasonality is gauged by looking at monthly average gain/loss over a long period of time. The following chart looks at the "Average Gold Performance Since 1975":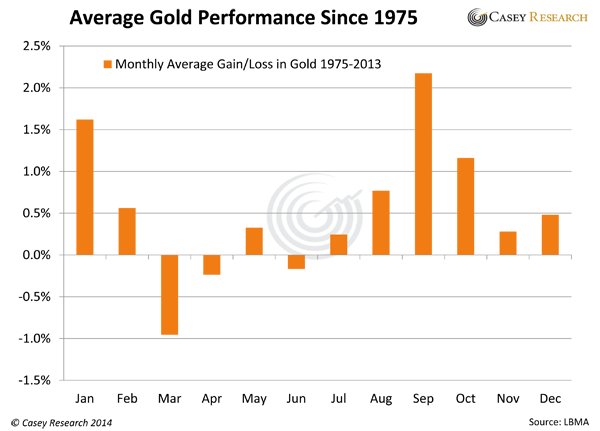 Chart From Casey Research.
The chart says it all- now is a great time of year to be buying gold.
Reason #3: Commitment Of Traders (COT)
Here is a description of what information a Commitment Of Traders report contains, and how it can be analyzed:
Each week, the Commodity Futures Trading Commission (CFTC) releases information on the long and short positions of three groups of traders in a couple of dozen different futures markets in a report known as the Commitments of Traders.

The three groups are as follows:

Commercial Traders - Commonly believed to be the "smart money", these traders are involved in the day-to-day operations of each commodity. They have an excellent handle on the underlying market, and it typically pays to follow their positions when they reach an extreme.

Large Speculators - This group mostly consists of large hedge funds, and almost always take the opposite side of commercial traders. The are primarily trend-followers, and will accumulate positions as a trend progresses. When their positions reach an extreme, watch for a price reversal in the opposite direction of the existing trend.

Small Speculators - These are smaller traders, composed mostly of hedge funds and individual traders. Again, they are mostly trend-following in nature and we often see price reversals when they hit an extreme. (Sentimentrader)
Around the time that gold was bottoming in June 2013, we had one of the most bullish COT reports that investors have seen for a very long time. Here is a chart, released in May 2013, which shows a COT report right before gold bottomed: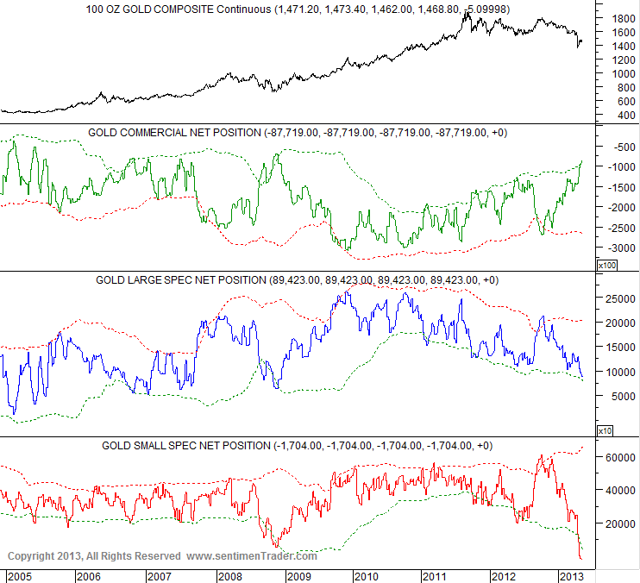 Chart from newsletter by Geoff Goetz at billcara.com.
Now, the COT data is showing that a very large short squeeze just took place as "small speculators" closed their short positions. This can be seen in the chart of COT data for silver (NYSEARCA:SLV) below: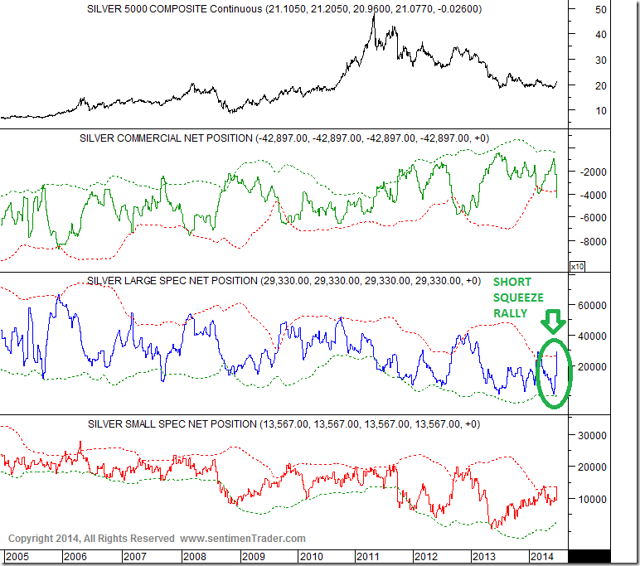 Chart from newsletter by Geoff Goetz at billcara.com.
The price of silver generally follows the price of gold, and as you can see the COT data was exceptionally bullish while silver (and gold) was bottoming last June. The situation has improved somewhat, as both Large Speculative investors and Small Speculative investors have been squeezed, but unfortunately we are entering dangerous territory (due to the lack of interest from "Commercial Investors"). As mentioned previously, gold is currently in a stage where new long positions must be initiated for a bull market to gain some traction. Although a lot of investors who were previously short silver have changed their direction, we can see from the chart above that the Commercial Net Position data can significantly improve and allow gold and silver to move higher in the intermediate-term and long-term. I would describe the current COT data for silver as short-term bearish, but any decline will most likely just be a dip and should be used as a buying opportunity with a long-term time horizon.
Going Forward: We want to see the "Commercial Net Position" data, from the COT report, improve as Commercial Investors hold fewer short positions. Currently, the price of gold and silver has been driven higher by a lot of Speculative Investors (Small and Large) initiating new long positions. If the market takes a dip in the short-term, we will want to see the COT data change and begin to look more positive (with a lower short Commercial Net Position and a lower Small and Large Speculative Net Position). The Commercial Net Position is the data we want to watch moving forward, and Commercial Investors are the "RIGHT" type of investors for a sustained bull market (I will mention the RIGHT type of investors again later in this article).
Reason #4: Huge Demand For Physical Gold In 2013 And 2014
Back when gold was bottoming in June 2013, investors in the U.S. were plagued with news reports saying that members of some investment banks (Goldman Sachs in particular) believed that gold "…could drop to under $1,000 an ounce in the near term…" Those news reports incited a great deal of fear in investors, and many investors probably made the terrible (in retrospect) decision to sell their positions in gold. Negative news reports about gold turned out to just be "noise" and, while gold was making negative headlines in the United States, investors in other countries were buying gold "hand over fist" because they realized that buying gold below $1,200 offered a fantastic long-term entry point.
I remember talking to a classmate from China at around the point that gold was bottoming in 2013 (I was a senior in high school at the time), and telling him about the market situation for gold. He told me that he believed my long-term bull thesis for gold was correct, because he had been told by friends and family in China that people couldn't believe that gold was trading below $1,200/oz and they were buying all the physical gold they could get their hands on. The demand for physical gold in China was so large that, for a period of time in 2013, the amount of "...gold deliveries on the Shanghai Gold Exchange" was so large that it equaled the total mining production of gold for the entire world (over that same period of time). This phenomenon can be seen in the following chart: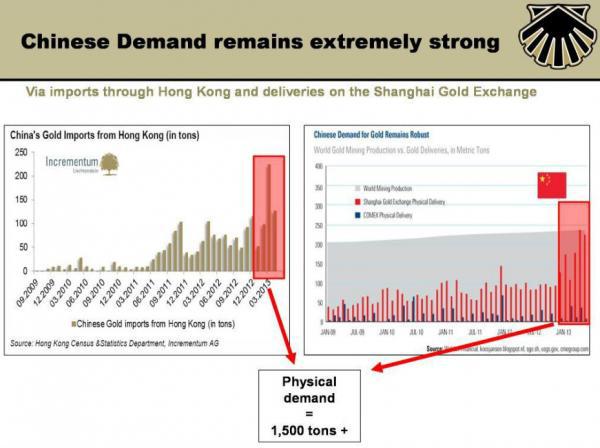 Chart From Zero Hedge.
All of this demand for physical gold caused a huge "gap" to form "between the perceived 'price' of gold and the cost to get one's hands on the precious metal." As a result, in 2013 Chinese consumers needed to pay a significant premium, to the price of gold "on paper," in order to purchase the physical commodity on the Shanghai Gold Exchange. This can be seen below: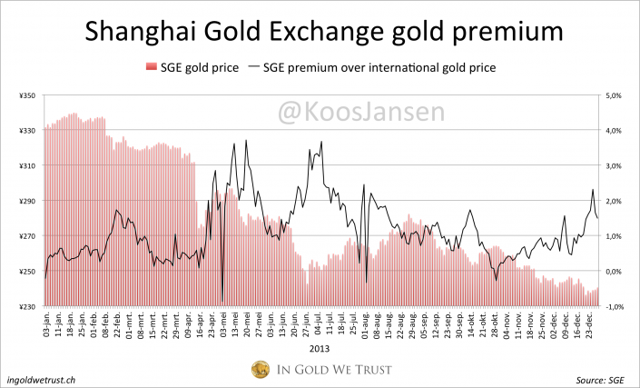 Chart From In Gold We Trust.
While this was going on, many analysts thought that this huge premium would eventually cause the Chinese to stop purchasing physical gold, which would have been bearish for gold seeing as Chinese demand offered significant support for gold while it was bottoming. That concern only holds weight if demand for gold in China, which became the world's "…biggest [gold] bullion buyer" in 2013, slumps enough to hurt the collective global demand for gold. The prediction that Chinese demand for gold would begin to slump in early 2014 turned out to be correct, and the Q1 World Gold Could report indicated that "China's gold demand fell 18 percent in the first quarter as investors in the world's biggest user bought fewer bars and coins, offsetting record interest in jewelry." However, the China Gold Association predicted "the global flow of gold from west to east that helped to make China the world's largest user will probably last for up to two decades as rising incomes spur demand." The World Gold Council echoed that statement and released a report indicating, "demand in China will rise about 25 percent in the next four years as an increasing population gets wealthier."
Those reports indicate that even though the premium Chinese consumers are forced to pay for physical gold remains high, and may have caused Chinese demand to decline in Q1 2014, Chinese demand for gold is expected to rise substantially over the next four years. Therefore, I believe that worrying about decreasing Chinese demand for gold, in the beginning of 2014, is confining oneself to a very narrow and short-term perspective.
To help put the concern to rest for good, a report from the World Gold Council, released on May 2014, shows that "first quarter [2014] gold demand held steady at 1,074.5 tonnes, maintaining the lofty levels seen last year." This can be seen in the following chart, which came from the report: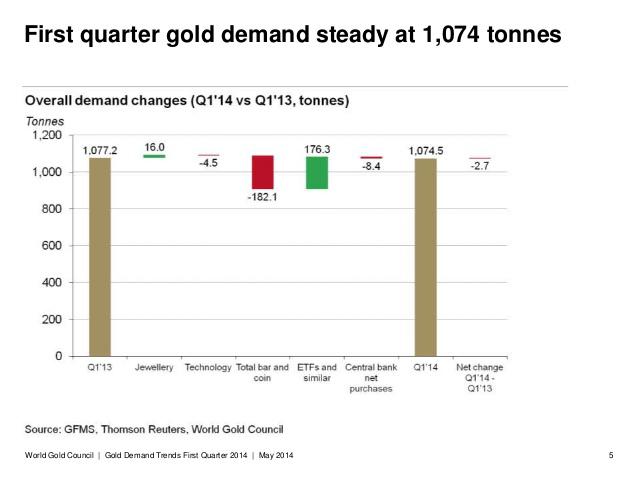 Chart uploaded by the World Gold Council.
The fact that gold demand in the first quarter of 2014 remained steady at the extremely high levels we saw in 2013, even though demand in China (the world's largest purchaser of gold in 2013) fell 18%, is extremely bullish. It demonstrates that the rest of the world is beginning to join China in its demand for physical gold. Furthermore, if China's demand for gold increases by 25% over the next four years (as the World Gold Council predicts) and the global flow of gold to China lasts for up to two decades (as the China Gold Association predicts) then we could see a huge surge in global demand for gold in the next few years that will drive the price of gold higher.
Aside from a two-month period (July - September) in the second half of 2013, gold was in a steady downtrend. Demand for physical gold picked up throughout the year, but it really picked up in the second half of the year as the spot price of gold toyed with the $1,200/oz level. Going forward: if the spot price of gold continues to rise, we will want to see demand for physical gold remain at the high levels it reached in 2013, or at least not decline by a significant amount Year-Over-Year (y/y). If demand for physical gold remains strong while the spot price of gold increases, it will mean that investors REALLY want to buy gold and they are willing to accept paying a higher price. That is a bullish factor, but only if the RIGHT type of investors are the ones buying gold (see the final paragraph of the "Reason #3" section above).
Reason #5: Recent Bullish Price Action
Ultimately, the every investor's focus returns to price; because price action dictates what direction the market is headed and whether the bulls or the bears have gained momentum. For that reason, I included the following chart, which I created, that looks at the spot price of gold and uses basic technical analysis indicators, trend lines, and support lines: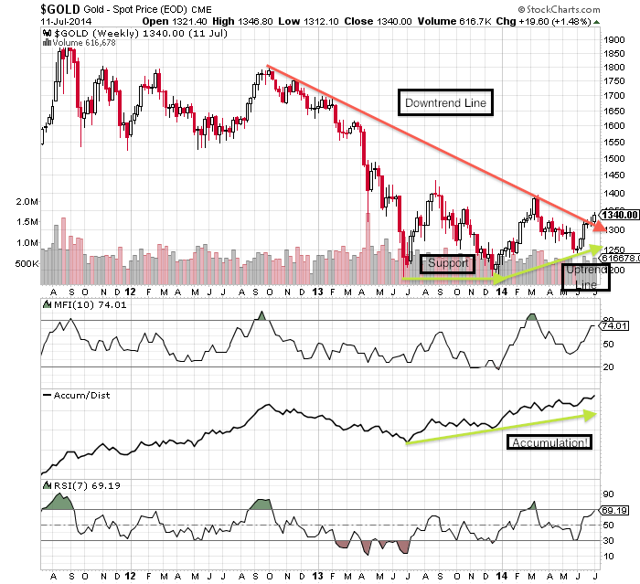 Note: The chart only contains data through July 11, 2014.
As you can see from the chart above, it appears as though gold found support (a "double bottom" chart pattern) in the $1,180 region, and has recently broken through a multiyear downtrend line. Although, price took a dip recently (not shown in the chart above) and closed at $1,307.80 on Monday, I believe the dip will be short-lived and that gold will mvoe higher over the next 2-3 months.If gold manages to break above $1,400 then I would say that it is in a confirmed intermediate-term (1-3 years) uptrend.
Going Forward: We want to see a continued uptrend in the "Accum/Dist" (Accumulation/Distribution) indicator, seen in the chart above, and we want to see the MFI (Money Flow Index) indicator continue to stay strong and not breakdown (especially if price begins to dip).
Adding in the other data to this price-specific analysis:
Gold demand is the core fundamental backdrop to any gold bull (or bear) market, so we will want to see gold demand continue to remain strong this year as the price of gold increases.
If the spot price of gold takes a dip, it is very important for the Accum/Dist and MFI indicators to remain strong, and it would be bullish if demand for physical gold begins to increase as price declines (with investors "buying the dip"). If the Accum/Dist and MFI indicators remain strong that will mean that demand for gold is staying strong, and ideally it will mean that the Commercial Net Position data for the COT report is improving.
When the spot price of does decline (ideally only a dip and not a full rout) it is actually bullish for gold sentiment to decline along with the price of gold, so long as it doesn't get too bearish. Ideally, gold sentiment will rise and fall with the price of gold, but never reach either a bullish or bearish extreme. If sentiment gets too extreme in either direction, it will likely mean that a reversal is about to take place, but extremely bearish sentiment in a bull market is a very unlikely occurrence so if it happened to occur it would probably mean that gold is entering a new bear market (or is at least not in a bull market). Look at the "Public Opinion" indicator from the "Reason #1" section above to gauge sentiment towards gold.
Obviously, in terms of the gold seasonality chart, we want to see gold perform exceptionally well in August, September, and October. It will not be a good sign if the spot price of gold declines during that three-month period.
Summary Of My Analysis, And My Prediction
Repeated from earlier: Although gold's price may take a dip in the immediate term (next 1-2 weeks), so that it can work off a bit of an overbought condition, I believe any dip will be short-lived and gold has a lot of room to move higher in short term (next 2-3 months). If gold breaks above $1,400, I would view the move as a confirmed intermediate-term (1-3 years) uptrend.
I believe that gold bottomed in June 2013, and that it has since consolidated and formed a "double bottom" chart pattern. I believe that gold has recently broken above its downtrend line and that it has a lot of room to move higher. If price breaks above $1,400 then I believe gold will be in a confirmed intermediate-term (1-3 years) uptrend. I believe that a break above $1,400 will take place in next 3-6 weeks, and after that gold will begin making higher highs and higher lows, which is the price-related definition of an uptrend. If gold is able to break the $1,400 level, which I believe it will be able to do, then I believe that gold has a good shot at reaching a new all-time high in the next 1-3 years.
A prediction needs to be a declarative statement, and not a conditional statement, so I will state my prediction as follows: I believe that gold will make a new all-time high in the next 1-3 years. I believe that it is more likely that gold will reach a new high in 2 or 3 years, rather than 1 year, but it is always possible for gold to experience a huge bull market that will surprise me.
Regardless of what happens in the next few years, the road (up or down) will not be a smooth one. For example, I believe that there is a good likelihood that gold will experience a dip over the next 1-2 weeks, and possibly an even larger "dip" if it breaks the $1,400 level. A lot of investors are waiting on the sidelines to see what happens, and where price of gold goes from here, so I believe that a bull market for gold can definitely last for quite a few years as more and more investors begin to pull their money off the sidelines and put it into gold.
Disclosure: The author is long GDXJ, NUGT. The author wrote this article themselves, and it expresses their own opinions. The author is not receiving compensation for it. The author has no business relationship with any company whose stock is mentioned in this article.