IBM Corp. (NYSE:IBM) and Apple (NASDAQ:AAPL) will team up to provide stronger business apps on iOS devices, and in turn, Big Blue will sell these stocked iPhones and iPads to the business community. IBM has a strong presence in the enterprise market, which will benefit Apple greatly by strengthening its market share in the business community.
Apple CEO, Tim Cook and IBM CEO, Virginia Rometty appeared on CNBC to discuss the deal. Tim Cook realized that Apple still needed to do something big to continue its market share expansion in the enterprise market:
"The reality is, that the penetration of these businesses and in commercial in general for mobility is still low. So where we have very good market share the penetration suggests there's a huge opportunity here."
The partnership should alter how businesses and employees work using the iPhone and iPad. The new enterprise app-loaded iPhones and iPads will be a catalyst for companies looking to achieve higher levels of dependable data security and increased levels of overall efficiency in hopes of delivering increases to the bottom line.
Some of the key specifics announced include the new class of more than 100 industry-specific business solutions, including apps developed exclusively for iOS devices. The new apps will cover an array of IBM cloud services optimized for iOS, including device management, security, analytics and mobile integration. The new IT support AppleCare service and support offering will meet the demands of the business community. Further, new packaged offerings from IBM for device activation, supply and management will boost Apple as efficiency and dependability increase.
Who Will Benefit More From The Deal?
Richard Doherty, director of the Envisioneering Group, a research consulting firm, was one of many analysts who believe the deal will benefit both Apple and IBM:
"They really do complement each other. This seems to be one of these rare win-win-win things. I just see less indecision and more satisfaction and maybe people at work getting to enjoy an iPad on the company's dime instead of them having to go out and buy it. People do equate trust and security with IBM more than any other company,"
However, some believe that Apple has already delivered in enterprise market and that the deal is not very significant. Analyst Gene Munster noted that the company has already penetrated most large businesses, both in the U.S. and abroad.
"We do not expect the IBM partnership to have a meaningful impact on Apple's financials overall primarily based on our belief that large corporations are already utilizing iPhones. We expect IBM to eventually offer similar solutions on Android over time, thus we believe Apple's innovation on the OS and hardware remain the most critical factors in device sales."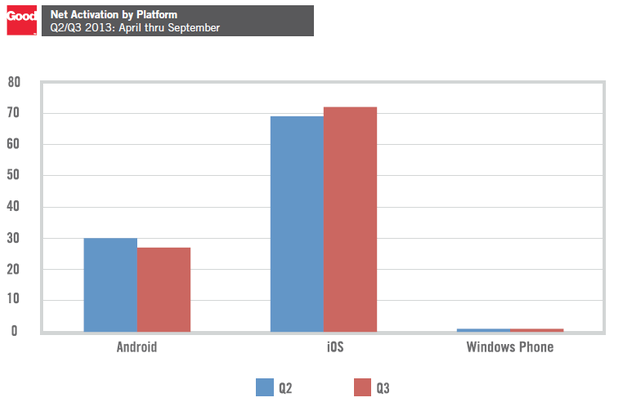 (Source: Good Technology-Net Activation by Platform)
Apple does dominate the enterprise area, with a reported 72% of all activations by platform being iOS products. Further, Apple's iOS platform made up 95% of total app activations.
Apple's strength in the ultra-competitive consumer market has been the cornerstone of the company's success. Though Google's (NASDAQ:GOOG) (NASDAQ:GOOGL) Android has a significant lead over Apple's iOS in market share, with over 70% in the consumer market, the inverse is true for the less volatile enterprise sector. Apple's deal with IBM will increase enterprise market share, taking some pressure off the consumer market. The big score for Apple here is not expanding among U.S. corporations, but looking to international markets. The iPhone and iPad accounted for 82% and 73% of devices deployed at U.S. corporations respectively.
However, the international picture is going to be what IBM helps Apple expand into at a much faster rate. The iPhone and iPad only account for 36% and 39% of the global enterprise sector, respectively. IBM will act as a catalyst for Apple in the global business industry. Big Blue's team of over 100,000 domain and industry consultants and developers will allow for strong international demand among those companies that have been doing business with IBM for decades, but have yet to switch to signing the long-term contracts that come in the enterprise market. Apple can also leverage the fact that IBM has such a strong foothold in the enterprise market that Apple itself will not have to allocate assets to build a large enterprise sales team, lowering costs without giving up selling potential.
Investors should enjoy both a surge in iPhone and iPad sales, and a long-term stabilization as companies sign long-term agreements to bring the newly business-oriented Apple products on board to executives and employees worldwide.
A strong point of this partnership will be the focus on protecting the increasingly vulnerable data security that has been a point of contention for all companies globally. The work that has been done by both Apple and IBM to deal with security will now come together as two of the largest tech companies complement and work with each other to provide solutions for both big corporations and small businesses. IBM's MobileFirst platform for iOS has focused on critical security functions, while at the same time, Apple has been implementing more security features to the iOS platform. One of the more well-known is the physical security feature of the digital fingerprint technology that will be used not only to log-in to one's phone, but will be a part of how bills or even invoices are paid in the future. The combination in an area like this is just one example of why this partnership will prove to be successful.
Pressure on Competitors
The partnership between the two tech giants is going to cause downward pressure on several companies. BlackBerry (BBRY), which was once the leader of smartphones for the business community, has been struggling to gain back market share. However, this deal will mean competition by Apple, through IBM, and will really hurt chances for BlackBerry to come back in the handset industry. Ross Gerber, CEO of wealth management firm Gerber Kawasaki, described the partnerships impact on BlackBerry,
"Apple just took a sword and just stabbed it right in the heart of BlackBerry and said, 'you're done.'"
At the end of May, BlackBerry CEO, John Chen believed that the chances of saving the handset division were 80/20. IBM and Apple have just made the odds almost impossible, but Chen did discuss that it could ditch the handset division if it came to that:
"I will be able to create a lot of value for our shareholder even without handset business, but I can create more with the handset business."
BlackBerry shares dropped initially dropped 4% after the partnership was announced, though the stock rebounded as more details came out.
Another company that will find the partnership between IBM and Apple significant is another tech giant, Microsoft (NASDAQ:MSFT). The company announced a strategy around increasing its cloud and mobile services to enterprise clients as part of its first stage of CEO's Satya Nadella's transformation away from selling software.
That both Apple and IBM are up significantly after announcing the deal points the fact that investors of both companies see a positive outlook on the partnership. Apple will benefit from IBM's strong sales force with its enterprise partners. Further, Apple will become more credible in the business community with IBM developing and selling the enterprise-specific Apple products. Investors should look as this deal as a catalyst for both IBM and Apple, as this will increase long-term sales and market share worldwide. Apple is the clear winner here, but more importantly, investors see yet another catalyst for improving sales orchestrated by Tim Cook. Cook has proven time and again, i.e. through the China Mobile (NYSE:CHL) deal, that his particular skill set seems to be exactly what Apple has needed since he took over as CEO.
Disclosure: The author is long AAPL. The author wrote this article themselves, and it expresses their own opinions. The author is not receiving compensation for it (other than from Seeking Alpha). The author has no business relationship with any company whose stock is mentioned in this article.