I believe investors should stay focused on the road ahead rather than what's already passed. There's no question that the first half of the year disappointed, as growth fell short of expectations and markets were unsettled by geopolitical risk. As a result, equities advanced in fits and starts, and bond yields fell. But looking forward, I continue to project gradual improvement in fundamentals complemented by accommodative central-bank policy. This means that it may be preferable to stay positioned with a procyclical bias, favoring global equities over bonds, and emphasizing European and Japanese equities over U.S. equities within developed markets. With systemic risk related to Russia and China subdued for now, I am more optimistic about emerging markets. I also see signs confirming my non-consensus view that better growth prospects will translate into a pickup in inflation, and I view commodities, whose valuations have been punished harshly in recent years, as the asset class likely to respond most to this change.
Markets Prove Resilient
Markets experienced the full range of emotions in the first half of the year, from fear to elation, but most asset classes managed to deliver positive returns, with European and emerging-market equities performing especially well. This may be surprising given that Europe has been beset by weak growth and near deflation, and that emerging markets have been the source of market consternation given tensions in Russia and Ukraine. In both cases, however, signs of support or resolution cheered these equity markets. European Central Bank (ECB) President Mario Draghi trumped his July 2012 "whatever it takes" pledge with "we aren't finished" this June, which was perceived by markets as a long-term commitment to supporting European growth. Meanwhile, the Russia-Ukraine conflict moved to the back burner, as Ukrainian elections occurred without disruption and Russian President Vladimir Putin essentially accepted the results.
Even Japanese equities, though still laggards year to date, advanced over the past few months, as worries about the impact of the country's value added tax (VAT) hike faded. The other big market worry-China-also diminished as the central government tinkered with policy to better balance the goals of reining in credit and maintaining adequate growth. In sum, stable growth, low inflation, accommodative monetary policy, and receding financial risks have been supportive of markets broadly.
Growth and Inflation Turning Higher
The fundamentals paint a picture of improving growth and an uptick in inflation in the developed world, particularly in the U.S.Figure 1 shows that purchasing manager indices (NYSE:PMI) for the U.S., Japan, and the eurozone are firmly in expansionary territory. The dip in Japan's PMI is attributable to the spike in purchases prior to implementation of the three-percentage-point increase in the VAT. I expect the PMI to improve given early signs that the hit to consumption was less than feared.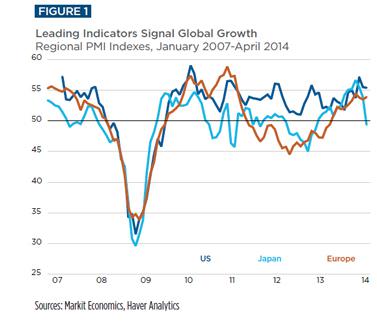 While broad wage pressures are not evident in the U.S., the core Consumer Price Index (CPI), a key measure of inflation, rose 2% in May and stands at 2.2% annualized over the last six months. In the past two cycles, wages have accelerated when the unemployment rate has hit 5.5% (Figure 2). In addition, higher rents, which represent around 40% of core CPI, have been a key driver of rising inflation, reflecting two trends: older people downsizing from homes to apartments and younger people becoming more likely to rent than buy a home. Add to this the fact that risks to food and energy appear to be tilted to the upside because of geopolitical uncertainties in Ukraine and Iraq, and I remain convinced that inflation will rise in the second half of this year.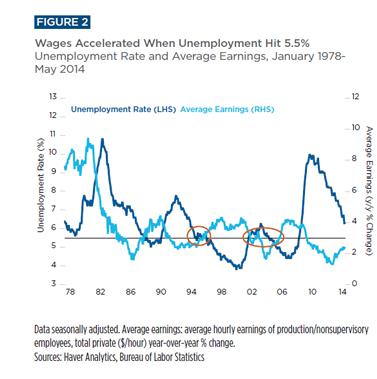 Are Lower Bond Yields Signaling a Worse Economic Outlook?
A surprise during the first half of this year was the 50 basis point (BPS) drop in global government bond yields, which resulted in returns of 4% - 8%, competitive with equities. In the post-crisis period, equities and bonds have been negatively correlated, meaning that bond prices have risen while equities have sold off in response to market stress. With equities and bonds up so far this year, the question many are asking is, "Are bonds telling a more negative story than equities?" I think the answer is no. There has been a grab bag of reasons offered for why U.S. Treasury yields have fallen-from weak first-quarter growth to geopolitical risk to expectations of a lower terminal federal funds rate, which is where the rate will be at the end of the tightening cycle.
While there may be no single satisfying explanation for this year's declining yields, I think the competitive global yield environment comes closest. Figure 3 shows that European yields have been on a steady decline since the beginning of the year owing to deflation fears and, more recently, a more aggressive ECB, while U.S. yields have been relatively stable. From this perspective, U.S. yields are attractive relative to European yields even though they may be unattractive relative to U.S. yield history. Arguably, some of this yield difference relates to better U.S. fundamentals relative to Europe and being closer to the start of a tightening cycle, but I think this gap is too wide and that better European fundamentals in the medium term will likely push European yields higher and narrow the gap.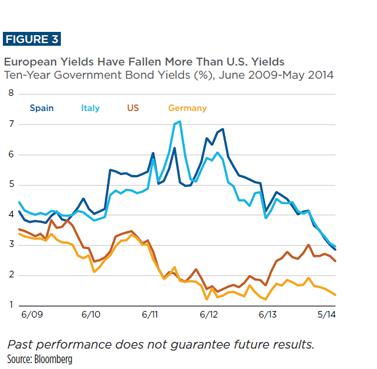 Europe: An Important Policy Announcement
On June 5, the Governing Council of the ECB announced the outcome of its widely anticipated meeting. European growth data has been positive in recent quarters, but inflation has remained very low. This has left investors concerned that despite better growth, Europe remains vulnerable to deflation. The ECB exceeded expectations at the June meeting, reassuring markets that deflation can be avoided. Specifically, the ECB lowered policy rates across the board and announced a variety of programs to ease monetary conditions and spur lending across the eurozone. I believe these actions will put a cap on the level of the currency, put a floor under eurozone inflation, and provide continued support to peripheral European bond and equity markets.
Worries Recede for Japan
I am now optimistic about Japan. I have been a believer in the ability of Abenomics to boost inflation expectations and weaken the yen, and was constructive on Japanese equities in the early stages of the advance. In recent quarters, however, I was more cautious as I felt that high valuations, the overhang of the consumption tax, and the lack of a policy catalyst in the short term would hold equities back from further gains. Valuations have now moved from the high end of the global peer range to near median, and economic readings since the tax hike have been improving. I think the "third arrow" measures Prime Minister Shinzo Abe announced recently to boost growth, including corporate tax cuts and labor market reform, could, if implemented properly, be a boost for Japanese equities. While there is still risk from higher oil prices since Japan is a big importer, investors may want to consider overweighting Japanese equities. Additionally, the Bank of Japan (BOJ) remains committed to sustaining its 2% inflation target. I believe that the yen will be stable to lower since the BOJ will continue to support an accommodative policy environment.
Emerging Markets: More Favorable Conditions
Emerging markets still face significant challenges. The "fragile five" (Turkey, Brazil, India, South Africa and Indonesia) remain fragile, political instability is a factor in several countries, the scope and scale of loan problems in China remains unclear, and Chinese growth is unlikely to reaccelerate materially and may slow further in the next year. Despite all that, there is reason for optimism, and investors with a tactical or contrarian process may want to consider overweighting emerging-market assets.
The ECB policy shift is one positive, reducing concern in emerging markets that monetary policy in the developed world will be less supportive. Meanwhile, the Fed continues to emphasize that it will not tighten for some time to come, and that when it does, the tightening will likely be modest. The BOJ remains in a strong easing mode, leaving the Bank of England as the only central bank in a large developed market signaling an outright rate hike any time soon.
In addition, valuations of emerging-market equities and debt, particularly local debt, remain supportive. Emerging-market equities, for example, are trading at a 4-point P/E discount versus developed markets; the 10-year average is 2.6 points (Figure 4). Emerging-market debt spreads also look attractive, particularly relative to high yield, which now yields less than 5% and has experienced double-digit returns over the past 10 months. What's more, policy has improved in several countries. India, South Africa, and Turkey have all raised short-term interest rates to fight inflation, and markets have responded favorably, stabilizing the trio's currencies.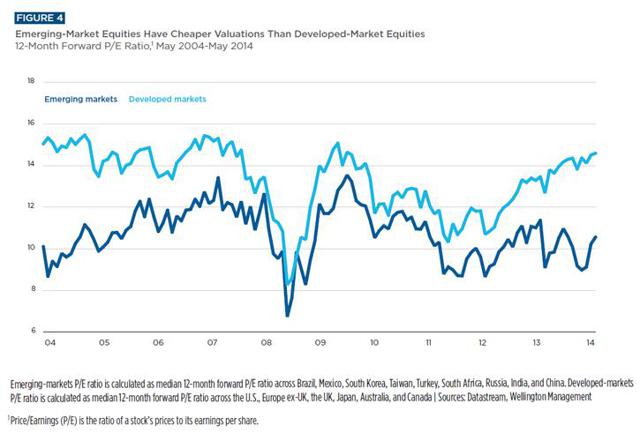 Geopolitical Risk du Jour: Another Support for Commodities
This year has brought a torrent of geopolitical risks, the latest being the militant takeover of northern cities in Iraq, which could cause the region to devolve into sectarian war. The key financial risk for investors to watch is a sustained rise in oil prices. Even if Iraqi production stays stable, because the market is tight and exploration results outside of North America have been disappointing, I think price risk is to the upside. Rising oil prices would be inflationary and supportive of commodities.
Technical Forces Support Equities Too
Mutual fund and exchange-traded funds (ETF) flows can help gauge the potential appetite for equities. In Figure 5, we see steady institutional inflows to bonds and equities since before the global financial crisis, except for a period of bond outflows in 2013 during the rapid rise in rates. In contrast, there have been sharp retail outflows from equities since the financial crisis, and despite some stabilization since mid-2013, equity flows are $1.2 trillion lower than pre-crisis levels (Figure 5, righthand chart). As equities gain, this skittish risk behavior could turn and retail money could return to the asset class.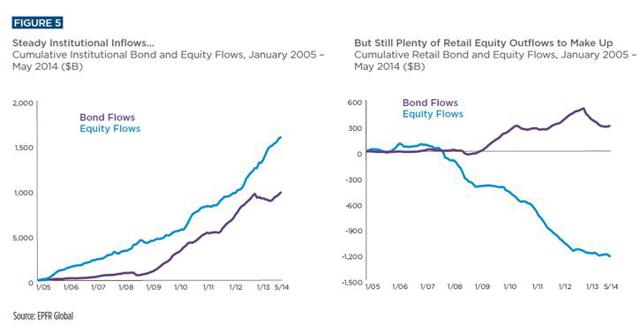 What Could Go Wrong?
I've presented a fairly benign picture for fundamentals, which I believe will be supportive for risk assets. So what are the risks? As discussed earlier, a sustained spike in oil prices could severely dent global consumption. Excesses in China remain a persistent worry. However, with recent improvements in the country's PMI, the government appears to be successfully engineering a series of mini cycles, adding stimulus targeted to specific sectors when growth appears to be at risk and taking it away to avoid more overheating. The overarching goal of the government appears to be stability without aggravating structural problems of leverage and over-investment.
Another risk being debated in the markets is the low level of volatility and the complacency that this may represent. I am less concerned about this given current valuations. True, equities are not cheap, but they are also not excessively expensive in the regime I expect. Even though U.S. bond yields seem low, I don't find them inordinately low given the yields in the rest of the developed world and the large role that central banks are playing to suppress interest rates. Excessive leverage, a signature element of the financial crisis, is also not evident given the higher capital requirements and better liquidity of banks, though I am tracking the leveraged-loan market where covenants have become weaker.
Finally, with central banks playing such a dominant market role, a policy mistake is an ongoing risk. If, for instance, inflation expectations rise, as I anticipate, then Fed tightening could come sooner than markets expect. While this would certainly be disruptive to markets, it might ultimately be a healthy development: The longer volatility and rates stay low, the more investors will be forced to seek higher-returning assets given their liabilities, and the more likely it may be that products will come to market that introduce risk either in terms of structure or quality.
Conclusion
Markets and sentiment are still clouded by the low-growth/low-inflation environment of the first half. I urge investors to look forward and recognize improving growth and higher inflation prospects. In addition, geopolitical risks that have global financial ramifications, such as the Russia-Ukraine conflict, have subsided, though the instability in Iraq and the potential for sustained higher oil prices must be monitored. Together, these elements may paint a supportive picture for risk taking in equities, especially in Europe, Japan, and emerging markets; both equity and debt valuations are particularly attractive in emerging markets. Looking ahead, I think inflation and the timing of the Fed's first rate hike could be the next market story, and commodities are best positioned to respond.
Investment Implications
Despite weaker-than-expected growth in the first half, I see fundamentals continuing to improve amid accommodative central-bank policy and somewhat diminished geopolitical risks.
I expect higher inflation in the second half, with potential drivers including wage pressures and rising rents.
I continue to favor a procyclical bias, preferring global equities to bonds and emphasizing European and Japanese equities within developed markets. I am more optimistic about emerging markets, where equity and debt valuations look attractive.
Given my stronger-growth, higher-inflation outlook, I favor commodities, including industrial metals, precious metals, and natural resources.
The improvement in the global cycle could be derailed by a sustained rise in oil prices stemming from a long, violent struggle in Iraq that reduces potential oil supply.
Investors should carefully consider the investment objectives, risks, charges, and expenses of Hartford Funds before investing. This and other information can be found in the prospectus and summary prospectus, which can be obtained by calling 888-843-7824 (retail) or 800-279-1541 (institutional). Investors should read them carefully before they invest.
A Word About Risk: All investments are subject to risks, including possible loss of principal. Fixed-income investments are subject to interest-rate risk (the risk that the value of an investment decreases when interest rates rise) and credit risk (the risk that the issuing company of a security is unable to pay interest and principal when due) and call risk (the risk that an investment may be redeemed early). Investments in high-yield bonds involve greater risk of price volatility, illiquidity, and default than higher-rated debt securities. Investments in foreign securities may be riskier than investments in U.S. securities. Potential risks include the risks of illiquidity, increased price volatility, less government regulation, less extensive and less frequent accounting and other reporting requirements, unfavorable changes in currency exchange rates, and economic and political disruptions. These risks are generally greater for investments in emerging markets. Unlike stocks and bonds, U.S. Treasury securities are backed by the full faith and credit of the U.S. government as to the timely payment of principal and interest. Commodity investments are subject to additional risks.
The views expressed here are those of Nanette Abuhoff Jacobson. They should not be construed as investment advice or as the views of Hartford Funds. They are based on available information and are subject to change without notice. Portfolio positioning is at the discretion of the individual portfolio management teams; individual portfolio management teams may hold different views and may make different investment decisions for different clients or portfolios. This material and/or its contents are current at the time of writing and may not be reproduced or distributed in whole or in part, for any purpose, without the express written consent of Wellington Management.
All information and representations herein are as of 7/14, unless otherwise noted.
Disclosure: The author has no positions in any stocks mentioned, and no plans to initiate any positions within the next 72 hours. The author wrote this article themselves, and it expresses their own opinions. The author is not receiving compensation for it. The author has no business relationship with any company whose stock is mentioned in this article.