A month after BlackBerry (NASDAQ:BBRY) shares soared higher, skittish investors finally found an excuse to sell shares and take profits. Apple (NASDAQ:AAPL) and IBM (NYSE:IBM), two former rivals no less, announced a friendly partnership. Coming as early as this fall, Apple will release applications for the corporate market. Apple will leverage IBM's know-how in data analytics and security in the corporate space. IBM will leverage Apple's expertise in applications for mobile devices. In theory, the two giants should annihilate any hope of BlackBerry's recovery story. The market interpreted the announcement harshly, pushing shares down 11.5 percent on July 16th 2014.
Writing off BlackBerry as the firm undergoes its transition is premature. Investors could simply be locking in profits for the year.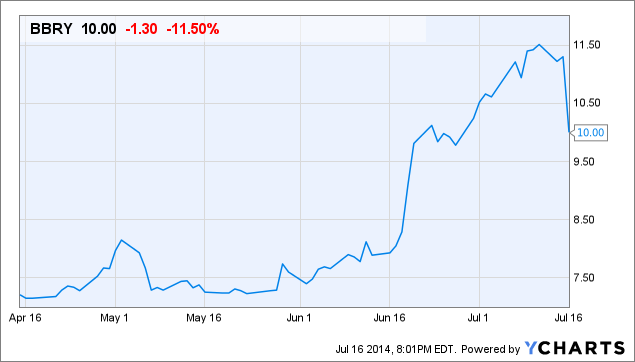 Short sellers are more than happy to quickly accept future success from the IBM-Apple partnership. Short float is still at a lofty 93.66 million shares.
Security
The problem with IBM-Apple touting mobile security is that BlackBerry is the leader in security for device management. BlackBerry said that the Apple and IBM partnership "only underscores the ongoing need for secure end-to-end enterprise mobility solutions like those BlackBerry has delivered for years."
Still, corporations will eventually have an alternative to BlackBerry's MDM (Mobile Device Management) suite of products. There is no guarantee IBM-Apple will win over customers. BlackBerry developed a revamped BlackBerry Enterprise Server for several quarters. Even existing MDMs are having a tough time beating BlackBerry. Investors are bearish on them, too. Investors have little confidence MobileIron (NASDAQ:MOBL) will take market share from BlackBerry. This is why MobileIron shares continue to fall: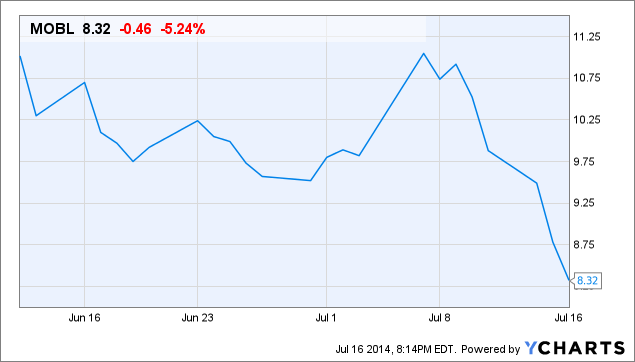 Organizations already spent several quarters evaluating BlackBerry's BES 10 solution. Already, BlackBerry has millions of licensees, but recognized the demand for support for older BlackBerry devices on BES. When BES 12 is released in the fall, system administrators may finally manage older BlackBerrys, BB10, iOS, and Android devices under one server.
IBM is eager to win MDM market share from BlackBerry through its MobileFirst portfolio offering. IBM and Apple may at best win over users on older BlackBerry devices if at all. The duo still needs to compete with BlackBerry giving away free Silver level support with EZ Pass. The promotion is continuing until January 2015.
Competition with Microsoft
IBM and Apple are aiming at winning over Microsoft's corporate customers. Microsoft is sustaining strong momentum for its Office 365, SQL Server, and its Azure cloud. As IBM-Apple ramps up software launches, little is known yet how the pair will split profits on mobile app and server software sales.
Cultural clash
Apple's approach to software development may clash with that of IBM. Apple locked down its operating system, and will need to open parts of its code to ensure they integration smoothly with IBM's back-end solutions.
IBM is slow-moving, reluctant to change things quickly in its core products and in the companies it buys. The pace of change for IBM's cloud, data analytics, and security products might frustrate Apple.
BlackBerry an underdog
BlackBerry is a much smaller, nimbler company that may maneuver faster than IBM or Apple. With IBM and Apple together, the duo risks integration challenges and possible clashes from two very different leaders. Conversely, BlackBerry's turnaround is so far very successful. This is due to the firm operating more efficiently. It is staying relevant, by catering to its customer's needs. The inexpensive Z3 caters to the emerging market. The upcoming BlackBerry Classic is another example. The new form factor of the Passport then shows BlackBerry is starting to think "out of the box" to exceed customer needs.
BlackBerry partnerships
Investors are forgetting that BlackBerry also made important partnerships that will bear fruit. It partnered with Amazon, which will bring more apps to BlackBerry 10. Last year, BlackBerry reinvigorated its partnership with SAP by challenging partners to develop BlackBerry 10 apps on the SAP Mobile Platform.
Bottom line
The IBM-Apple partnership merely validated BlackBerry's strong positioning in mobile security and enterprise device management. The two are far behind BlackBerry, and will need to boost R&D spending in this area before the partnership bears fruit. BlackBerry already cut costs, giving the slimmed down firm greater flexibility in adapting to the competitive threats and the changing landscape of enterprise mobility. The sharp drop on July 16 is an entry point for investors who missed the first run-up. There could still be downside in BlackBerry's shares, in the $9.00 and $9.50 range (the mid-point of the run-up). After that, the bullish turnaround story in the company is still only in the early rounds.
Disclosure: The author is long BBRY. The author wrote this article themselves, and it expresses their own opinions. The author is not receiving compensation for it (other than from Seeking Alpha). The author has no business relationship with any company whose stock is mentioned in this article.