By Craig Bowles
Overview
Microsoft, Corp. (NASDAQ:MSFT) is slated to report Q4 2014 earnings after the bell on Tuesday, July 22nd. The earnings release is expected at approximately 4:00 p.m. EST, with a conference call to follow at 5:30 p.m. that is webcast through Microsoft Investor Relations. A member of the Dow Jones Industrial Average, Microsoft has significant market influence and the potential to impact the broader market gauges.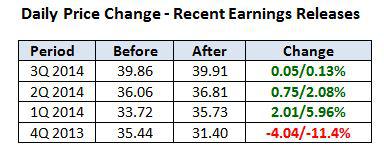 Outliers & Strategy
Key measures:
Adjusted Earnings Per Share & Non-GAAP Earnings Per Share: The values for both measures are typically the same and are comparable to consensus estimates, if available. (Only Earnings Per Share has been available the last two quarters.) The current Street estimate is $0.60 (range $0.53 to $0.66) (Source: Yahoo Finance). Consensus has been reduced from $0.67 three months ago.
Revenues: Analysts see an increase of 15.7% y/y to $23.06 bln (range $22.26 bln to $24.37 bln).
Insider selling continues, with the last three months having sold 17 mln shares, and 76.4 million shares over the last twelve months. The company announced a new $40 bln stock buyback program after the old one expired this past September. Microsoft's average price paid for each share repurchased has been between $25 and $30 for the last 10 fiscal years. The company has purchased as little as $3.3 bln in 2004 and as much as $27.1 bln in 2007. 2012 and 2013 saw relatively low repurchases of $4 bln and $4.6 bln, respectively.
Microsoft shares have shown a 1-day average price change on earnings of 4.02%. Options are pricing in an implied move of 2.55% off earnings.
Recent News
07/17: Microsoft plans to eliminate up to 18,000 jobs, or 14% of its work force, over the next year to help streamline operations, following the recent acquisition of Nokia's devices and services business, according to a post on MarketWatch.com.
07/16: For the past 10 days, investors have been big buyers of Microsoft's September $44 calls, according to a post on Barron's.
07/16: Beginning next January, Microsoft will no longer update Windows 7, according to a post on Fool.com.
07/16: Morgan Stanley reiterated an equal-weight rating on Microsoft, citing potential catalysts from improving PC unit growth, outperformance in the commercial licensing and devices divisions, increasing exposure of the Cloud businesses and increasing dividend or share buyback, according to a post by Benzinga.com.
07/12: CEO Satya Nadella, who replaced Steve Ballmer in February, is ready to move beyond the simple "devices and services" thinking, according to a post by Fool.com.
Technical Review
Microsoft is one of several large companies that have moved higher after being basically been flat for a decade. This breakout from consolidation has resulted in a bumpy uptrend since 2011, supported by the general market. Should earnings disappoint, traders would focus on consolidation around $40 and $36, before a retest of the 200-day moving average would be considered. Upside potential can be large after multiple years of consolidation. (Chart courtesy of StockCharts.com)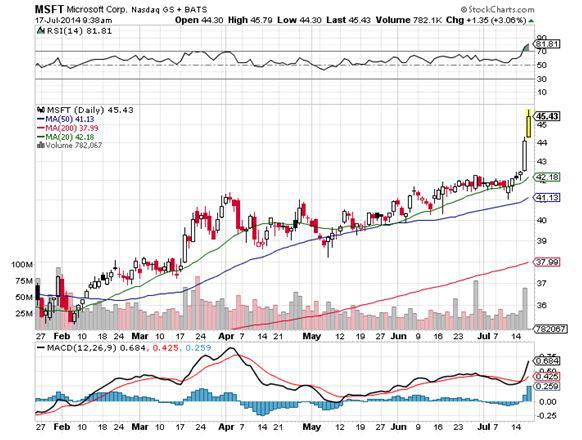 Summary
Microsoft's new CEO and renewed stock buyback program appear to have helped push the stock higher. Options have seen bullish bets being placed the last ten days, possibly because of the layoff rumors out of Finland. Expectations for this quarter have been reduced from the $0.67 consensus of three months ago to $0.60. Microsoft has beaten EPS consensus three out of the last four quarters by 5c to 10c, so the company probably needs to report EPS at the high end of expectations to continue with the positive sentiment from market participants. Revenue appears to be less of a concern at this time.
DISCLAIMER: By using this report, you acknowledge that Selerity, Inc. is in no way liable for losses or gains arising out of commentary, analysis, and or data in this report. Your investment decisions and recommendations are made entirely at your discretion. Selerity does not own securities in companies that they write about, is not an investment adviser, and the content contained herein is not an endorsement to buy or sell any securities. No content published as part of this report constitutes a recommendation that any particular investment, security, portfolio of securities, transaction or investment strategy is suitable for any specific person.
Disclosure: The author has no positions in any stocks mentioned, and no plans to initiate any positions within the next 72 hours. The author wrote this article themselves, and it expresses their own opinions. The author is not receiving compensation for it (other than from Seeking Alpha). The author has no business relationship with any company whose stock is mentioned in this article.