By Craig Bowles
Overview
Netflix, Inc. (NASDAQ:NFLX) is slated to report Q2 2014 earnings after the bell on Monday, July 21st. The earnings release is expected at approximately 4:05 p.m. EST, with a conference call to follow at 5:00 p.m. that is webcast through Netflix Investor Relations. The company operates in three segments: Domestic Streaming, International Streaming, and Domestic DVD.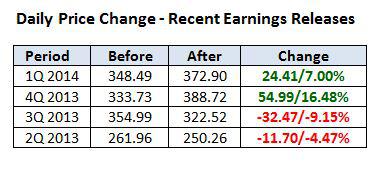 Outliers & Strategy
Key measures:
Earnings Per Share: Netflix typically reports a "clean" number that is comparable to consensus estimates, but will exclude items when necessary. The current Street estimate is $1.15 (range $0.93 to $1.42) (Source: Yahoo Finance).
Revenues: Analysts expect an increase of 25.0% y/y to $1.34 bln (range $1.32 bln to $1.34 bln).
Domestic Streaming Subscriber Additions: Netflix Q2 guidance is for 110,000 less than last year, to 523,000. Analysts expect a -15.4% decline to 536,000, according to Zacks Institutional Services. (The company warns that Q2 is a seasonally weak quarter.)
International Streaming Subscriber Additions: Netflix Q2 guidance of over 50% y/y growth equates to more than 907,800. Analysts expect 60.2% growth to 969,000, according to Zacks Institutional Services. (The company thinks the World Cup could hamper growth somewhat.)
Earnings Per Share Guidance (Q3 2014): Analysts expect Netflix to earn $1.06, with a range of $0.47 to $1.62. The wide range has gotten even wider over the last couple of weeks, suggesting a lack of conviction on the part of analysts.
Insiders sold 160,051 shares during the past three months and 915,557 shares in the past year.
Netflix shares have shown a 1-day average price change on earnings of 13.91%. Options are pricing in an implied move of 8.34% off earnings.

Recent News
07/06: Goldman upgraded Netflix to Buy from Hold, and raised their price target to $590 from $380, citing international growth of new markets and increased penetration, but their projections appear to be unrealistic relative to current trends and what other bullish analysts suggest, according to a post at Fool.com.
07/03: Netflix and Amazon are reshaping their content libraries to focus more on popular TV shows and less on hit movies, according to an article by Investors Daily.
06/23: Netflix insider selling could be a worry. The CEO's selling $6 million isn't as big of a concern as the chief content officer and a director liquidating half of their holdings, according to a post on WallStCheatSheet.com.
06/19: Netflix continues to push original content, signing Chelsea Handler to helm the streaming service's first talk show, according to a post by MercuryNews.com.
06/17: Netflix is in a hidden debate about broadband pricing, and gets favorable treatment by Tom Wheeler, the head of the Federal Communications Commission, according to a post on WSJ.com.
Technical Review
Netflix has shown more volatility since 2009 when compared to Amazon, so they've become less linked, but still provide an interesting comparison. Netflix shares have had some insider selling in the mid $400s, and the CEO was joined by others in selling that area again. The Goldman upgrade helped boost the stock to new all-time highs, before settling back into the $435-$450 area. Below $420 turns the focus toward a retest of the 200-day moving average similar to what occurred in March/April. (Chart courtesy of StockCharts.com)
Summary
Netflix shares recently made new all-time highs, even after the hand-wringing and insider selling has been all said and done. While the bullish focus is on international growth, Q2 is a seasonally weak quarter and market participants don't expect a strong showing. The company has beaten estimates the previous four quarters by a minimum of 3c, but even meeting estimates could be received positively if subscriber growth is above guidance and close to what analysts expect.
DISCLAIMER: By using this report, you acknowledge that Selerity, Inc. is in no way liable for losses or gains arising out of commentary, analysis, and or data in this report. Your investment decisions and recommendations are made entirely at your discretion. Selerity does not own securities in companies that they write about, is not an investment adviser, and the content contained herein is not an endorsement to buy or sell any securities. No content published as part of this report constitutes a recommendation that any particular investment, security, portfolio of securities, transaction or investment strategy is suitable for any specific person.
Disclosure: The author has no positions in any stocks mentioned, and no plans to initiate any positions within the next 72 hours. The author wrote this article themselves, and it expresses their own opinions. The author is not receiving compensation for it (other than from Seeking Alpha). The author has no business relationship with any company whose stock is mentioned in this article.