Global mining stocks could be set to resume a trend higher on the prospect of increased demand for commodities in China, which reported positive economic data on Wednesday. China's economy grew 7.5% annually in Q2, against expectations that it would only advance at a 7.4% pace. Momentum from recent targeted pro-growth policies is attributed to this quarter's increase in GDP. Government spending, spurred by eight inspection teams that Beijing sent to the provinces to enforce orders to spend, rose 26% annually in June. Similarly, data reported Tuesday showed total social financing, a broader measure of credit in the economy, grew in June by 40% from May levels.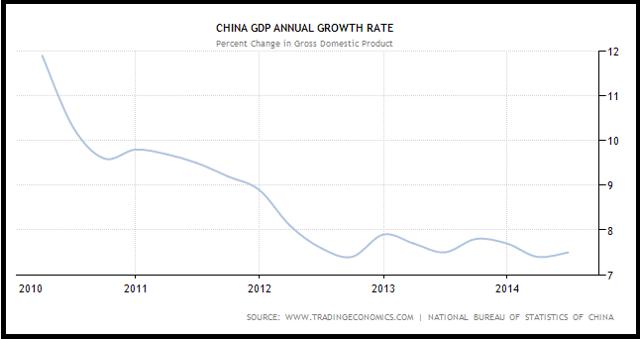 China's GDP has stayed in the low 7% range since the middle of 2012, but may be able to end this year with growth near 8% if government and personal spending remains strong. Meanwhile, industrial output rose 9.2% annually in June, making it the first time since the start of the year that industrial production has advanced by more than 9%. The combination of accelerating GDP and stronger industrial production means that more resources may be needed in the second half of the year to meet demand.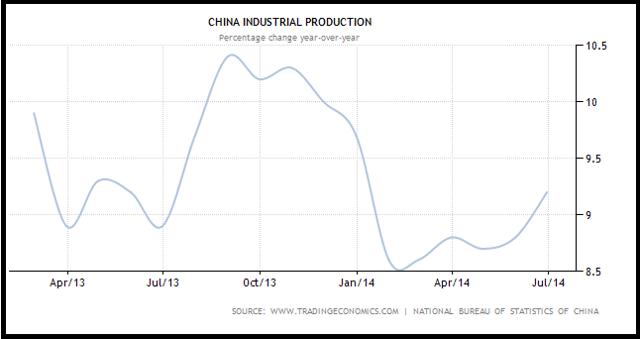 Mining stocks BHP Billiton (NYSE:BHP), Vale (NYSE:VALE), Rio Tinto (NYSE:RIO) and Cliffs Natural Resources (NYSE:CLF) all saw buying pressure on the news. Similarly, iShares MSCI Australia Index (NYSEARCA:EWA), which is home to a lot of mining companies and exports heavily to China, saw buyers enter as well.
China's manufacturing sector requires large amounts of resources such as copper, aluminum and iron ore to run its industry. The companies listed above are the major players in producing and exporting such raw materials. Stronger Chinese demand directly affects their top line revenues, and thus can drastically affect each companies' share prices.
Rio Tinto reported on Wednesday that global iron ore shipments rose 23% in Q2 to 75.7 million metric tons, while global iron ore production was at 73.1 million metric tons, an increase of 11% from Q1. If China's GDP continues to improve in the second half of the year, demand for commodities like iron ore should remain strong.
BHP Billiton share price rose as high as $73 on Wednesday, the highest closing price in over a year. BHP has major exposure in Australia, and would likely export significantly more iron, aluminum and copper over the next six months on improved demand from China. The company's share price could rise as high as $77, its 2013 highs, by years end if things go accordingly.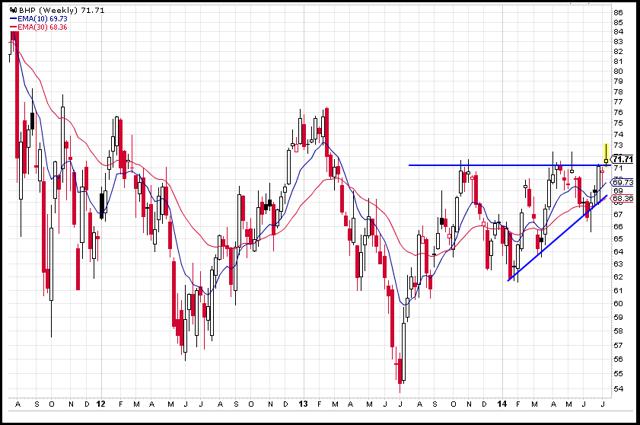 The Australian equity index is shown below, and looks very similar to the price action of BHP Billiton as BHP makes up close to 10% of the index. Australia broke out of multi-year highs and could continue to move higher if Chinese growth continues to pick up. Ultimately, strength in China's manufacturing industry should lead to more demand for resources, which will make owning miners an attractive play.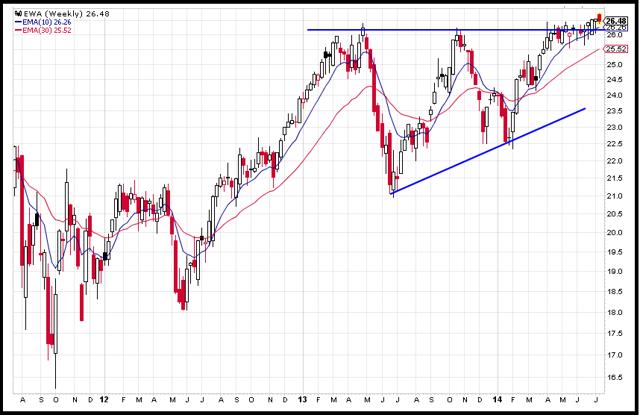 Disclosure: The author has no positions in any stocks mentioned, and no plans to initiate any positions within the next 72 hours. The author wrote this article themselves, and it expresses their own opinions. The author is not receiving compensation for it (other than from Seeking Alpha). The author has no business relationship with any company whose stock is mentioned in this article.