Earlier this week I wrote an article on AmREIT, Inc. (NYSE:AMRE) one of the smallest REITs in the shopping center sector. As I explained in the article, Regency Centers (NYSE:REG) recently made an offer to acquire AmREIT for $22 per share.
Yesterday AmREIT said that it has retained Jefferies LLC as financial adviser to assist AmREIT's board in evaluating Regency's unsolicited proposal. To me the bid has merit - although AmREIT has some high-quality assets, nothing is irreplaceable - especially in a crowded sector of shopping center REITs. While AmREIT does have a solid portfolio of assets I see no high-powered platform of differentiation that would make me say: Wow! I Love this REIT.
Another small cap shopping center REIT in the same non-differentiated camp (as AmREIT) is Whitestone REIT (NYSE:WSR). As illustrated below, Whitestone is the second smallest shopping center REIT with a market cap of around $342 million.

This article is not my first one on Whitestone. I have written a few others and while AmREIT scouts Texas and Atlanta for "irreplaceable corners," Whitestone has another brand promise. As I explained in a previous article (Pro Pick):
Whitestone's differentiated investment approach is to increase its market share by being a consolidator (in a highly fragmented industry) of financially distressed properties and to broaden its competitive strengths of turning around troubled shopping centers.
Is Whitestone A Target Too?
Unlike most of the other Shopping Center REITs, Whitestone focuses on a more "community-based" model that includes over 1,225 tenants with no tenant accounting for more than 1.2% of Average Base Rent (or ABR). The company's tenant base is concentrated on a variety of categories such as medical, educational, and casual dining. The Whitestone tenants tend to occupy smaller spaces (less than 3,000 square feet) whereby the small tenants pay a 53% premium over the large tenants.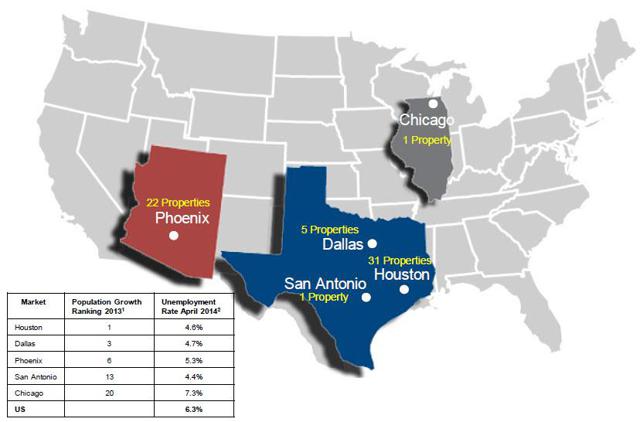 Whitestone's portfolio today consists of 60 Community Centers including retail and office/flex properties with 5.0 million square feet of gross leaseable area (or GLA). According to SNL Financial data, Whitestone has 28% exposure in Industrial assets, 15% exposure in Office assets, and 57% concentration in Retail. Whitestone has increased its tenant base from 773 in 2009 to 1,225 (as of Q1-14).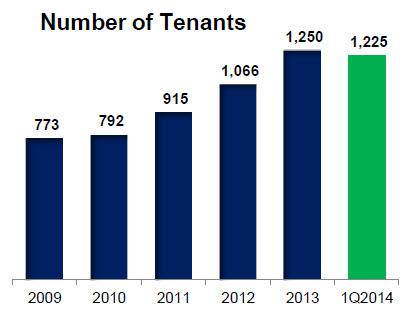 Of Whitestone's 1,225 tenants, only 362 are considered larger (over 3,000 sf) and most of the income is derived from small service tenants (863 tenants):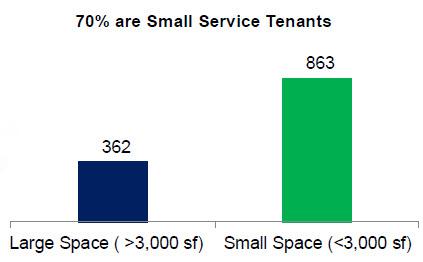 Accordingly, Whitestone is able to rent the smaller spaces (under 3,000 sf) at a premium of around 47%.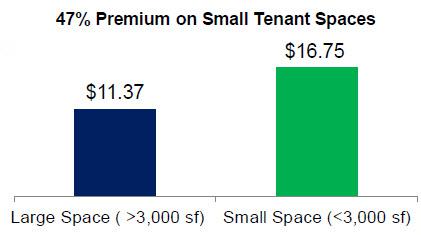 This non-credit oriented model is unique to the shopping center REIT space, but does the riskier revenue steam provide investors with out-sized opportunity?
Whitestone Fundamentals
I suppose that everything has a value so the real question is what is Whitestone's more diversified and less credit oriented model worth? To answer that, let's examine the historical operating performance.
Since 2011 Whitestone has grown revenue from $34.9 million to $62.1 million (2013). The company's expected run rate for 2014 is around $73 million (mid-point of guidance):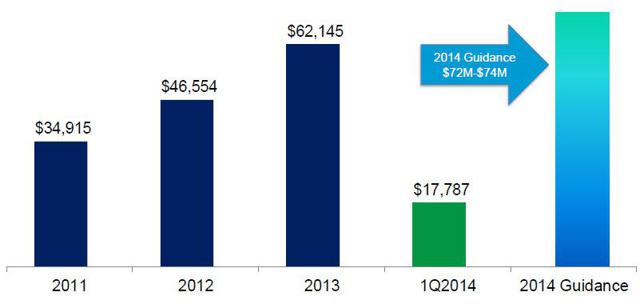 Because of the large number of small tenants, Whitestone has been able to grow revenue (rents per sf) and also acquire new centers. The company's average NOI per square foot in Q1-14 was $9/52.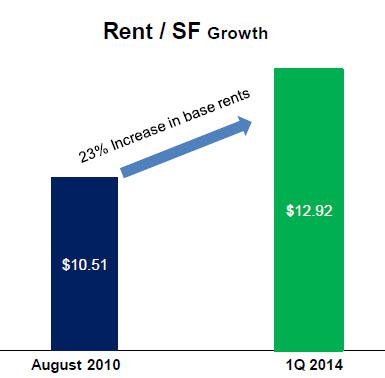 Over the last few years Whitestone has had steady and increasing NOI growth:

Since 2010 Whitestone has grown its average NOI per square foot by 43%.

The company's occupancy has increased; however, the portfolio average is still lower than the peer group.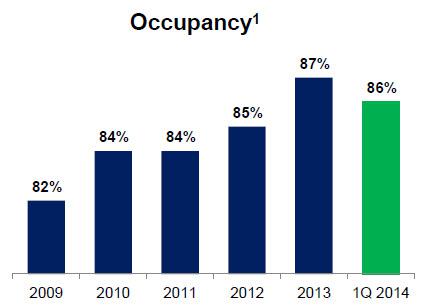 For Whitestone, the value proposition is to buy distressed assets and apply some TLC (tender loving care) and then produce enhanced cash flow. The industry jargon for that is "value add" so while the concept can be rewarding, there are risks to consider.

I have experience in buying distressed retail assets. It can be rewarding buying the "junkers" and putting them back together. However, many of the retail centers that are partially vacant are partially vacant for a reason. Sometimes the centers are distressed due to owner neglect; however, the majority of the time that you find centers dark is because the previous tenant did not perform well there. Also, many shopping centers fail when anchors go out of business so when the primary traffic generator dies, so does the center.

Over the past 3 years Whitestone has successfully increased its Funds from Operations (or FFO):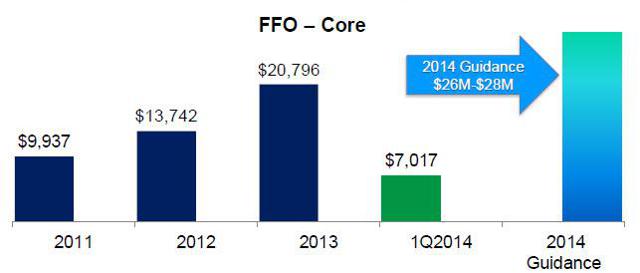 In addition, the company has grown FFO per share: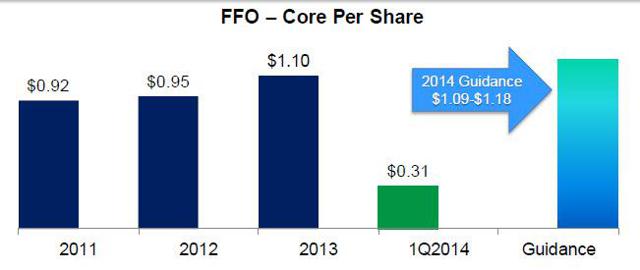 While Whitestone's FFO is growing, I'm concerned with the company's debt levels. Although Whitestone has made strides with reducing its overall debt, the company has significant secured debt (nowhere close to investment grade).

Keep in mind that when you have a more leveraged balance sheet combined with a non-credit income stream, there is higher risk. That's troubling: high leverage - utilizing significant CMBS (non-recourse) - and non-credit income. The combination of the two appears dangerous.

To Whitestone's credit, the company has been able to manage its refinancing risk as evidenced by the improved debt maturities.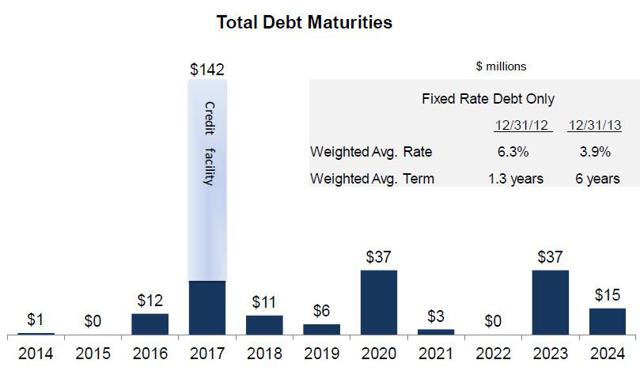 Is the Thrill of Victory Worth the Agony of Defeat?
Whitestone has over 1,200 tenants but it has a small portfolio with most assets in Arizona and Texas. 22 of the assets are in Arizona (consider that a risk).

Whitestone's dividend yield is 7.54%, the second highest yield in the shopping center sector.

Is the yield safe? Take a look at the payout ratio: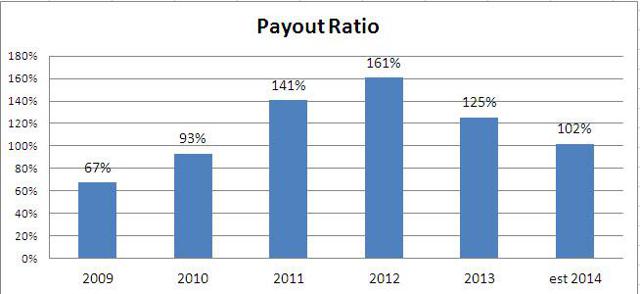 So, Whitestone has not been able to cover its dividend. Granted, the fundamentals are improving. What about the valuation?

Whitestone has a 13x P/FFO (Price to Funds from Operations) multiple. Given the risks discussed above (higher debt, non-investment grade income, and high dividend payout ratio) Whitestone appears to be a high risk proposition. Also, remember that Whitestone has not increased its dividend in several years and the risk of owning shares in this REIT could be at more risk when rates begin to rise.
Not only is Whitestone exposed to debt-level risks but my biggest concern for this REIT is the balance sheets of the 1,225 tenants. Most of these companies are small businesses and they are exposed to higher risk than larger companies with investment grade rated debt. So when rates rise, the smaller companies will face more expense pressure and potentially add stress to the already high risk proposition of Whitestone.
In summary, I would not invest in Whitestone (at any cost). This REIT is cheap and I believe the shares don't adequately reflect the risk premium. For investors seeking higher yield REIT securities, I suggest looking into American Realty Capital Properties (NASDAQ:ARCP) or United Development Funding (NASDAQ:UDF). These two REITs are not risk-free but I believe the shares could see outsized growth while also delivering a higher risk-adjusted dividend yield.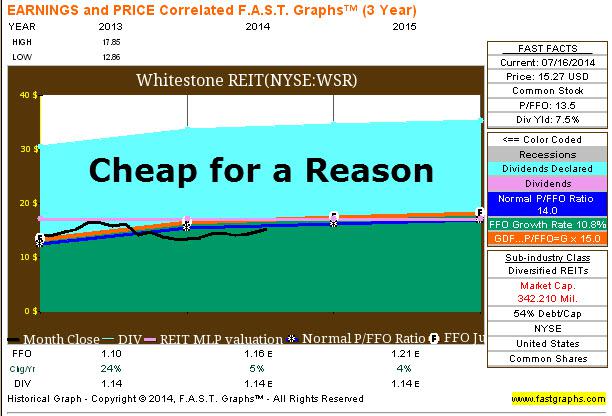 For more information on my monthly newsletter click HERE.
Sources: F.A.S.T. Graphs, WSR Investor Presentation, and SNL Financial.
REITs mentioned: (NYSE:FRT), (NASDAQ:ROIC), (NYSE:UBA), (NYSE:EQY), (NYSE:KIM), (NYSE:WRI), (NYSE:RPAI), (NYSE:DDR), (NYSE:EXL), (NYSE:RPT), (NYSE:KRG), (NYSE:BRX), and (NYSE:IRC).
Disclaimer: This article is intended to provide information to interested parties. As I have no knowledge of individual investor circumstances, goals, and/or portfolio concentration or diversification, readers are expected to complete their own due diligence before purchasing any stocks mentioned or recommended
Disclosure: The author is long O, DLR, VTR, HTA, STAG, UMH, CSG, GPT, ARCP, ROIC, HCN, OHI, LXP, KIM, WPC, DOC, UDF, EXR. The author wrote this article themselves, and it expresses their own opinions. The author is not receiving compensation for it (other than from Seeking Alpha). The author has no business relationship with any company whose stock is mentioned in this article.