Background: Microsoft Corporation (NASDAQ:MSFT) develops, licenses, and supports a range of software products and services for various computing devices worldwide. The company trades an average of 27.2 million shares per day, and the market cap is $363 billion.
Microsoft is forecast to record lower fourth-quarter earnings after the market closes on July 22, 2014.
The consensus estimate is currently 60 cents a share, a drop of 6 cents (9.1%) from 66 cents during the equivalent quarter last year. Analysts are estimating from as low as 53 cents per share up to the most promising estimate of 66 cents per share.
The whisper numbers I've read range from 64 cents to a high of 71 cents. That means, Microsoft will have to generate a significant beat in order to impress the market.
Significant competitors include Apple (NASDAQ:AAPL), Oracle (NYSE:ORCL), Amazon (NASDAQ:AMZN), Red Hat (NYSE:RHT), Google (NASDAQ:GOOG) (NASDAQ:GOOGL), Yahoo (NASDAQ:YHOO), and a long list of others. Not surprising, given Microsoft's size and industry.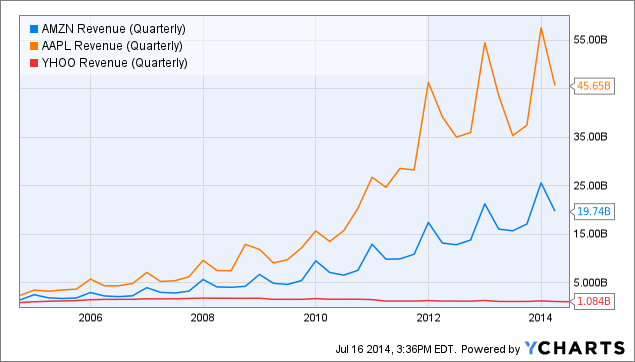 AMZN Revenue (Quarterly) data by YCharts
Compared to Microsoft's 15.3 forward price-to-earnings ratio, Apple has a P/E of 13.85, Amazon has a 120 P/E, and Yahoo sports an 18 P/E. Yahoo's P/E is interesting because it's closer to a fund manager than an internet service company. Yahoo's valuation comes primarily from its investments in Alibaba and Yahoo Japan.
After removing cash and investments, Yahoo's P/E falls below 6, making it one of the cheapest operational values in any major internet company. In fact, depending on Alibaba's IPO price and trading range, Yahoo's operations may be free after removing cash and investments.
Furthermore, Yahoo's adjusted P/E may be as low as 1 or 2. Yahoo just reported, and I wrote an earnings preview for it. I see Yahoo trading above $40 within the next 12-16 months.
That said, I like Microsoft better than Yahoo or Apple because of the stock's stability and dividend yield. Despite the substantial run it's had in the last year, the dividend remains attractive at a yield of 2.7%. In the last five years, the average dividend yield was 2.40%.
With a below-average Beta of 0.68, you're not going to see much for price movement on any given day, with its low level of volatility.
Analysts are taking as much of a stand as many of our elected officials typically demonstrate on key issues. It appears 20 out of 35 now rate the company a Hold, while 11 recommend buying and 4 recommend selling.
New investors from a year ago are happy and smarter than some analysts rating this company a Hold or a Sell. The shares have advanced 17% over the past 52 weeks. Analysts are calling for a price target of $42.91.
As I write this, Microsoft is trading at new 52-week highs and above the average analyst price target. A clear example of "analysts make mistakes also." I'm looking for a price of over $50 within the next year. At the rate it's going; it will happen sooner than later.
Microsoft also announced a thinning of the ranks, with an 18,000 reduction in workforce. That's about 14% of its staff, with the bulk coming from Nokia wireless phone-related activities.
Apple is attractive to me also. For stable dividends, it's not easy to beat Apple. However, several new products are about to be released, and as much as Apple fans totally discount the possibility of a lukewarm reception, it's always a possibility.
The layoffs will cost Microsoft about $1.5 billion, and should be completed before the summer of 2015. The market reacted very positively, lifting shares to a new multi-year high.
Apple and IBM (NYSE:IBM) just released an announcement that the two tech titans will work together in the enterprise space. I believe this may have an adverse impact for Microsoft, albeit I haven't had a chance fully to digest and consider the press release.
Microsoft's cloud-based services, Azure (and OneDrive), is the only real competition for Amazon Web Services (AWS). Amazon's feet are on the fire with Microsoft's price war. I think the margins are razor-thin, and Microsoft could tilt the scales far enough to place AWS at or below breakeven soon, if not already.
If Apple expands its cloud services into the enterprise space, it will almost have to hasten Amazon's AWS margin erosion. With Alibaba already planting a flag in North America with 11main.com, Amazon shareholders should be sweating the next 12 to 24 months.
I like to look at call and put option pricing to get an idea of what the market is expecting. The higher the premium, the more investors are bracing for a major price move. You want to examine the contracts that expire right after the earnings release and maybe the next expiration date if the stock has weekly expiration contracts.
Option buyers and sellers are betting on a price change of $1.76 up or down move in Microsoft, or about a 4% change during the next 9 days.
$40.69 to $44.21 is the expected range for the at-the-money contract expiring first after the earnings update. Make sure you're ready for it.
Based on last quarter's results and the current implied volatility of options, it appears that all else being equal, selling premium is superior to buying. Shareholders wanting downside protection may be just as well off selling covered calls instead of buying puts.
Regardless of the change in price, investors can capture the time premium between now and after the earnings release by selling call options, while also protecting your portfolio. Simply buy back any calls and or puts sold after the report. If the shares jump higher, what you lose in stock appreciation is likely more than made up through the expected fall in implied volatility after the report.
The 200-day moving average is climbing, and Microsoft is in a strong bull trend. The faster moving averages are increasing, and shareholders are happy. Trend followers love this pattern, and obviously, shareholders do as well.
Disclosure: The author has no positions in any stocks mentioned, and no plans to initiate any positions within the next 72 hours. The author wrote this article themselves, and it expresses their own opinions. The author is not receiving compensation for it (other than from Seeking Alpha). The author has no business relationship with any company whose stock is mentioned in this article.