There are probably few stocks more complicated to value than Enbridge (NYSE:ENB), but let's take a look at how we derive our intrinsic value estimate of the energy giant.
For those that may not be familiar with our boutique research firm, we think a comprehensive analysis of a firm's discounted cash flow valuation, relative valuation versus industry peers, as well as an assessment of technical and momentum indicators is the best way to identify the most attractive stocks at the best time to buy. We think stocks that are cheap (undervalued) and just starting to go up (momentum) are some of the best ones to evaluate for addition to the portfolios. These stocks have both strong valuation and pricing support. This process culminates in what we call our Valuentum Buying Index, which ranks stocks on a scale from 1 to 10, with 10 being the best.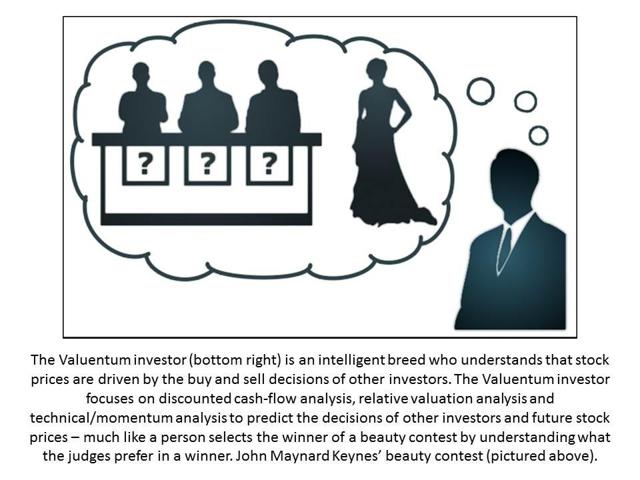 Most stocks that are cheap and just starting to go up are also adored by value, growth, GARP, and momentum investors, all the same and across the board. Though we are purely fundamentally-based investors, we find that the stocks we like (underpriced stocks with strong momentum) are the ones that are soon to be liked by a large variety of money managers. We think this characteristic is partly responsible for the outperformance of our ideas -- as they are soon to experience heavy buying interest. Regardless of a money manager's focus, the Valuentum process covers the bases.
We liken stock selection to a modern-day beauty contest. In order to pick the winner of a beauty contest, one must know the preferences of the judges of a beauty contest. The contestant that is liked by the most judges will win, and in a similar respect, the stock that is liked by the most money managers will win. We may have our own views on which companies we like or which contestant we like, but it doesn't matter much if the money managers or judges disagree. That's why we focus on the DCF -- that's why we focus on relative value -- and that's why we use technical and momentum indicators. We think a comprehensive and systematic analysis applied across a coverage universe is the key to outperformance. We are tuned into what drives stocks higher and lower. Some investors know no other way to invest than the Valuentum process. They call this way of thinking common sense.
At the methodology's core, if a company is undervalued both on a discounted cash flow basis and on a relative valuation basis, and is showing improvement in technical and momentum indicators, it scores high on our scale. Enbridge posts a Valuentum Buying Index score of 5, reflecting our "fairly valued" DCF assessment of the firm (it recently breached "undervalued' territory"), its attractive relative valuation versus peers, and neutral technicals.
Typically speaking, a rating of 5 on the index is equivalent to a "we'd consider holding" rating. We generally prefer high-rated equities, those that register a 9 or 10 on the index (these scores are equivalent to a "we'd consider buying" rating). High-rated firms have both strong valuation and pricing support. All else equal, we would expect Enbridge's Valuentum Buying Index rating to improve upon the next update.
For the many dividend growth investors reading this piece, we spend even more time evaluating the company's dividend. For inclusion in our dividend growth portfolio, we're looking for companies with fortress balance sheets, excellent free cash flow generation, and a strong track record of dividend increases. We have a unique forward-looking cash flow dividend coverage ratio called the Dividend Cushion that every dividend growth investor should know about, or at least become familiar with (click here).
Enbridge's Investment Considerations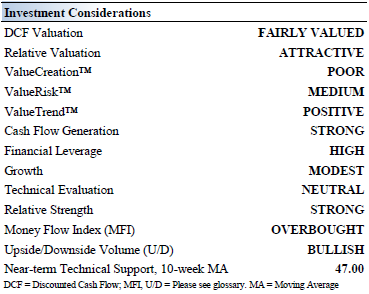 Investment Highlights
Enbridge is a North American leader in delivering energy. Enbridge operates, in Canada and the United States, the world's longest crude oil and liquids transportation system. The company also has significant and growing involvement in natural gas gathering, transmission and midstream businesses, and an increasing involvement in power transmission.
Enbridge's financials and operations aren't easy to digest. The company has a variety of sponsored investments, including Enbridge Income Fund and Enbridge Energy Partners (NYSE:EEP), as well as Midcoast Energy Partners, a subsidiary of EEP formed in 2013.
From 2013-2017, Enbridge has ~$35-$40 billion of commercially-secured energy infrastructure growth projects. Enbridge plays a pivotal role in supporting increased energy production in North America - from Alberta's oil sands and unconventional oil and gas plays in Canada and the US to offshore Gulf of Mexico operations.
Enbridge has a number of advantages, including a sole gathering/collecting system in the Bakken core. The firm also benefits from predictable tolls in its mainline system, as a substantial amount of earnings come from fees paid by customers for essential energy services. It expects 10%-12% average annual adjusted EPS growth through 2017.
Enbridge first started paying distributions in 1953. Since 2000, its annual distribution has roughly quadrupled, from $0.3175CAD/unit to $1.26CAD/unit in 2013. It targets paying 60%-70% of adjusted earnings as dividends every year.
Business Quality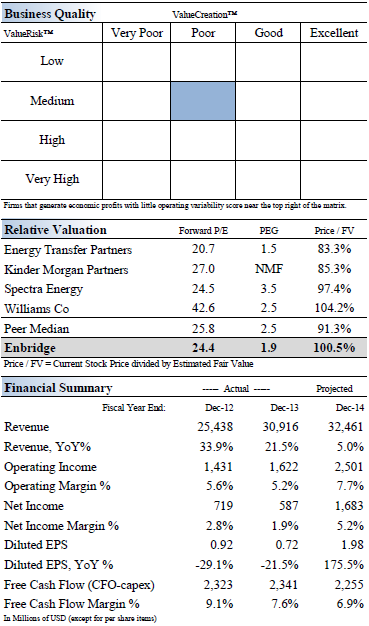 Economic Profit Analysis
The best measure of a firm's ability to create value for shareholders is expressed by comparing its return on invested capital with its weighted average cost of capital. The gap or difference between ROIC and WACC is called the firm's economic profit spread. Enbridge's 3-year historical return on invested capital (without goodwill) is 7.7%, which is below the estimate of its cost of capital of 9.2%. As such, we assign the firm a ValueCreation™ rating of POOR. The firm is extremely capital-intensive. In the chart below, we show the probable path of ROIC in the years ahead, based on the estimated volatility of key drivers behind the measure. The solid grey line reflects the most likely outcome, in our opinion, and represents the scenario that results in our fair value estimate.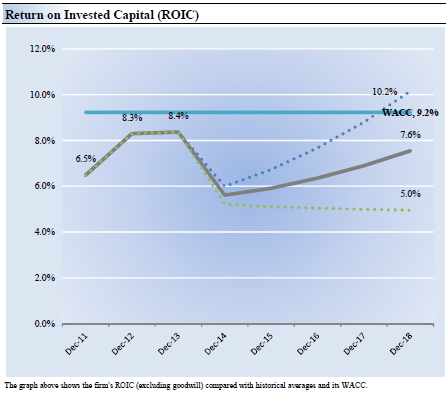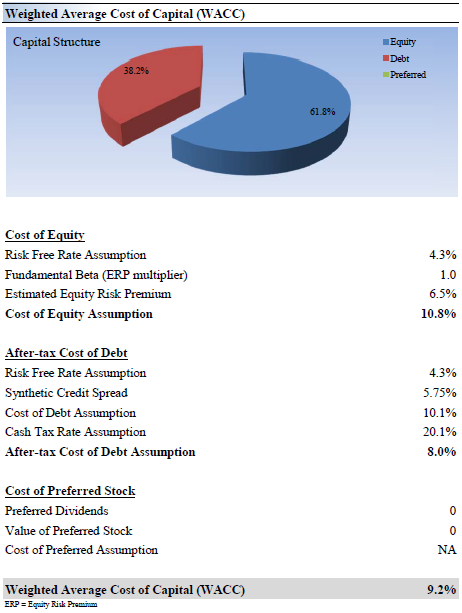 Cash Flow Analysis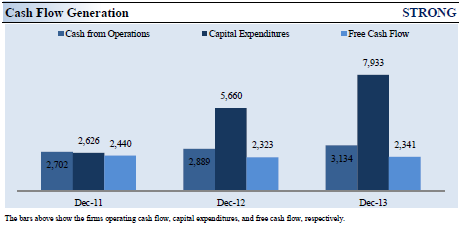 Firms that generate a free cash flow margin (free cash flow divided by total revenue) above 5% are usually considered cash cows. Enbridge's free cash flow margin has averaged about 9.8% during the past 3 years. As such, we think the firm's cash flow generation is relatively STRONG. The free cash flow measure shown above is derived by taking cash flow from operations less capital expenditures, and differs from enterprise free cash flow (FCFF), which we use in deriving our fair value estimate for the company. For more information on the differences between these two measures, please visit our website at Valuentum.com. At Enbridge, cash flow from operations increased about 16% from levels registered two years ago, while capital expenditures expanded significantly over the same time period.
Valuation Analysis
Our discounted cash flow model indicates that Enbridge's shares are worth between $36-$60 each. The margin of safety around our fair value estimate is driven by the firm's MEDIUM ValueRisk™ rating, which is derived from the historical volatility of key valuation drivers. We understand this is a large range, but we also note that the valuation range is purely to the upside.
The range reflects a combination of our views of the firm's upside potential, but also the potential for analyst error within our forecast horizon. As we mentioned previously, Enbridge's financials and operations aren't easy to digest. The company has a variety of sponsored investments and a number of subsidiaries. Said differently, the company has a lot of moving parts, and each one of these has its own range of probable cash flow outcomes. The estimated fair value of $48 per share is the mid-point of the fair value range.
Our model reflects a compound annual revenue growth rate of 7.8% during the next five years, a pace that is lower than the firm's 3-year historical compound annual growth rate. Our model reflects a 5-year projected average operating margin of 8.8%, which is above Enbridge's trailing 3-year average. Beyond year 5, we assume free cash flow will grow at an annual rate of 2.1% for the next 15 years, and 3% in perpetuity. For Enbridge, we use a 9.2% weighted average cost of capital to discount future free cash flows.
We think the intermediate-term growth rate and discount rate are reasonable. The long-term growth rate is a universal assumption included in each of our valuation models for all companies. Firms cannot grow faster than global GDP into perpetuity. Otherwise, they would eventually become bigger than the global economy itself.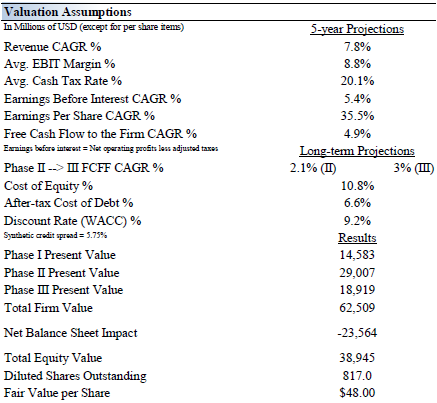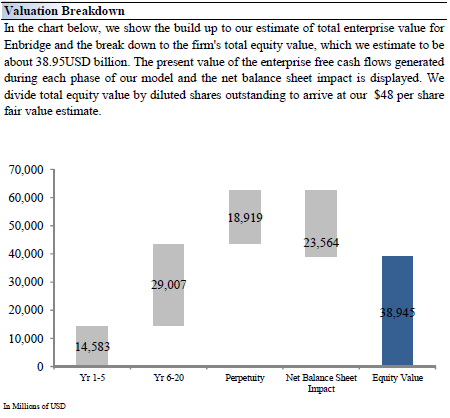 We understand the critical importance of assessing firms on a relative value basis, versus both their industry and peers. Many institutional money managers -- those that drive stock prices -- pay attention to a company's price-to-earnings ratio and price-earnings-to-growth ratio in making buy/sell decisions. With this in mind, we have included a forward-looking relative value assessment in our process to further augment our rigorous discounted cash flow process. If a company is undervalued on both a price-to-earnings ratio and a price-earnings-to-growth ratio versus industry peers, we would consider the firm to be attractive from a relative value standpoint. For relative valuation purposes, we compare Enbridge to peers Energy Transfer Partners (NYSE:ETP) and Kinder Morgan Partners (NYSE:KMP).

Margin of Safety Analysis
Our discounted cash flow process values each firm on the basis of the present value of all future free cash flows. Although we estimate the firm's fair value at about $48 per share, every company has a range of probable fair values that's created by the uncertainty of key valuation drivers (like future revenue or earnings, for example). After all, if the future was known with certainty, we wouldn't see much volatility in the markets, as stocks would trade precisely at their known fair values. Our ValueRisk™ rating sets the margin of safety, or the fair value range we assign to each stock. In the graph below, we show this probable range of fair values for Enbridge. We think the firm is attractive below $36 per share (the green line), but quite expensive above $60 per share (the red line). The prices that fall along the yellow line, which includes our fair value estimate, represent a reasonable valuation for the firm, in our opinion.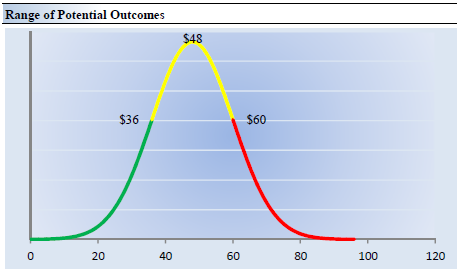 Future Path of Fair Value
We estimate Enbridge's fair value at this point in time to be about $48 per share. As time passes, however, companies generate cash flow and pay out cash to shareholders in the form of dividends. The chart below compares the firm's current share price with the path of Enbridge's expected equity value per share over the next three years, assuming our long-term projections prove accurate. The range between the resulting downside fair value and upside fair value in Year 3 represents our best estimate of the value of the firm's shares three years hence. This range of potential outcomes is also subject to change over time, should our views on the firm's future cash flow potential change. The expected fair value of $61 per share in Year 3 represents our existing fair value per share of $48 increased at an annual rate of the firm's cost of equity less its dividend yield. The upside and downside ranges are derived in the same way, but from the upper and lower bounds of our fair value estimate range.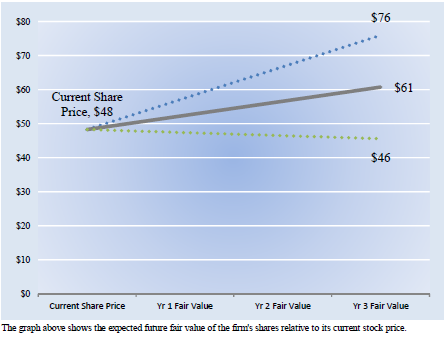 Pro Forma Financial Statements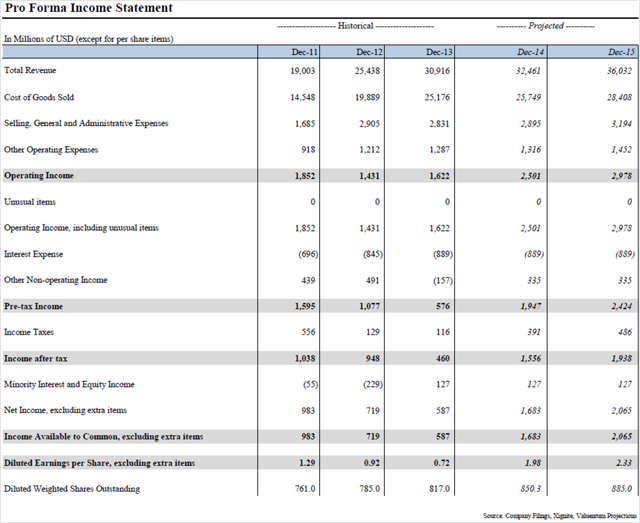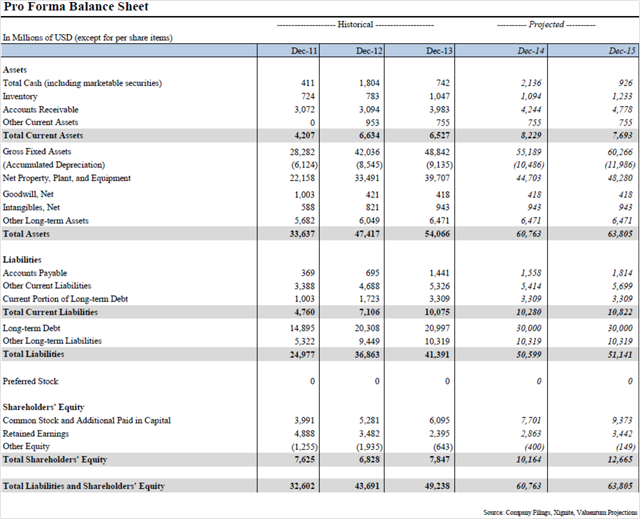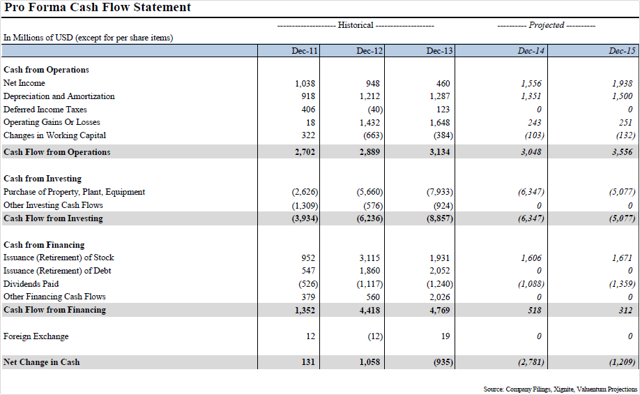 In the spirit of transparency, we show how the performance of the Valuentum Buying Index has stacked up per underlying score as it relates to firms in the Best Ideas portfolio. Past results are not a guarantee of future performance.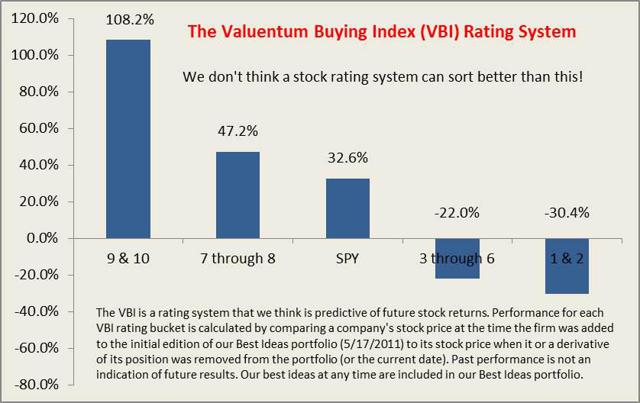 Disclosure: The author has no positions in any stocks mentioned, and no plans to initiate any positions within the next 72 hours. The author wrote this article themselves, and it expresses their own opinions. The author is not receiving compensation for it (other than from Seeking Alpha). The author has no business relationship with any company whose stock is mentioned in this article.
Additional disclosure: ETP and KMP are included in the Dividend Growth portfolio.