Three years ago, Yahoo (YHOO) was in the middle of the biggest crisis the company ever had: three CEOs were appointed and replaced in a very short time; its stock price hit rock bottom, and takeover attempts were published in every newspaper and website. Yahoo could not recover from the world economic crisis, and by 2011, the company's stock price completed a 60% decrease from the 2007 pre-crisis highs, as shown in Chart 1.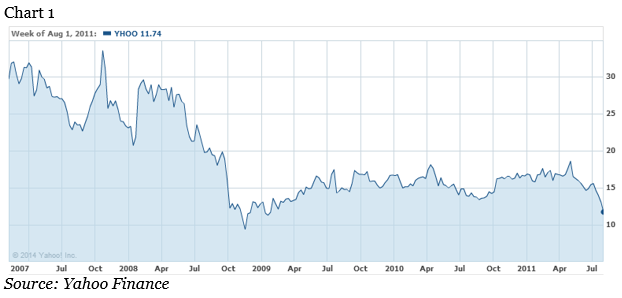 In 2012, while Yahoo struggled in the search engine market with massive layoffs and unstable leadership, the company's board of directors decided to appoint Google (NASDAQ:GOOG), (NASDAQ:GOOGL) executive Marissa Mayer as its CEO. Many investors expected Mayer to pull Yahoo from its gloomy situation and unlock the potential that Yahoo holds inside. In the following year after Mayer took the lead, investors' expectations were translated into a 70% increase in Yahoo's stock price as shown below in Chart 2.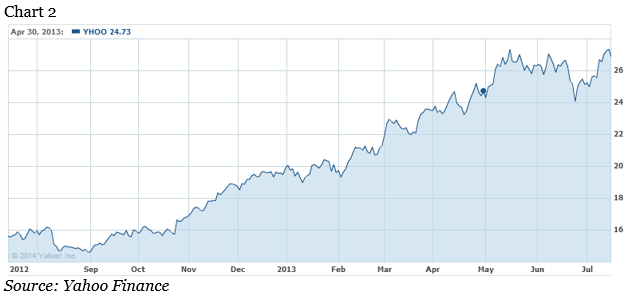 Even though Mayer's leadership is a breath of fresh air for Yahoo, the company is still in catch-up mode and has a lot of work to do. Yahoo totally missed the social media boom led by Facebook (NASDAQ:FB) and Twitter (NYSE:TWTR). While Google had a few failures (Orkut, Google Buzz, and Friends Connect) before it launched the more successful Google Plus, Yahoo tried to fight back with Flickr and failed hard. In 2013, Yahoo completed the Tumblr acquisition in order to gain a larger market share than the company currently has in the social media market.
In the mobile market, Yahoo offered a limited portfolio compared to Google or Microsoft. Unlike Google or Microsoft, both of which have comprehensive mobile portfolios that include a mobile operating system, various mobile apps, and even try to compete in the hardware side of the mobile market, Yahoo offers only mobile apps for its known web services. As I mentioned in an earlier article, Yahoo has tried to poke the mobile OS bear with Aviate, a recently introduced app launcher that is based on the Aviate acquisition the company made. Aviate is not an OS attempt and cannot compete with Android or Windows Phone. However, Aviate is just a milestone in Yahoo's journey to enter the mobile OS market. Yahoo's next move in the mobile market depends greatly on Aviate's success.
Yahoo tried to follow the trend of online streaming services led by Netflix (NASDAQ:NFLX) and Hulu and launched Yahoo Screen in 2011. Yahoo Screen was no competition for Netflix and Hulu, and starting this year, Yahoo has invested heavily in content that includes new original series, new Community seasons, and live music shows (through collaboration with Live Nation (NYSE:LYV)). I mentioned in an earlier article covering Yahoo's streaming offering that by using its online presence and complementary services, Yahoo can drive traffic to its streaming service and gain substantial revenue and positive publicity.
In the earnings release, CEO Mayer mentioned that Yahoo is expanding its online magazines and investing in better quality content by bringing industry professionals to lead these magazines. Yahoo already proved it can deliver quality digital magazines such as Yahoo Sports, Yahoo Tech, and Yahoo Food, to name a few. Driving more traffic to the digital magazines can be translated into ad revenue in the future.
Yahoo is a few years behind its competition in almost every market and segment of online experience. However, unlike Google and Facebook, Yahoo has a strong presence in China and Japan through Yahoo Japan and Alibaba. Currently, Yahoo is clinging onto its stakes in Alibaba as this is the only way Yahoo can drive some substantial income in the short term until all of its latest investments start to present a positive cash flow.
Conclusions
Reduced revenue and even lower earnings are all part of Yahoo's catch-up mode. While Yahoo revenue is down in the short term, its various investments in on-demand streaming service, advanced mobile apps, social media, and quality digital magazines should prove themselves valuable in the long run. In the short run, Yahoo is turning to its Alibaba shares to drive more income. However, this is only tactics, not a long-term strategy. For me, Yahoo is now a long-term buy just waiting for another correction in stock price to open a position at a better price.
Disclosure: The author has no positions in any stocks mentioned, and no plans to initiate any positions within the next 72 hours. The author wrote this article themselves, and it expresses their own opinions. The author is not receiving compensation for it (other than from Seeking Alpha). The author has no business relationship with any company whose stock is mentioned in this article.
Additional disclosure: Information provided in this article is for informational purposes only and should not be regarded as investment advice or a recommendation regarding any particular security or course of action. This information is the writer's personal opinion about the companies mentioned in the article. Investors should conduct their own due diligence and consult with a registered financial adviser before making any investment decision. Lior Ronen and Finro Financial Consulting and Analysis are not registered financial advisers and shall not have any liability for any damages of any kind whatsoever relating to this material. By accepting this material, you acknowledge, understand and accept the foregoing.