International Business Machines (NYSE:IBM) reported earnings today that were roughly in line with EPS and revenue estimates. EPS came in at $4.32, which was 3 cents over analyst estimates. Revenue came in at $24.36 billion, which was $230 million above estimates. Although it beat analyst estimates, IBM reported revenues that were down about 2% from the year-ago period.
IBM maintained its forecast of $18 per share EPS in 2014. IBM had previously forecast $20 per share EPS in 2015, and that figure appears to still be on track. Thus, the stock is currently selling at a forward 2014 P/E of about 10.5 and a forward 2015 P/E of about 9.5.
In my previous article about IBM titled, "IBM: Worth $260 Per Share", I showed just how cheap a stock I felt IBM to be. It is still very cheap, and this recent earnings report reaffirms my view that the stock has at least 30% upside in the next year or so. The company is expected to grow EPS more than 10% from 2014 to 2015. Some revenue growth is all that is needed as a catalyst to send the stock upwards and into a P/E valuation more appropriate. Consider this: if the stock had a forward 2015 P/E of merely 13, it would hit my price target. Such a forward P/E would not be out of the historical norm: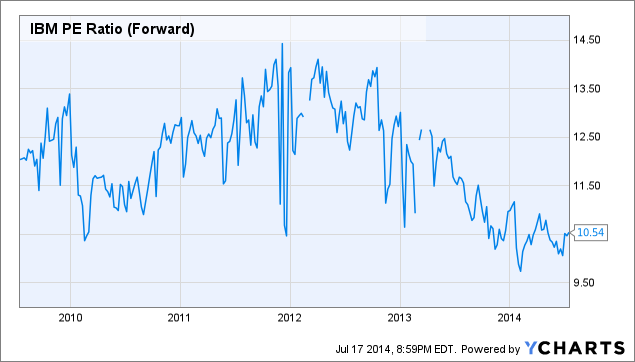 IBM PE Ratio (Forward) data by YCharts
Disclosure: The author is long IBM. The author wrote this article themselves, and it expresses their own opinions. The author is not receiving compensation for it (other than from Seeking Alpha). The author has no business relationship with any company whose stock is mentioned in this article.