Introduction
Molycorp Inc. (NYSE:MCP) is "a leading global rare earths producer that operates a vertically integrated, global supply chain that combines a world-class rare earths resource with manufacturing facilities on three continents that can produce a wide variety of custom engineered, advanced rare earth materials from all of the lanthanide elements, plus yttrium" (definition from 10-K).
The company had a rough going for its shareholders losing 52%, 61% and 40% (based on beginning and end of year closing prices) in 2011, 2012 and 2013 respectively, and 54% in the first six months of 2014. The loss from its May 3, 2011, intraday maximum of $79.16 to the closing price of $1.88 on July 30, 2014, is an astounding 97.6%. This is not the kind of performance that keeps long-time shareholders happy, but sometimes distressed companies hold the allure of potential rewarding opportunities with an appropriate timing of the entry.
In fact, "bottom picking" can provide outsized returns in short periods of time in case of a turnaround and in particular when there are large short positions, but it is important to determine if the conditions are in place for such a turnaround to materialize before investing in the company.
Much has been written lately (in particular on this site) on the weak liquidity position of the company and the risk that without an improvement in cash flows the company might need to raise more cash further diluting shareholders or face the risk of a bankruptcy.
Also Moody's recent downgrade of the corporate family debt of Molycorp to Caa2 from Caa1 is based on the assessment of the weak pricing environment for rare earths, the ongoing negative cash flows and the high level of indebtedness.
This analysis will focus on identifying the requirements for a potential turnaround and on determining whether a turnaround actually started.
Technical Analysis
Below is reported the weekly chart for Molycorp.

From looking at the chart, it is obvious that the price has been, and still is, in a vicious downtrend since its top in May 2011.
When the price range is so wide I find it more useful to use a logarithmic chart, where intervals of the same size on the price scale represent increases (or decreases) of the same magnitude in terms of percentage change.
For the purposes of my analysis, I highlighted on the following log chart the points in time when major dilutive events occurred.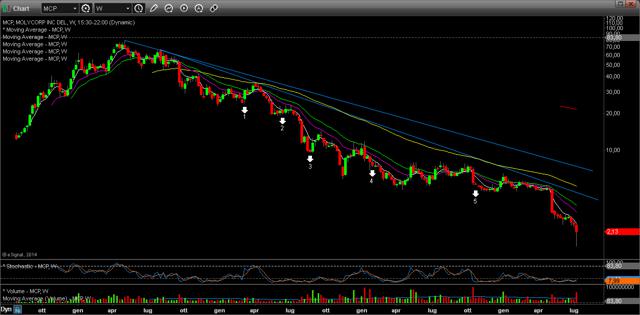 March 8, 2012, Molycorp issued to Molymet 12,500,000 shares at $31.218 per share for net proceeds of $390.1 million.
June 11, 2012, Molycorp issued 13,545,426 shares of common stock in connection with the acquisition of Molycorp Canada.
August 22, 2012, concurrently with the issuance of 6.00% Convertible Notes, Molycorp issued 13,800,000 shares at $10.00 per share for net proceeds of $132.1 million.
January 30, 2013, Molycorp issued 37,500,000 shares at $6.00 per share, followed by 5,625,000 additional shares purchased by the underwriters on February 5, 2013. Total net proceeds resulted $248.1 million.
October 21, 2013, Molycorp issued 51,750,000 shares at $5.00 per share for net proceeds of approximately $247.5 million.
As can be seen from the chart, the downtrend is confirmed even in the log scale and the occurrence of steep price declines matches closely the timing of public equity issuance.
When I look for a bottom I usually seek for one of two conditions to be verified:
a "washout," meaning a sharp price decline accompanied by volume significantly higher than average. This behavior is typical of situations where longtime shareholders can't take anymore pain, decide to sell their holdings, and a new base of ownership is established. In case of a highly shorted stock, like Molycorp, this is the point where "smart" short sellers cover their positions.
the building of a base for a significant lapse of time followed by an upside breakout. The longer the base, in terms of time, the more solid should be the uptrend that follows. The end result of a base, like for the washout, is a rotation in share ownership, but taking place over a longer period of time.
Looking at recent price and volume action in Molycorp it appears that a situation similar to the first condition is developing. In the week of the 7th of July, a new all-time intraday low ($1.61) was touched followed by a quick reversal ($2.13 weekly close) accompanied by high volume (67,708,639 shares traded versus a 50 day average of 30,560,930).
The volatility reflects a moment of high uncertainty among investors that developed as a consequence of a series of articles regarding a possible restructuring of Molycorp debt, rumors regarding bankruptcy, and finally a defense note released by an analyst firm.
It appears reasonable to assume that many short sellers took advantage of the dip and the high volume to partially close their positions.
This is how many bottoming processes start, but to reduce the risk of initiating a position by guess-estimating where the bottom is, I always assess the fundamentals to check if they are supportive of a real turnaround.
Fundamental Analysis
Given the long history of losses, negative cash flows, and the high uncertainty regarding the ability to reach profitability in the future, the calculation of intrinsic value using discounted cash flow models has the risk of providing unreliable information.
Thus, I will focus on fundamental drivers that appear key in assessing if and when Molycorp might be on the way to a turnaround.
Commodity prices
Like for many commodities companies, commodity prices are an essential driver of revenues and profitability.
The table below, from Molycorp 10-K for the fiscal year ended December 2013, reports the prices of most common Rare Earth Elements (REEs) for the period from 2008 to 2013.

The last two columns of the table have been added to provide recent prices and obtain indications on latest trends in REEs pricing.
As can be seen from the values reported, with the exception of Praseodymium prices are still trending down.
Only a sustained inversion of the pricing trend for REEs will provide the foundation for a turnaround to actually materialize.
As per the latest data pointing to a continuation of the pressure on prices, it is still too early to anticipate a turnaround in the financial results and there are no signs of a potential improvement to the negative cash flows.
With regard to supply of REEs, it is expected the achievement before year end of target output rates not only by Molycorp (23,000 metric tons per year) but also by major competitors (Lynas 11,000 metric tons per year), and China plans to increase its production by 12% this year, from 93,800 metric tons in 2013 to 105,000 metric tons in 2014.
The expected increase in supply in the presence of a sluggish demand does not predict, barring exogenous shock factors, a significant inversion of the pricing trend for REEs.
The competitive position of Molycorp is also threatened by the fact that China produces more than 90% of world's REEs, limiting Molycorp pricing power and leaving it subject to substantial risks in case producers in China decide to wage a price war to push competitors out of the market.
Production Progress
The achievement of target levels of production and the implementation of a set of key production components (Chlor-alkali plant and multistage cracking plant) has been highlighted by Molycorp management as a key driver for achieving profitability by lowering production cost.
Since the original business plan, dating back to June 2010, the design production capacity goal was set to 19,050 metric tons of REOs per year.
This goal originally was expected to be achieved by the end of year 2012.
In Molycorp's most recent 10-Q (first quarter of 2014), the new goal for the design production capacity has been raised to approximately 23,000 metric tons to be attained in the fourth quarter of 2014.
Entering the second half of 2014, let's check the progress of Molycorp in terms of reaching the production goal.
The table below is based on data provided in the 10-K for fiscal year 2013 and in the 10-Q for the first quarter of 2014.

From the data in the table it appears that there was a jump in the production level from the second quarter of 2013 to the third quarter of 2013, and that production stabilized around 1,100 metric tons per quarter in the following three quarters.
In order to achieve the goal of 19,050 metric tons run rate before year end, Molycorp should reach a quarterly production level of around 4,560 metric tons (or 1,580 metric tons per month). This target is four times more than current run rate. It remains to be seen if such a production scale jump is feasible within the limited time frame remaining, and given the slow progress of the past two years.
More clues regarding this question will be provided when the 10-Q for second quarter will be released (estimated date around 4th of August).
Besides achievement of production target levels, it is key to check the progress in lowering average production costs. The Chlor-Alkali plant completed commissioning and was turned over to operations in February 2014 and the final unit of the multistage cracking plant was turned over to operations during the fourth quarter of 2013. Both these components are expected to contribute significantly to a reduction of production costs, but the exact timing for the realization of these benefits is still not clear as it depends on their optimization for which no definitive timeline has been provided.
Key risks
Besides the various risks that have been widely reported in recent articles regarding Molycorp, there is a potential risk that could significantly threaten its competitive position in the future.
In July 2014 expires a fundamental patent of Molycorp Canada that covers bonded magnets made with Neo PowdersTM and the manufacturing process for these powders.
Due to the essential nature of this patent, the competitive position of Molycorp could weaken as new competitors might enter the market and limit Molycorp pricing power on a key product.
In 2013, Neo PowdersTM accounted for approximately 90% of Magnetic Materials and Alloys segment revenues which in turn represented almost 46% of total consolidated company revenues.
Magnetic Material and Alloys was also the only segment that generated a positive operating income before debt service in the same period.
Another significant risk is represented by the ability to successfully implement a business strategy based on vertical integration.
Molycorp's vertical integration strategy is centered around the Mountain Pass facility (largest rare earths mine outside of China), the ability to reach target production levels, and the downstream processing of rare earths into rare earth metal alloys or finished magnets.
Most of Molycorp's acquisitions, financed through the issuance of debt and public equity, reflect this strategy.
Vertical integration strategies are risky and hard to implement because of the difficulties of coordination, integration, and the amount of capital required.
Besides, exiting such a strategy may prove too costly if realizable at all.
Typically vertical integration strategies are most desirable when there is a situation of vertical market failure, meaning that the market is too risky and unreliable and by coordinating and controlling adjacent stages in the supply chain is possible to create value.
This is exactly the market condition that developed during 2010 and most of 2011 when China drastically reduced the quantities of rare earths it allowed to export, and average prices for REEs increased by as much as 1000%.
By the end of 2012 conditions in the rare earths markets started to normalize with China increasing export quotas and the rare earths becoming more available thanks also to new producers entering the market, while prices started a decline that is still occurring.
It remains to be seen if Molycorp's strategy of vertical integration will prove viable in the long run given the different conditions existing at present in the rare earths supply chain versus the period in which it was conceived.
Factors affecting price movement and trading
Supply and demand balance for the shares of Molycorp, which affects price discovery process, price movement, and trading, is influenced by the high number of shares sold short.
On March 31, 2014, Molycorp had approximately 244.8 million shares outstanding and a float of around 192.8 million shares.
Shares short as of May 30, 2014 were 69.4 million, representing approximately 36% of float.
This high number of short positions generates peculiar trading patterns with heightened volatility in specific periods of time. Typically a sharp drop in price is followed by a violent reaction to the upside as the short sellers take advantage of the dips in price to cover their positions and take partial profits. Speculative long positions can add further fuel to these rallies.
This appears to be the case of the trading pattern that developed during the week of the 7thof July 2014.
Even if many times these types of rallies are just speculative reactions, there are a few times when they signal something more important, the beginning of the bottoming process.
Notwithstanding the constructive behavior there is a recent development that hangs like a sword of Damocles on the fate and success of the rally. In a Shareholders' Meeting held the 25th of June 2014, the stockholders of Molycorp approved to increase the number of authorized shares of common stock from 350 million to 700 million.
Should Molycorp perform a new equity issuance for any of the stated objectives, "flexibility for future actions such as mergers and acquisitions, stock splits or dividends," or unstated objectives (survival) such an increase in the supply of shares would put a lid on any nascent rally.
Conclusion
Recent price action makes Molycorp an interesting stock for a watchlist of distressed companies that could potentially turnaround.
Concerns regarding the long-term viability of the vertical integration based business strategy, emerging key risks threatening its competitive position and the need to see improvements in key factors affecting profitability and cash flows suggest to take a cautious stance.
I plan to wait the next 10-Q and earnings release the 6th of August for reassessing the key factors discussed in the present analysis and deciding if the conditions for opening a long position are improving.
Disclosure: The author has no positions in any stocks mentioned, and no plans to initiate any positions within the next 72 hours. The author wrote this article themselves, and it expresses their own opinions. The author is not receiving compensation for it (other than from Seeking Alpha). The author has no business relationship with any company whose stock is mentioned in this article.