Thursday afternoon, news broke about Facebook (NASDAQ:FB) testing a "buy" button, which will allow users to make purchases through advertisements or other posts directly from their newsfeeds. Users will be able to store their credit card information on Facebook, so the entire purchase flow will stay within the site. Initially, Facebook will be testing the alteration with small to mid-sized businesses and will not charge advertisers for it. However, when asked if they would charge more for this feature, they did not rule that out.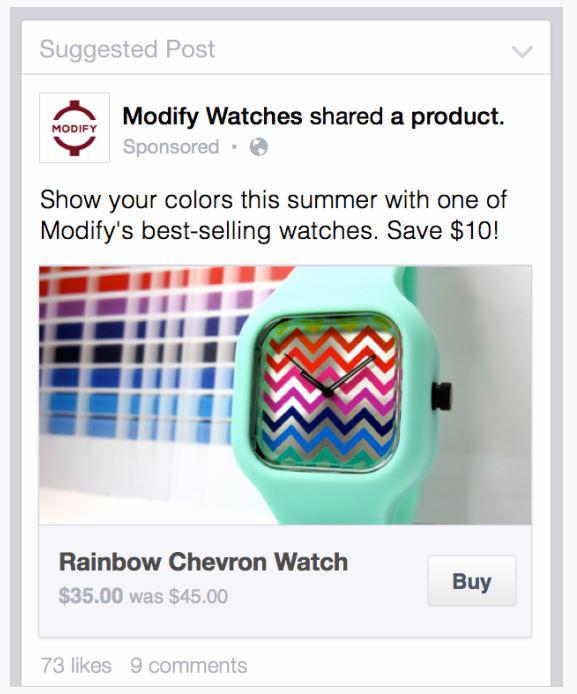 Source: FB Press Release
ROI Benefit & More Monetization
There are a vast amount of potential positive implications of this alteration. If successfully implemented, Facebook could be able to greatly increase conversion rates for purchases by users. This increased conversion rate would further cement its spot in the advertising industry. Advertisers would see a much higher return on investment and thus buy larger campaigns. Further, Facebook could earn additional revenue by charging a fee or implementing a revenue sharing exchange.
Higher Quality Ads
A corollary effect of this addition could be higher quality advertisements. Advertisers that recognize the superior ROI would be more willing to buy ads on the site, thus improving the supply. Facebook would then be able to charge more for these ads and be more selective with the ads sent to newsfeeds. Therefore, ads could be of higher quality and wouldn't negatively impact the user experience as much. This lack of negative impact of ads could provide the opportunity for Facebook to expand the ad load of users' newsfeeds and generate much higher revenue.
Integrating With Facebook Audience Network
In April at the F8 conference, Facebook announced their Facebook Audience Network (FAN), which will enable other apps and websites to integrate Facebook ads. Facebook will then act as a middle man between the platforms and advertisers. Thus, Facebook will be able to generate revenue of off its website by leveraging its vast user base. Coupling the FAN with the "buy" button could allow for higher conversion rates and Facebook would become a premium ad tool across the web. The revenue generating capabilities of this integration are substantial.
A Monopoly In The Making
Once companies identify successful strategies, they are often replicated by competitors, if a competitive advantage does not exist. Thankfully for FB investors, its competitive advantage is enormous. Facebook boasts the largest social network by far, 1.28 billion users, and collects considerably more data than any other social media site. The massive user base and extensive database make Facebook's advertising platform nearly impossible to replicate. The superior ROI of FB's advertising platform will likely become more evident with the addition of the "buy" button and Facebook could benefit greatly.
Notable Opportunities On The Horizon
Facebook's purchase of LiveRail could enable it to steal advertising dollars from Google. More can be found about this opportunity here.
The purchase of Oculus could allow FB to become more prevalent in the gaming industry. Facebook already earned nearly $1 billion from gaming in 2013 and is set to grow from there. A more in-depth analysis about this potential can be found here.
Facebook's purchases of Ascenta and Pryte will provide it the opportunity to generate revenue from Whatsapp. More on this can be found here.
A Buy Before Earnings?
Facebook has performed well since its IPO debacle. Investors that picked up shares, as I did, after the share lock-up period expired, have seen their money more than triple. After that huge run-up, it is prudent to be skeptical of further capital appreciation. Although FB is trading with a PE level in the 80s, it still presents a value to investors.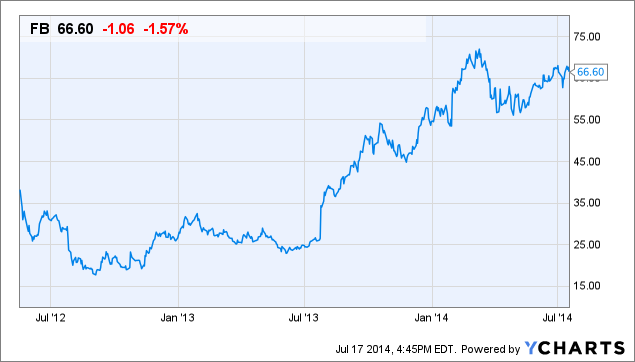 FB data by YCharts
As of the last quarter earnings release, FB was able to grow revenue 72% y/y. They were clearly in hyper-growth mode. Expecting that revenue growth is unreasonable, however I do have conviction that they will be able to engender significant revenue growth in the coming years. The recent pullback from its 52-week high provides an opportunity to begin a position. I suggest purchasing shares in this company, which has the chance of becoming a monopoly, before its earnings release next week.
Disclosure: The author is long FB. The author wrote this article themselves, and it expresses their own opinions. The author is not receiving compensation for it (other than from Seeking Alpha). The author has no business relationship with any company whose stock is mentioned in this article. I also own FB LEAP call options.