"GE had a good performance in the quarter and in the first half of 2014, with double-digit industrial segment profit growth, 30 basis points of margin expansion, and nearly $6 billion returned to shareholders," said GE Chairman and CEO Jeff Immelt. "The environment continues to be generally positive."

-GE Press Release, Friday morning
General Electric (NYSE:GE) was out this morning with second quarter earnings that were in line with analyst expectations. The company posted EPS of $0.39/share. Those earnings represented an 8% increased from the same quarter of last year.
GE stock is poking upwards, about $0.10/share, in pre-market trading Friday. For the last 12 months, GE has continued its post-2007/08 recovery and has risen 12.6%.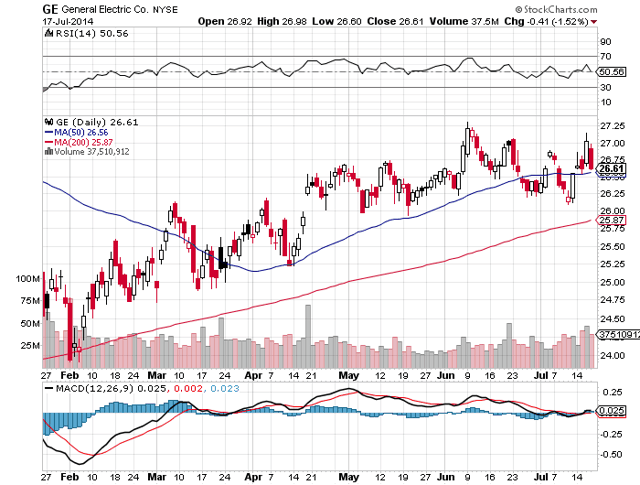 The company cited oil & gas and its jet engine equipment as helping it meet estimates for the quarter. Seeking Alpha broke down the growth of each of General Electric's markets:
GE reports increased Q2 operating earnings of $3.9B, translating to an operating EPS of $0.39, up 8% Y/Y. GAAP earnings from continuing operations were $3.6B, with an EPS of $0.35, up 13% Y/Y. Including the effects of discontinued operations, Q2 net earnings were $3.5B vs. $3.1B Y/Y.
Revenues rose 3% Y/Y to $36.2B. Growth market revenues grew 6% Q/Q, and growth market orders rose 14% Q/Q - increasing in six of nine growth regions. Services revenues were up 5% Q/Q, and services orders rose 14% Q/Q.
Industrial sales of $26.2B climbed 7% Y/Y. GECC revenues decreased 6% to $10.2B Y/Y. Industrial segment profits increased 9% Q/Q to $4.2B.
Industrial segment revenues were up 7%, with organic growth of 5%. Cash generated from operating activities year-to-date totaled $3.4B and cash generated from industrial operating activities posted $2B.
In addition, GE is also looking to spin off its finance business, GE Capital, at some point before the end of this summer. Removing the finance risk from the rest of the company mitigates risk for GE shareholders. It also takes away the bad taste investors have had in their mouth from 2007/2008, where GE capital did far more harm to the company than good.
Additionally, GE's backlog looks strong. From its press release this morning:
GE's backlog of equipment and services at the end of the quarter was $246 billion, up $23 billion over the year-ago period with increases in every segment. The Company's investment in technology was reflected in its launch order during the quarter for Tier 4 locomotives, nine HA gas turbines to date, and its order for the oil and gas industry's first 20k-psi rated deepwater drilling system. This week, GE and CFM (a 50/50 joint venture between GE and Snecma) also announced Farnborough Airshow wins of more than $36 billion at list price, including $13 billion with Emirates, $3.3 billion with easyJet, and $2.6 billion with American Airlines.
Consensus estimates were also looking for revenue of $36.30 billion. The company posted revenues of $36.2 billion. The rise in the company's profit, however, is being heralded as good news for the company heading into the third quarter.
(source - Yahoo Finance)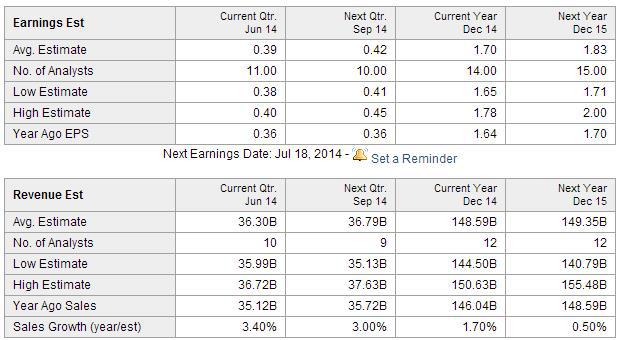 This all comes on the heels of GE finally shoring up its bid for Alstom (OTCPK:ALSMY), a French energy company. After months of trying to get a deal finished to acquire the company's assets, GE was finally able to get it done just this month. The company is expecting the synergies from this acquisition to add between $0.06-$0.09 to EPS for the 2016 FY.
In my last article about General Electric, which was actually the first in QTR covering the stock, I contended that GE was "as solid as its 100 year history." I contended that the stock remains a safe, low beta growth position to be in:
General Electric trades at a forward P/E ratio of 14.59 and for fiscal 2013 ended the year with a book value per share of $13.15. The company has a solid balance sheet, with $88.56 billion in cash to continue its business with. The company's foundation is as solid as its hundred year history as a publicly traded security.

As GE looks to solidify its latest acquisition, spin off some of its non-core businesses and assets, it would seem that General Electric remains a safe growth bet for dividend and conservative investors.
After today's earnings, I can't help but reaffirm that position. Especially with the geopolitical unrest that we were served a taste of yesterday, stocks like GE are going to be destinations for those looking to move from overextended technology and social media stocks, back into value stocks. That is, of course, unless Janet Yellen decides to comment on GE directly in her next testimony before the Senate.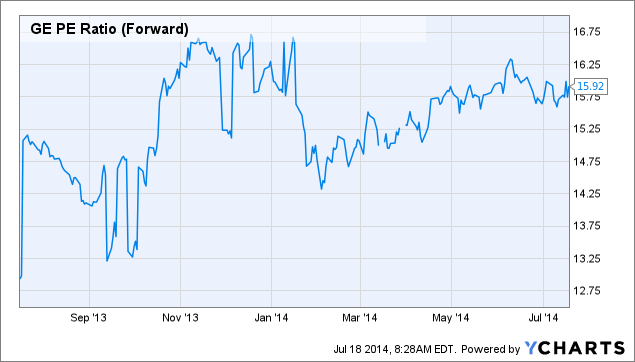 GE PE Ratio (Forward) data by YCharts
With a rather modest forward P/E of 15.92 that just falls short of the S&P average currently, GE looks attractively priced at these levels and could help mitigate some risk in your portfolio with the turmoil overseas. GE looks like it's a buy here.
The company's conference call is scheduled for 8:30AM this morning.
Disclosure: The author has no positions in any stocks mentioned, and no plans to initiate any positions within the next 72 hours. The author wrote this article themselves, and it expresses their own opinions. The author is not receiving compensation for it (other than from Seeking Alpha). The author has no business relationship with any company whose stock is mentioned in this article.