For those who grew up with the science fiction TV series, The Twilight Zone, it's easy to imagine how trying to solve someone else's problem transforms you into the problem itself.
The U.S. Federal Reserve is stuck in a Twilight Zone episode.
Fed Chair Yellen has been spending face time this week in the Senate Banking Committee, testifying that significant slack remains in the U.S. labor market with employment-related data below the Central Bank's goal. At the same time, she has been giving hedged assurances that October 2014 could bring the end of the bond purchases program and usher in an extended period of low interest rate maintenance. Of course, she also notes that any rate action would be data-dependent, especially considering current weak employment and productivity measures.
'The Perils of The Fed's Rules' leads to the unintended outcome state where the nominal interest rate and inflation rate are below target and the economy is in a liquidity trap.
Go ask a banker for a loan and see how liquid the financial system is - not.
From the savers and investors' perspective, there is a lot of money at stake guessing the 'off-ramp' date - the date at which the U.S. monetary authority begins to drive its policy rate back to normal - whatever that looks like now.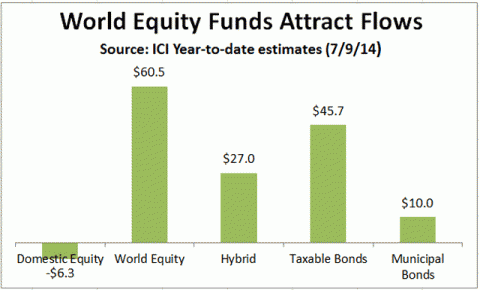 And investors are already betting against the Fed being able to do anything about rates in the near-term. They are moving away from U.S. equities, pulling $6.3 billion out of U.S. funds in the first six months of this year. That money is flowing into bonds or higher return world equities.
Corporate investors are also moving their capital abroad. Larry Ludlow's Congressional rant this week contains comments about this and a few other pearls:
On the inflation front, the Fed should declare victory and go home.
The zero Federal Reserve target rate, at five years plus after the financial meltdown, is too low and is contributing to a distortion of risk assessment in the financial markets.
Is there anything the U.S. monetary authority can do here to talk up inflation?
If you heard Yellen talking down valuations for social media and biotech stock, then you might think the Fed is still trying to curb enthusiasm for equities. This may be the point the market hears - the Fed's inability to control the interest rate shock in equities, the impact on total savings and capital formation and host of other issues - including creating real jobs and real demand for capital.
Speaking of being stuck...
One of my favorite movies on this topic is Casablanca, a 1942 American romantic drama film starring Humphrey Bogart and Ingrid Bergman. Despite its dated film noir genre and expressionist lighting techniques, the film's top expressions serve as a mini-manual for investing in today's market and waiting for an exit opportunity.
'…Here's looking at you, kid.'
This phrase is a play on the card game of poker, when the face cards (Joker, Queen, and King) are all looking at you: good news if you hold them. Therefore, when I lay my cards down and repeat this phrase, well... you have just lost the hand.
It is very clear that a rise in interest rates will trounce returns on long-only bond funds and equities. Therefore, you had better have something better in your hand if you expect to win the investing game.
'I'm shocked... shocked... to find that gambling is going on here!'
This is actually one of the funnier parts of the movie, when authorities claim a violation of law while acknowledging some complicity in the activity. It also reminds me of the U.S. government's long-term support for mortgage lending and its position reversal after the failure of Fannie Mae and Freddie Mac.
Fortunately, today not all fixed income dollars flow into long bond or mortgage funds. Some investors are allocating into strategic fixed income portfolios. These higher-risk, sophisticated multi-strategy, multi-asset class portfolios utilize a variety of techniques, such as options and shorting interest rates to generate a stream of income.
For example, read this week's earnings release from BlackRock (NYSE:BLK), the world's largest asset manager with $4.7 trillion in assets under management. Fueled by a solid $38 billion of net inflows for the quarter, it easily beat earnings estimates. For the quarter, retail investors segment contributed $13.1 billion of net inflows. The investor appetite for efficient-beta and outcome-oriented strategies added $3 billion into Strategic Income Opportunities, an alternative credit focus fund, and $1 billion into Multi-asset Income, a tactical allocation fund. BlackRock also noted the success in gathering assets via their relationship with Fidelity Investments.
Note that mentioning these funds is not a recommendation - just an illustration of a trend occurring in the investment world. Please read our full disclosures online.
…'Round up the usual suspects.'
The U.S. government's appetite for sanctions and settlements is overwhelming.
As I was writing this piece, Obama went on television announcing yet another set of sanctions against Russian nationals and corporations. Russia saw nearly $75 billion in capital flight in the first half of the year, as investors and ordinary Russians ditched the ruble en masse following sanctions imposed by the West on Moscow over its involvement in Ukraine. I will follow up on this in next week's issue.
Back in the financial services sector, between this year and last year, the U.S. government is likely to rake in almost $100 billion for settlements from large banks globally.
With that as a trend backdrop, the $13 billion JPMorgan (NYSE:JPM) agreed to pay in November of 2013 overshadows the announced Citigroup's (NYSE:C) $7 billion settlement. It also outranks what the government is trying to extract from Bank of America (NYSE:BAC).
Fortunately, bad news is good news - when it removes uncertainty.
In the case of JPM, the company reported a solid quarter this week with solid net interest margins, improving credit ratios, declining delinquencies, and even a surge in average deposit balances. In addition, commercial real estate lending stood out with a 27 percent increase.
More positively, JPM's assets under management now total $1.7 trillion, up 16% from a year ago. The head of the asset management operation noted at a CNBC conference that the net inflows are favoring the longer-term strategic investment products versus the shorter-term liquidity products with about $50 billion in new assets coming year to date.
This again reinforces the point made earlier about investors positioning themselves for an eventual move in interest rates by accepting more risk and considering multiple, alternative investing strategies.
The only cloud in JPM's earnings was a drop-off in mortgage lending.
JPMorgan originated only $17 billion of consumer mortgages in the second quarter, a plunge from nearly $50 billion in the same period in 2013. One of the main reasons for the decline is that the bank is making fewer Federal Housing Administration loans after agreeing to pay a penalty of $614 million early this year to the Justice Department over accusations that it had submitted non-compliant mortgages into the F.H.A. program over several years.
According to JPM's Mr. Dimon about the FHA mortgages, "We are thoroughly; thoroughly confused about how we got treated... That penalty has made JPMorgan cautious about making such mortgages."
Low rates don't help either.
Since 1985 the 30-year mortgage rates have been in a fairly steady downtrend as the chart above shows.
Granted banks make a spread over their cost of funds so the level is normally not so important as the rate of change and predictability of interest rates. Bankers are afraid to make the first move as they will need a) a higher base rate to cover there additional costs of business and b) relative predictability of rate levels.
My take on this is that the U.S. banks will not loosen the lending spigot until overall lending demand drives interest rates permanently higher. The well-documented problem with low interest rates is that once you get there, the probability of staying there increases - just like The Twilight Zone.
Happy Trading!!
Rudy Martin
Disclosure: The author has no positions in any stocks mentioned, and no plans to initiate any positions within the next 72 hours. The author wrote this article themselves, and it expresses their own opinions. The author is not receiving compensation for it. The author has no business relationship with any company whose stock is mentioned in this article.