The Great Graphic was tweeted by SoberLook.com, and comes from Deutsche Bank which used EPFR data. The chart depicts the money flowing in and out of the ETFs and open-ended mutual funds that offer investors protection from inflation.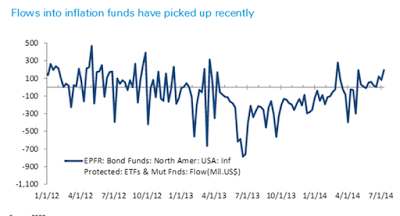 Such funds have been experiencing net new inflows recently. With stronger US jobs growth, and clear signs that the Q1 contraction was not a precursor of a recession, investors have become concerned about inflation. June CPI figures will be released next week (July 22). The core rate has risen by a cumulative 0.7% in the three months through May, which is twice the pace over the previous three month period.
The Fed's preferred inflation measure is the deflator of personal consumption expenditures (PCE) and, as we have noted, CPI tends to run at a slightly faster clip than the PCE deflator. In addition, with wage growth stagnant and other measures slack in the labor market, it is difficult to envision a bout of demand-pull inflation. At the same time, commodity prices have weakened, and cost-push inflation does not look particularly likely either.
There have been a few inflation scares in the recent past. There have been some spikes of inflows into such funds as some investors seek protection. At the same time, US yields rose last year without inflation rising. Some investors seek protection not from inflation per se, but from rising interest rates. Funds investing in floating rate notes have also been popular in recent months. Not only has the US Treasury issued floating rate notes, but so have many corporations.
Disclosure: The author has no positions in any stocks mentioned, and no plans to initiate any positions within the next 72 hours. The author wrote this article themselves, and it expresses their own opinions. The author is not receiving compensation for it. The author has no business relationship with any company whose stock is mentioned in this article.