It certainly has been an interesting couple of days on the Herbalife (NYSE:HLF) PR front. Let's review what's happened in the short span of just 48 hours.
Two days ago, Herbalife stock was hit hard on reports that Bill Ackman was going to be giving a webcast that will show the results of a two year probe into the company's nutrition clubs. I wrote about this at length yesterday, and you can read that piece here.
This seemingly threw the Herbalife PR machine into overdrive, where yesterday it released a PR claiming to "set the record straight" on the company, though it was devoid of facts that people want: answers about retail sales, answers as to why someone like John Tartol sits on the board of the company, and answers as to the company's Venezuelan asset and cash values; just to name three items off the top of my head.
People like Herb Greenberg were quick to notice that yesterday's PR didn't have any "beef":


This comes on the same day that Bill Ackman and Carl Icahn rekindled their friendship on live television. Bill stated at the end of their interview that he'd "love to find a way to get Carl out of the stock." More on this later.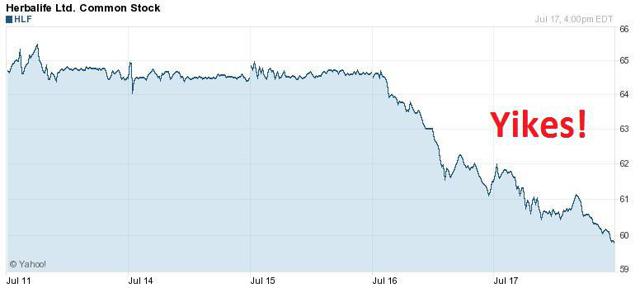 Yesterday, in the midst of the geopolitical unrest, the stock found itself off again - this time falling under $60 for the first time since May of this year. It would appear that without the stock buyback, the company is having trouble maintaining its stock price.
There was also some interesting options trading yesterday, including 6,000 put contracts for Jan. 2016 strike $55.
Matt Stewart raised a great question - could it be possible for Ackman to buy Icahn's shares as a cover, but only after loading more puts and making his position 100% derivative in nature? That one certainly perked up my ears.
Then, last night, the @HerbalifeTRUTH Twitter account, which I've noted in the past is simply a bizarre entity in and of itself, went bananas, launching more ad hominem attacks on Bill Ackman. Here's what last night's Tweets looked like: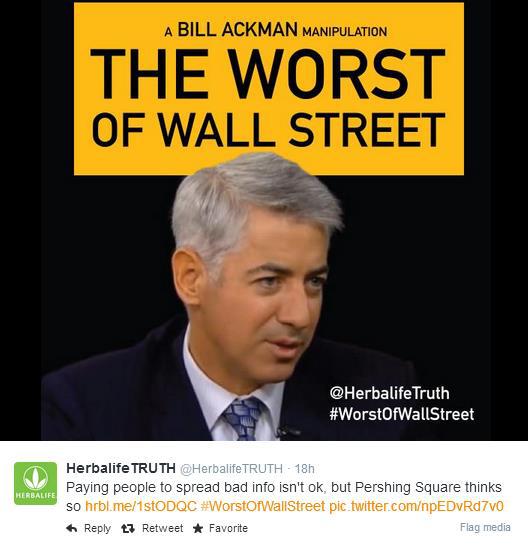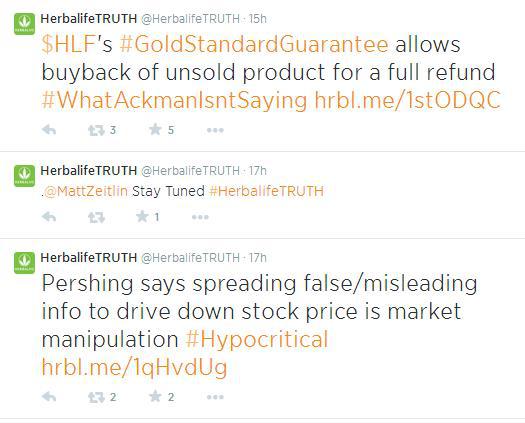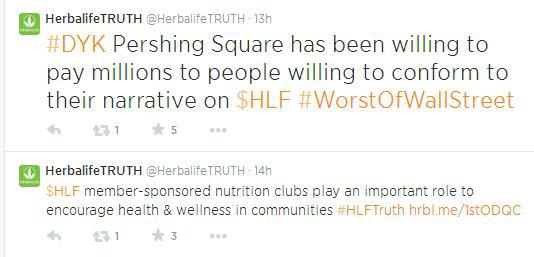 In between this lunacy, however, came yet another Form 4 from an Herbalife insider, selling stock. As you recall, insiders had been selling into the company's own buyback for the last couple of months. Not exactly a sign of confidence. It was all over Twitter: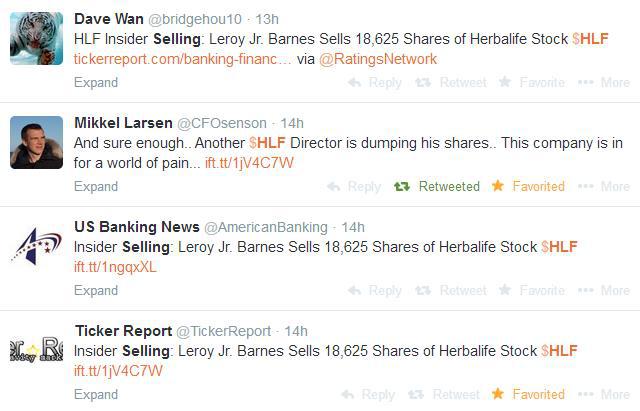 This, of course, after significant selling over the last couple of months into Herbalife's buyback.
(source - nasdaq.com)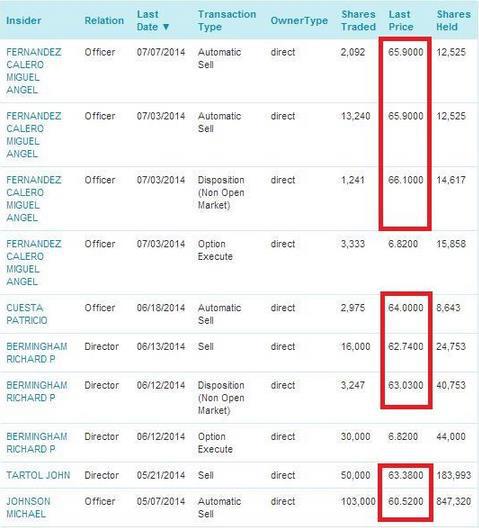 Then, this morning, we get yet another press release devoid of meaningful facts.

Not as hard hitting as "setting the record straight," but funny nonetheless. Rather than address any of skeptics' questions about the company, Herbalife's PR machine would rather bludgeon the PR wires again with empty threats and meaningless quotes. This morning's PR states that "dozens of Herbalife members" are going to be holding a press conference at the company's extravaganza in Chicago on Friday. The PR serves as three hours' notice before the press conference takes place.
The PR came with token quotes, such as:
"Bill Ackman has displayed a bald-faced hypocrisy in his sham support for Latinos," said Pablo Caicedo a member from Lincoln Park, IL who will also be taking part in the press conference. "As a Latino, I think it's important for the world to know the truth: that Bill Ackman is only interested in his own short-sighted financial goals and has a history of investing in companies that profited from the detention of undocumented immigrants. He is hardly a standard bearer for the Latino community."
From QTR's opinion, the PR machine appears to be on overdrive because Herbalife appears to be backed into a corner. With regulators looking at the company and a new Ackman webcast on its way, Herbalife looks to try and do everything it can to avoid facing the facts.
I continue to contend that Herbalife is a worldwide confidence game, and that the sooner the regulators shut it down, the better.
Best of luck to all investors.
Disclosure: The author is short HLF. The author wrote this article themselves, and it expresses their own opinions. The author is not receiving compensation for it (other than from Seeking Alpha). The author has no business relationship with any company whose stock is mentioned in this article.
Additional disclosure: QTR has never been compensated directly or indirectly for his views on Herbalife. My views are mine and mine alone and my short is a result of my personal due diligence.