After yesterday's geopolitical events, the oil market caught a bid, but the fact that the energy sector was hard hit along with the rest of the market says a lot about where we are at this point. Investors' willingness to take on risk in this market has abated due in part to the fact we are at record highs with numerous hot spots around the world, and multiple ones located in the Middle East, while also not having seen a pullback of 10% in far too long.
Chart of the Day:
The natural gas chart below shows the current contract over the past year and the recent sell-off in natural gas. We were not bullish of prices as they rallied in the winter and had questions about the staying power once the $4.40/MMbtu support area was broken. We are now below $4/MMbtu and one has to wonder whether we will test $3.70/MMbtu or not.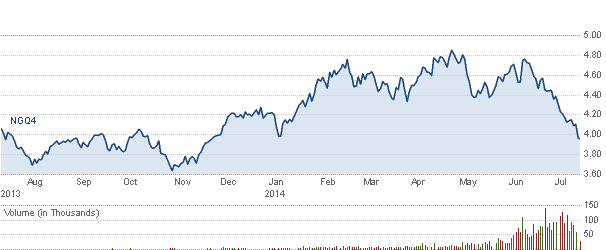 Source: CNBC
Commodity prices are as follows (at time of submission):
Gold: $1,306.90/ounce, down by $10.00/ounce
Silver: $20.815/ounce, down by $0.319/ounce
Oil: $103.03/barrel, down by $0.16/barrel
RBOB Gas: $2.8811/gallon, down by $0.0006/gallon
Natural Gas: $3.956/MMbtu, up by $0.002/MMbtu
Copper: $3.1765/pound, down by $0.044/pound
Platinum: $1,491.70/ounce, down by $12.00/ounce
Oil Names Lower
With oil having made a strong move to put some distance between the current price and the $100/barrel level yesterday, we have to admit that we were surprised not to see some follow through in the domestic oil E&P names. As many readers know, we are overweight oil in our portfolios with big positions in EV Energy Partners, LP (NASDAQ:EVEP-OLD), Gulfport Energy (NASDAQ:GPOR) and PDC Energy (NASDAQ:PDCE). Even with interest rates falling and energy prices rising EV Energy Partners was lower on the session and worse still we had to watch Gulfport close lower even as they received an analyst upgrade.
In early morning trading, these names are green, but we are sitting tight and taking a neutral position (not buying or selling right now).
Sand Is Like Gold
Even with the shale exploration companies taking it on the chin yesterday, we noticed that US Silica Holdings (NYSE:SLCA) managed to hit a new all-time high during the session. Yes, the company's shares finished off of those highs, but the point is that investors continue to find reasons to be bullish the fracking sand producers even after the amazing runs these companies have had.
We have been bullish all things shale over the past few years; however, we would point out that if oil prices resume their trend lower and investors once again cool on the E&P names, we could see a drop in demand for fracking sand. Yes, there is a fair amount of capital out there, but if investors are not interested in new MLPs and other energy properties, then a lot of funding for drilling suddenly disappears. All of this is important to keep in mind as some are predicting that energy is set to underperform the rest of the market through the end of the year.
Fair Warning To All
Once again, we want to warn investors not to get caught up in the day trading swings that periodically affect USEC Inc. (NYSE:USU). We admit that the run-ups are impressive, but think that investors need to look at the greater picture and recognize that this name has a history of deflating and being a generally poor performer.
This looks like another fool's rally, just like in past times, and will most likely lead to losses for those not partaking in day trading.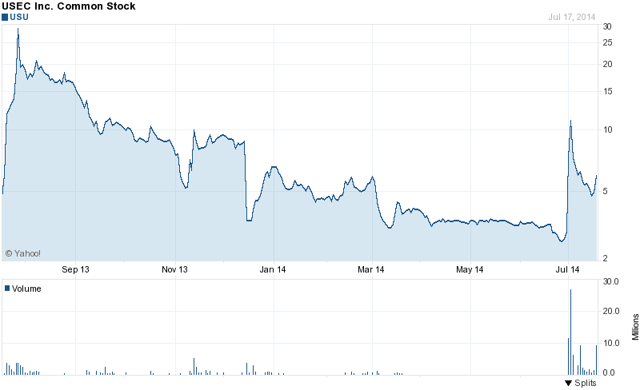 Source: Yahoo Finance
We have discussed this numerous times before and still think investors can do far better in other nuclear related names. Our preference is to be involved with the nuclear industry in names which do not rely on government funding/grants to survive and have businesses which are either currently profitable or soon-to-be profitable.
Disclosure: The author is long EVEP, GPOR, PDCE. The author wrote this article themselves, and it expresses their own opinions. The author is not receiving compensation for it (other than from Seeking Alpha). The author has no business relationship with any company whose stock is mentioned in this article.
Editor's Note: This article covers one or more stocks trading at less than $1 per share and/or with less than a $100 million market cap. Please be aware of the risks associated with these stocks.