Cardiac Surgery A New Major Focus for CytoSorbents
CytoSorbents Corporation (NASDAQ:CTSO) has developed their flagship product, CytoSorb, a sorbent-based cytokine filter, to treat a variety of critical care illnesses through the removal of cytokines and other toxins from the body. The company had an initial focus on sepsis as well as other indications such as respiratory distress syndrome and acute pancreatitis but has recently broadened their scope of potential applications including for use during cardiac surgery.
CytoSorb received CE Mark in March 2011 and launched in Europe towards the end of that year. The company methodically built a small, experienced sales team, began calling on key opinion leaders and built awareness of the device for intervention with critically ill patients. As awareness built and interest grew, sales began to climb - from just $36k in 2011, $152k in 2012, $822k in 2013 and $569k through just the first 3 months of 2014. We expect revenue growth with further benefit with broadening awareness of CytoSorb for use in cardiac surgery.
Cardiac surgery has quickly become an area of increasing interest for CytoSorb and one where the company is seeing greater demand for the device from hospitals and physicians in Europe. In fact, CytoSorbents just recently announced that a planned U.S. clinical trial for CytoSorb in sepsis is now expected to be done in cardiac surgery instead. This is now expected to be the initial approved indication for the device in the U.S.
Utility, interest and demand for CytoSorb in cardiac surgery appears to be gaining even more steam as case reports and clinical studies are indicating efficacious intervention and improved outcomes when CytoSorb was used in patients undergoing cardiac surgery. There are currently at least 11 investigator initiated studies using CytoSorb in Europe for cardiac surgery.
Additional Data Supporting Use of CytoSorb in Cardiac Surgery
A retrospective study done in Germany using CytoSorb in cardiac surgery patients was published in the journal Kardiotechnik in February of this year. The study, titled, Systemic Inflammatory Response Syndrome in Heart Surgery: New possibilities for treatment through the use of a cytokine adsorber during ECC? compared inflammatory response after cardiac surgery in 20 patients utilizing CytoSorb versus 20 patients without CytoSorb.
The study was done at the Ludwig Maximilian University of Munich Hospital in Germany. It looked at whether the use of CytoSorb could better control post-surgery inflammation (based on five distinct inflammatory markers) which is associated with the use of heart-lung machines (HLM) during surgery. The inflammatory complications from which can range from temporary organ function limitations to full blown multiple organ failure and death.
Systemic inflammatory response syndrome (SIRS) is a significant complication after surgery when a HLM is used and while a variety of methods have been used to try to control SIRS, the authors note that these have "resulted in only moderate success in the past."
The study included 20 patients where CytoSorb was included in the bypass circuit and 20 patients where CytoSorb was not used. The two groups were considered comparable and followed similar preparatory and procedural protocol. Blood samples were taken from each patient immediately following the operation and 1 - 3 days after the operation. The following inflammatory markers were analyzed; C-reactive protein, procalcitonin, leukocytes, fibrinogen and interleukin-6 (IL-6).
Results showed a significant difference in IL-6 as well as procalcitonin at all time points. Significant differences in fibrinogen and C-reactive protein were also observed but not at every time point.
SOURCE: Footnote [1]

Importantly, investigators found that every marker showed a positive trend in favor of the CytoSorb group even at time points where the difference was not considered statistically significant.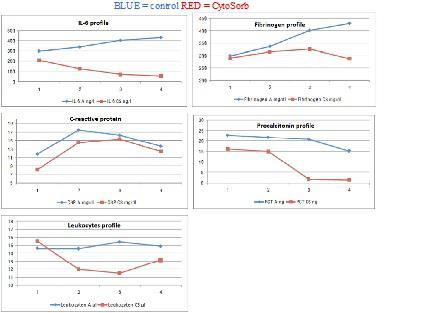 SOURCE: Footnote 1
Relative to IL-6, reduction in levels of this cytokine was also a primary endpoint in CytoSorbents' European sepsis trial which was also successfully met - we expect this will also be an endpoint in the U.S. cardiac surgery trial.
Among the investigators' conclusions were that use of CytoSorb during cardiac surgery "can significantly attenuate an excessive inflammatory reaction", that it "may lead to a reduction in the development of SIRS" and that if results of this study are confirmed in a controlled clinical study that "CytoSorb could establish itself as a routine measure in cardiac surgery."
Expect Cardiac Surgery Will Be Initial U.S. Indication
We think this further validates CytoSorbents' endeavor to pursue a U.S. trial in cardiac surgery instead of in sepsis. In addition to the increasing interest and successful use of CytoSorb in cardiac surgery, there are other reasons why the company is pursuing this as the initial U.S. indication. These are that CTSO believes cardiac surgery represents a faster regulatory approval timeline and will be lower cost and have less risk of failure than a sepsis related trial. For one, outcomes are more predictable with cardiac surgery than with sepsis. Also, mortality will not be an endpoint in cardiac surgery whereby it likely would be with sepsis and is a relatively high hurdle.
The cardiac surgery focus for the U.S. makes sense in that it is a relatively lower-risk endeavor and can get CytoSorb's foot in the domestic door - the company can then focus on expanding the label to encompass additional indications. It also likely puts the device on the U.S. market and generating revenue here earlier than would have been the case if CTSO had pursued sepsis as the initial indication. CTSO has yet to provide much in the way of specifics relative to the near-term game plan for a U.S. cardiac surgery trial, although did note that they will be hiring a Chief Scientific Officer to manage the U.S. trial (as well as European studies), just recently recruited a Cardiac Surgery Advisory Board and began drafting the protocol for the study.
And while the market for cardiac surgery, at approximately $500M in the U.S.(per CTSO estimates), is likely significantly smaller than for sepsis (potentially 1+billion dollars), it still represents a relatively large target market, particularly for a company of CTSO's size (~$72M market cap).
In addition, while there are currently blood-filtration products on the market that are used during cardiac surgery to reduce inflammatory substances, they do not target cytokines which offers CytoSorb a wide-open market opportunity - and, as the investigators noted in the cardiac surgery study, other methods to control inflammation only work with moderate success.
---
[1] F. Born, et al. Systemic Inflammatory Response Syndrome in Heart Surgery: New possibilities for treatment through the use of a cytokine adsorber during ECC? Kardiotechnik. 2/2014
Disclosure: The author has no positions in any stocks mentioned, and no plans to initiate any positions within the next 72 hours. The author wrote this article themselves, and it expresses their own opinions. The author is not receiving compensation for it (other than from Seeking Alpha). The author has no business relationship with any company whose stock is mentioned in this article.
Disclosure: I/we have no positions in any stocks mentioned, and no plans to initiate any positions within the next 72 hours.
Business relationship disclosure: I work as a Consultant Analyst for Zacks Investment Research. The article is written by me and is 100% my opinion. I receive compensation from Zacks for writing equity research reports and providing valuation analysis on this company's stock and expect to do so in the future. Zacks receives compensation from the company. Please see the Zacks Disclaimer for further information: http://scr.zacks.com/Disclaimer/default.aspx
Editor's Note: This article covers one or more stocks trading at less than $1 per share and/or with less than a $100 million market cap. Please be aware of the risks associated with these stocks.