Marquee Energy (OTC:MQLXF) is a junior Canadian E&P company that was formed in 2011 when Base Oil & Gas and Marquee Petroleum merged to reorganize. In late 2011, the company drilled its first well and then merged with SkyWest Energy to finally form the current company. Since late 2011, they have seen impressive growth, with production increasing at a great pace. Just recently have they developed a plan to focus only on their two core areas, Michichi and LLoydminster. These two, which are situated in Eastern Alberta, make up majority of their 257,000 acres and combined account for about 85% of current production. The entire capital program for 2014 is focused on the two areas and they are still considering disposing of non-core assets.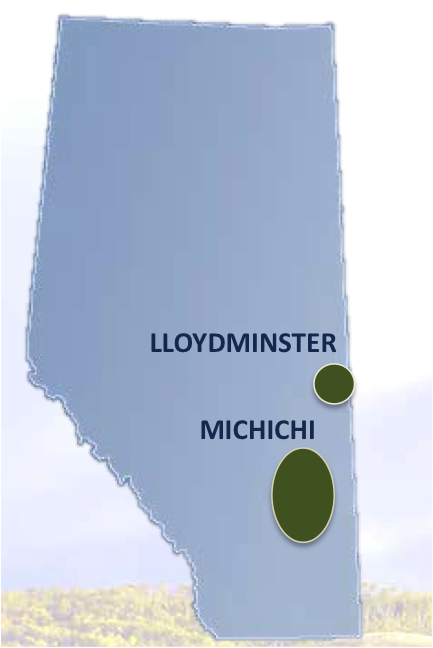 Source: Marquee website.
In late 2011, when they had just been formed, they were producing only about 100 boe/d. Production in the month of April this year averaged 5,100 boe/d and the exit rate for 2014 is about 5,600 boe/d, which points to another 10% increase in production by year end. Late 2013 saw Marquee make a critical acquisition from Sonde Resources (NYSEMKT:SOQ) in which they acquired all of Sonde's Western Canadian land and assets. This transaction doubled production in total for Marquee and added nicely to its core position in Michichi.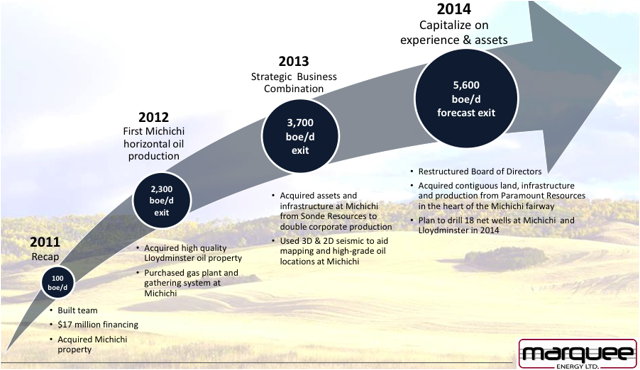 Source: Marquee website.
A catalyst for Marquee is their newest acquisition. In March, they closed a deal with Paramount Resources acquiring more land in the Michichi fairway. This land, pre-acquisition, was already producing over 800 boe/d and has lots more potential for them in the Michichi.
Currently the Michichi area is producing over 3,800 boe/d with a total of 12 planned wells to be drilled in 2014, 3 of which were completed in Q1 and are on production. The plans for Lloydminster call for 6 new wells, of which 2 were drilled in Q1. The current production for Lloydminster is 540 boe/d. Something really key driving growth and cutting costs is the infrastructure Marquee has acquired and has in place. They have pipeline throughout their holdings in the Michichi fairway and also own two gas plants, and their own oil battery and terminal. These plants will be critical in the future for them to better cut costs.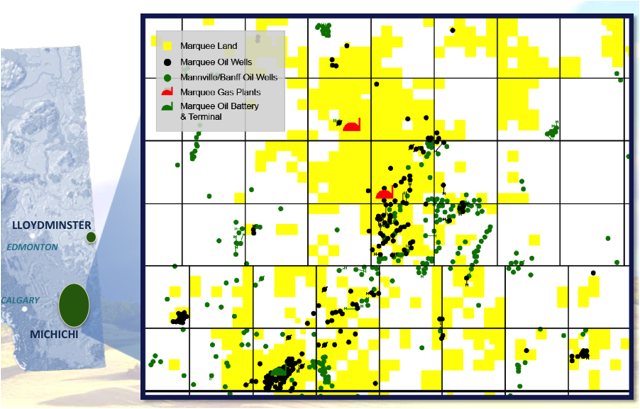 Source: Marquee website.
Financially, Marquee is fully funded through 2014 with an estimated $38M cash flow and an $80M credit revolver, $61M of which has been drawn already. In May of this year, they raised equity again with an offering that raised about $20M, which definitely should solidify their cash position through the year. Revenue is forecast to be $84M for FY14 compared to $45M for FY 13, which represents a possible 90% increase. Although the company has yet to see a true operational profit yet, I believe they will within the next year.
The stock itself has performed extremely well over the past year, up over 120%. Analysts remain bullish on it with 2 buy, 5 outperform, and 4 hold ratings. One thing to add is that the NAV per share is $1.68 while the current share price is $1.04, which points at a great potential upside. The average price target is $1.50 and the lowest price target is $1.15, which still points to upside.
In conclusion, Marquee has preformed operationally very good within the past year and since its formation. Production looks solid, and it looks like that trend will continue. With the stock currently still trading well below NAV and a bright future it may be a good time to get in.
Note: Data taken from Marquee's website, Yahoo Finance, and The Financial Times online.
Disclosure: The author has no positions in any stocks mentioned, and no plans to initiate any positions within the next 72 hours. The author wrote this article themselves, and it expresses their own opinions. The author is not receiving compensation for it (other than from Seeking Alpha). The author has no business relationship with any company whose stock is mentioned in this article.
Editor's Note: This article discusses one or more securities that do not trade on a major U.S. exchange. Please be aware of the risks associated with these stocks.