"Rouse him, and learn the principle of his activity or inactivity. Force him to reveal himself, so as to find out his vulnerable spots."
― Sun Tzu, The Art of War
Pershing Square and Herbalife (NYSE:HLF) are at war. Specifically, they are in a full scale PR war. Herbalife corporate is in full on "Fight or Flight" mode. Righteous indignation seems to be the order of the day.
Yesterday, on the heels of Pershing Square's revelation that an expose of Nutrition Clubs is in the hopper, Herbalife's PR machine treated us all to this little gem. Thanks for the easy to read 7 pt. font. (not my initial observation but duly noted nonetheless.)
"Even the finest sword plunged into salt water will eventually rust."
― Sun Tzu
Concurrent with Herbalife trying to convince the world of its legitimacy we also learned that Herbalife Board Member Leroy Barnes punted roughly 18,000 shares of stock for close to $65 per share. That's about $1 million smackers for those counting - almost as much as a lowly Herbalife distributor makes per annum. Evidently Mr. Barnes remains somewhat unconvinced of Herbalife's undervaluation and has decided to capture his own private proceeds from this 34 year old money transfer scheme.
The halls of Washington promise to be patrolled by a number of Herbalifers imminently as outlined in this article on Politico.com. Cherry-picked from a network of 3.9 million people on spin-cycle worldwide, these conscientious objectors are on their way to our nation's capital to correct the campaign of misinformation. It is amazing what a bag of free swag and an all expense paid trip to our nation's capital will do to "encourage" someone to speak out.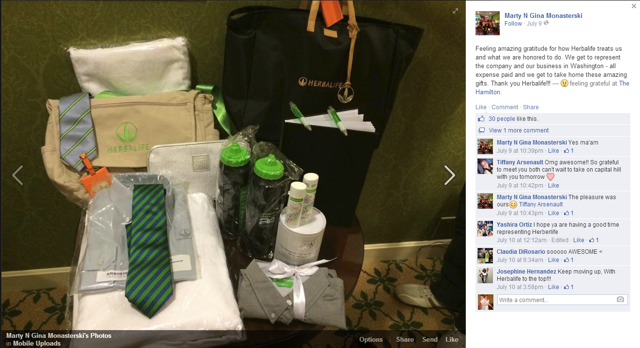 Lest we forget, Herbalife has mastered the Art of the Incentive...
I would hope all members of Congress and/or their staffers would open each and every meeting with a Herbalifer with the following three questions:
1. How many distributors has your company recruited over the past 5 years?
2. How many of them are still with you?
3. How much money did they make?
For a bonus question I might ask: Are you aware that you are being victimized by the sponsors of a pyramid scheme right now as we speak?
"Build your enemy a golden bridge to retreat across." - Sun Tzu
In other news, Mr. Carl Icahn and Mr. Ackman are now best buds or as one funny Lady GaGa fan wrote, this "Bad BroMance" has to make Michael Johnson pretty happy. Mr. Stiritz must also have wondered what was cooking off-stage at the CNBC conference if he isn't too busy actually trying to build market share for his own company's line of protein shakes. On the same day Herbalife's press machine is publicly vilifying Mr. Ackman, Mr. Icahn is sharing a chuckle or two and promoting the virtues of shareholder activism.
As the tagline in the MasterCard campaign states simply, the irony is "Priceless". This tagline perhaps seems more fitting than Herbalife's own tagline for recruits borrowed from Capital One "What's in your wallet?"
There are currently roughly 25 million Herbalife shares sold short. Mr. Icahn is long 17 million shares. Seems like a match made in heaven to flatten both accounts. Unless, of course, you are Mr. Stiritz or Mr. Johnson. Is there a quid pro quo here? Time will tell.
Meanwhile, Herbalife's PR campaign continues to reek of desperation. Lately, the company continues to cling to its "Gold Standard" return policy as the single strand of evidence that its policies are sufficient to defeat a pyramiding suit. Speaking of Gold, we should remind investors what the courts had to say in US v. Gold Unlimited when they said.
As the Omnitrition court observed, "The key to any anti-pyramiding rule is that the rule must serve to tie recruitment bonuses to actual retail sales in some way. Only in this way can the second Koscot factor be defeated."   Omnitrition, 79 F.3d at 783.
"Only" seems more of a definitive term than "primarily". Words are important. Just ask Herbalife's aspiring SUPERVISORS (I mean "Members")
Last we checked, Herbalife doesn't even track or measure retail sales. To tie recruiting compensation to a variable that the company doesn't even measure seems a tad absurd as a concept.
As for why return rates are so low?
How's this for an idea? Paraphrasing the thoughts of a good friend of mine named "Matilda".
"Again, you bring up your GOLD STANDARD return policy but conveniently leave out the UNRELENTING verbal "coaching" and "mentoring" from uplines discouraging fledgling distributors against returning product, and the PERSISTENT messaging around "be a product of the product...try all the products.. eat MORE PRODUCTS."

Isn't it also true that when you promise someone (specifically an exceptionally vulnerable someone) a new family (of fellow distributors), tropical vacations, private school for their kids, comfort, security, LIFETIME RESIDUAL INCOME, luxurious cars and homes with pools, do you really think they just put on their "rational hat" and say, "Nope. This isn't working. I guess I'll just stay poor. Oh well!"

Or, how about when you tell them THEY ARE THE VARIABLE and to FAKE IT UNTIL (they) MAKE IT over and over and over again? Or when you suggest they read the "personal development" books craftily and strategically written by your OWN, highly paid "business philosopher" Jim Rohn?

Do you have any idea how hard it is for someone with nothing to discard the indoctrination, propaganda and dogma you have programmed into their hearts and minds?

Of course you do. "In practice" You've made it into an art form."
Turns out that "Sometimes (I mean all the time if an HLF recruiter) you have to be a little bit naughty..."
Which leads me to my final point. How many times will Herbalife and its PR Machine continue to insult the intelligence of the FTC?
The sina qua non of a pyramid scheme is a pay plan that gives recruiters the right to earn compensation for recruiting without tying that compensation to retail sales to "ultimate users". The risk of this kind of incentive system gets participants to focus their energies on recruiting "in practice".
Q. If this is not what your pay plan is designed to do, how did you recruit 8 million people over the past 5 years?
Dear Mr. Johnson, if you are serious about anti-pyramiding policies how's this for an idea?
KILL YOUR SUPERVISOR PROGRAM.
Sun Tzu's Magnum Opus The Art of War is a must read for anyone set to wage battle with an adversary. Judging by the Herbalife stock price of late, Herbalife is losing the PR battle.
Thus, what is of supreme importance in war is to attack the enemy's strategy. - Sun Tzu
Argumentum Ad Hominem doesn't seem to be working. Mr. Johnson seems to have lost control of his supposed allies too as shares are sold into the buyback as a matter of routine.
How long will it be before this pyramid finally crumbles to the ground under the mountain of direct evidence gathered and published by Pershing Square?
Stay tuned.
Martha Stewart insulted her prosecutors and went to jail. Al Capone thumbed his nose at Elliot Ness. Alcatraz awaited. Michael Johnson's hubris is evident as he rages against the machine week in and week out while selling his stock holdings into his own company's buyback.
In case you haven't noticed, Herbalife's PR strategy is to keep Mr. Johnson away from the press and to limit his public appearances to well-crafted quarterly conference calls. My guess is that the company's "jury consultants" have discovered that Mr. Johnson's image doesn't play all that well.
Instead, the PR war continues to trot out "successful Latino/Latina members" cherry picked from a database of thousands of others who are failing at the biz-op as we speak (or as the case may be "read and write"...
As for how Herbalife explains away the monstrous churn rates in its distributor base and lack of income for most participants?
Your guess is as good as mine.
Hopefully on Capitol Hill they will at least ask the question.
Disclosure: The author is short HLF. The author wrote this article themselves, and it expresses their own opinions. The author is not receiving compensation for it (other than from Seeking Alpha). The author has no business relationship with any company whose stock is mentioned in this article.