Down 2.31% year to date, United Parcel Service (NYSE:UPS) is currently trading at $102.65. The company pays a quarterly dividend of $0.67, which means the dividend yield stands at 2.61%. Does the current price provide investors with a good entry point, or would it be wise to wait for a pullback? This is the question I will be trying to answer in today's article.
I consider myself to be a long-term dividend growth investor, which means I look for companies I expect will be able to sustain and grow their dividends for years to come. As such, I like to see companies with strong growth in earnings per share and dividends, a healthy balance sheet, and a history of returning capital to shareholders.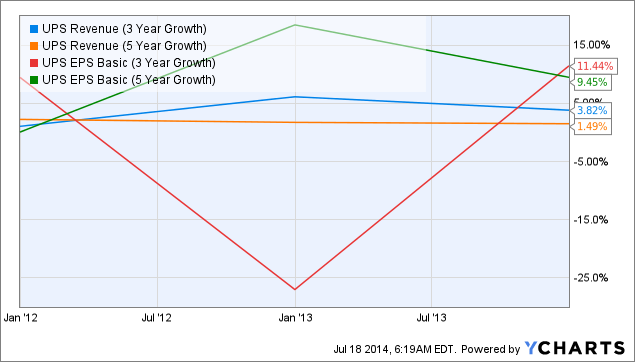 UPS Revenue (3 Year Growth) data by YCharts
We'll start by looking at growth in earnings per share. As we can see from the graph above, earnings have grown at a far higher pace than its revenue. This is due to the fact UPS buys back huge amounts of its own shares. EPS growth is expected to continue, with average analyst expectations standing at $5.09 for the current fiscal year and $5.85 for next year.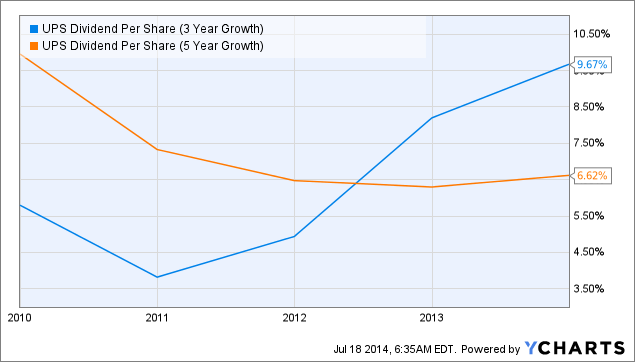 UPS Dividend Per Share (3 Year Growth) data by YCharts
UPS has grown its dividends at a high pace over the past years, with a 3- and 5-year dividend growth ratio of 9.67% and 6.62%, respectively. At 2.61%, the dividend yield is a lot higher than that of its largest competitor FedEx (NYSE:FDX), which currently yields only 0.53%. Despite paying a very decent dividend, UPS doesn't have an extremely high payout ratio. In the most recent fiscal year, UPS paid out 53.8% of its earnings in the form of dividends. The company also buys back huge amounts of its own shares, thereby reducing the number of shares outstanding, as can be seen in the next graph.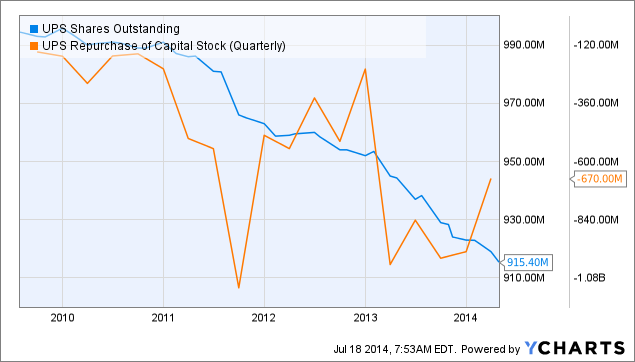 UPS Shares Outstanding data by YCharts
Looking at the balance sheet, we can see its current ratio in the most recent quarter stood at 1.88, which is slightly higher than 1.82 for FedEx. The company has $5.25 billion in cash, which is $7.41 per share, or enough to pay almost 3 years worth of dividends at the current rate of $0.67 per quarter.
So far, UPS is looking really good. However, even a great company can be a poor investment if bought at too high a price. UPS is trading at 20.2 times expected earnings for the current fiscal year, and only 17.5 times expected earnings for next year. The industry average P/E ratio stands at 23.5, which means UPS isn't very expensive, considering the high expected earnings growth.
All things considered, I believe United Parcel Service would be a great stock for investors looking for a stock that pays reliable, growing dividends.
Disclosure: The author has no positions in any stocks mentioned, and no plans to initiate any positions within the next 72 hours. The author wrote this article themselves, and it expresses their own opinions. The author is not receiving compensation for it (other than from Seeking Alpha). The author has no business relationship with any company whose stock is mentioned in this article.